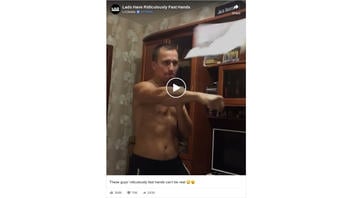 Does this video compilation show amazing superhuman feats of punching speed? No, that's not true: These creative videos show a variety of post-production effects that can be achieved with digital tools, notably masking, using a video editing program.
This collection of short videos was posted on Facebook by LADbible on May 7, 2021. The video was captioned:
Lads Have Ridiculously Fast Hands

These guys' ridiculously fast hands can't be real
This is what the post looked like on Facebook at the time of writing:
(Source: Facebook screenshot taken on Thu Jul 29 20:50:48 2021 UTC)
These videos were made by Grand Russian, who has channels on TikTok, Instagram and YouTube featuring a variety of short films, many with post-production effects.
While these video edits may not be flawless, they go a long way to showcase some of the effects that are now available to amateur filmmakers. Masking is a process where a selected area within a video is carefully outlined in order to be replaced by a second video patched into that area. This can be used to create many different effects, from replacing a grey sky with a blue one, to pixelating a face for anonymity, or for a special effect, like a scene where an actor plays their own identical twin. Because it is possible to define the specific part of the video where the effect will be applied, time and speed cues in the original scene, like a television program, a stopwatch or swinging pendulum will not be affected by a high-speed video being added to the masked area.
There are a few small editing glitches in these videos, two examples of which can be seen in the screenshots below. At just about the 2-minute mark in the video there is a small black tip that appears on the lower corner of the piece of the paper swinging in the background. This artifact is the edge of the original normal-speed shoulder that was not included inside the mask. Also in this segment it is possible to see the moments the high-speed video is introduced and then taken away because the hem of the actor's T-shirt shifted slightly between takes and a small jump is visible near his hip. In the other screengrab from the opening scene, a misalignment of the masked background put a notch in the shoulder area of the frames including the high-speed video patch.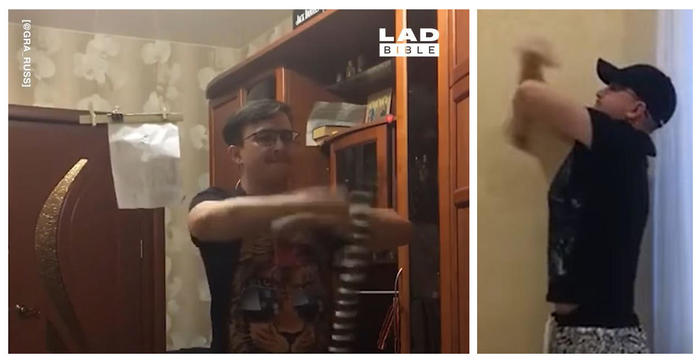 (source: Lead Stories composite image, screenshots from Facebook video taken on Thu Jul 29 23:10:05 2021 UTC)