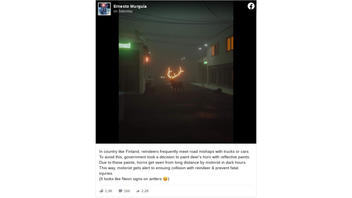 Does this photo show a reindeer in Finland whose brightly glowing horns were treated with reflective paint to protect it from being hit by a car? No, that's not true: This is artwork by visual designer Vasjen Katro. He was inspired to create this image when he heard about an effort in Finland to try to reduce vehicle collisions by painting reindeer antlers with reflective paint. This image fits with the theme of works he was doing at the time, many featuring foggy atmosphere, lonely streets and glowing street lights and neon signs.
The original image was posted by Katro on Instagram on February 6, 2020. It has resurfaced with new captioning and without credit to the artist. One example is this post (archived here) published on July 10, 2021. The caption reads:
In country like Finland, reindeers frequently meet road mishaps with trucks or cars. To avoid this, government took a decision to paint deer's horn with reflective paints. Due to these paints, horns get seen from long distance by motorist in dark hours.
This way, motorist gets alert to ensuing collision with reindeer & prevent fatal injuries.
(It looks like Neon signs on antlers 😊)
This is what the post looked like on Facebook at the time of writing:
(Source: Facebook screenshot taken on Tue Jul 13 15:04:03 2021 UTC)
This picture does not show a real reindeer with painted antlers, this is a news-inspired design. When Katro first posted this image on his Instagram account on February 6, 2020, the caption read:
I saw a story from @berinhasi that in Finland they paint raindeers antlers to shine at night so they don't get crashed by cars. That got me to this. #fujifilm #film #c4d
It is true that in 2014 there was an experiment using reflective paint on reindeer to see if it would reduce collisions. There are annually about 4,000 road accidents involving reindeer and vehicles in Lapland, Finland. Some articles about this project referred to the paint as "glow in the dark", but the paint used does not glow on its own, it only reflects light from the headlights of an oncoming vehicle. These reflective paint trials were small and deemed not very successful.
Some still photos of the tests can be seen in this February 19, 2014, dailymail.co.uk article titled, "Use your horn! Herdsmen spray reindeers' antlers with fluorescent paint to prevent car crashes" which explains:
Anne Ollila of the Finnish Reindeer Herder's Association says the antlers of 20 reindeer have been painted with various fluorescent dyes to see how the animals react and whether the paints are resistant to the harsh Arctic climate.

If successful, animals with glittering antlers will be free to roam Lapland -- a vast, deserted area in northern Finland where herders tend to some 200,000 reindeer.

Ollila says reflectors and reflective tape have proven unsuccessful as reindeer have torn them off -- and road signs warning drivers of roaming reindeer often are stolen by tourists as souvenirs.
A video from All About Lapland on Vimeo shows Reindeer with glowing horns to prevent road accidents in Finnish Lapland.