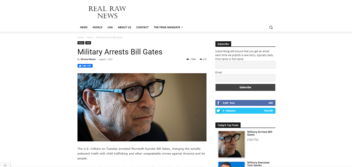 Did the U.S. military arrest entrepreneur and philanthropist Bill Gates on July 27, 2021? No, that's not true: The claim was posted on a known satire website. Also, Gates' social media accounts were active in the days following the purported arrest.
The claim appeared in an article (archived here) published by Real Raw News on August 1, 2021. It opened:
The U.S. military on Tuesday arrested Microsoft founder Bill Gates, charging the socially awkward misfit with child trafficking and other unspeakable crimes against America and its people.

Sources within the U.S. Navy Judge Advocate General's Corps told Real Raw News that the military had spent months trying to find Gates, but the elusive billionaire had used his wealth and Deep State contacts to elude capture, somehow keeping a step ahead of the military's manhunt.

But on Tuesday, July 27, Gates slipped up, and U.S. Marines were able to apprehend him at a property he secretly owned in Myrtle Beach, South Carolina.
This is how the article looked on August 2, 2021: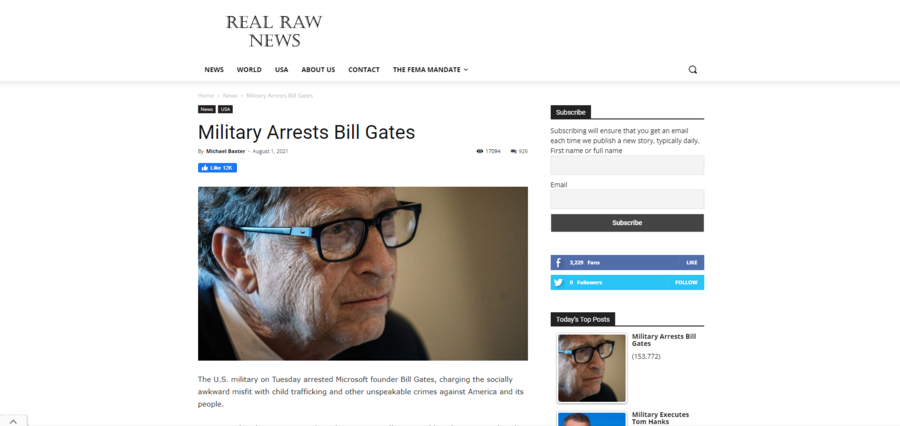 (Source: Real Raw News screenshot taken on Tue Aug 2 15:37:07 2021 UTC)
Gates primarily lives in Medina, Washington, although he owns personal properties in other locations including California, Florida and Montana. Lead Stories searched for "William Gates" in the Washington state, California, Florida, and Montana offender search databases and no current inmate information for Gates was found. Additionally, we searched for "Bill Gates arrest," "Bill Gates July 27 2021" and "U.S. military Bill Gates" using Google's search engine. No reliable results confirming the arrest appeared, which would be highly unusual if a public figure like Gates were arrested.
Gates' Instagram and Twitter accounts included posts that were posted on and after July 27, 2021, the day of Gates' alleged arrest. The posts from July 27, 2021 are embedded below:
(Source: Instagram screenshot taken on Tue Aug 1 15:46:32 2021 UTC)
Over the years, I've shared a stage with a jar of human feces, smelled pit latrine odor, and drunk water made from poop (and convinced @jimmyfallon to drink it too). Was it worth it? You bet. Here's why: https://t.co/8SJbCuNezD

-- Bill Gates (@BillGates) July 27, 2021
(Source: Twitter screenshot taken on Tue Aug 1 15:47:24 2021 UTC)
Lead Stories has previously debunked a series of fake claims in stories published by Real Raw News involving purported arrests, trials and executions of well-known individuals. You can see some of our debunks here.
Real Raw News, which posted the Gates arrest claim, classifies itself as a satirical news source. According to a disclaimer on its "About Us" page, with words in boldface as they appear on the site:
Information on this website is for informational and educational and entertainment purposes. This website contains humor, parody, and satire. We have included this disclaimer for our protection, on the advice on legal counsel.
One Real Raw News bogus story claimed that Dr. Anthony Fauci, director of the National Institute of Allergy and Infectious Diseases, was arrested by U.S. Navy SEALS on June 1, 2021. In the Lead Stories fact-check, Joshua Kastenberg, an associate professor of law at the University of New Mexico who specializes in national security law, explained that military members would only have authority to arrest a civilian "if the government were in a state of collapse and law enforcement had been unable to do so -- and this had been ordered by the Attorney General of the U.S. in conjunction with the Department of Defense."