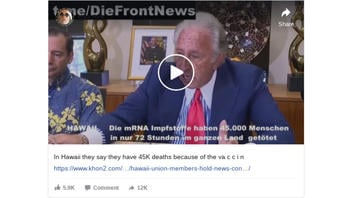 Does the state of Hawaii say it has had 45,000 deaths caused by COVID-19 vaccine? No, that's not true. Neither the state of Hawaii nor a representative of the state made this claim. The claim was made in part by an attorney who is taking legal action against Hawaii's state vaccine mandate on behalf of union members. The attorney referred to "tests we've seen around the country from doctors" in making the baseless claim of 45,000 deaths, but even with that, the attorney did not claim the deaths were all in Hawaii. That was added when his comments were used in a post on Facebook.
Lead Stories has previously debunked the claim that there have been 45,000 deaths from the COVID-19 vaccine. That number came from an anonymous "whistleblower" who declared herself an expert in data analytics, and claimed -- without providing her statistical model -- that it is her opinion the number of deaths (about 9,000) reported to the unverified Vaccine Adverse Event Reporting System (VAERS) should be multiplied by five.
The claim appeared as a post (archived here) published on Facebook on August 25, 2021. It opened:
In Hawaii they say they have 45K deaths because of the va c c i n
This is what the post looked like on Facebook at the time of writing:
(Source: Facebook screenshot taken on Thu Sep 2 16:45:00 2021 UTC)
Hawaii news station KHON2 reported Hawaii attorney Michael Green making the false claim of 45,000 deaths, which is the video used in this Facebook post. He says:
Tests we've seen around the country from doctors, they're showing, that almost 45,000 people that got these vaccinations were dead within 72 hours."
While Green's numbers have no basis in fact, he did not say the 45,000 deaths were in Hawaii. That claim came only in the Facebook post.
As Lead Stories previously reported, the "whistleblower" is cited in a lawsuit filed on July 19, 2021, against the secretary of Health and Human Services claiming that 45,000 people died within three days of receiving a COVID-19 vaccination.
The Food & Drug Administration (FDA) has repeatedly said that the informal list of vaccine injury reports cannot be used to precisely tally vaccine effects because not all of the health events reported will turn out to have been caused by vaccination. Declaring herself an expert in data analytics, the "whistleblower" said -- without providing her statistical model -- that it is her opinion the number of deaths (about 9,000 unconfirmed) reported to the Vaccine Adverse Event Reporting System (VAERS) should be multiplied by five. To access VAERS data, users must confirm that they understand the data is subject to several statistical limitations. This is because health issues and deaths that, chronologically, occur after vaccination may be caused by underlying illnesses or other factors unrelated to a vaccination, none of which is known until each report is authenticated and each cause of death is investigated.
The lawsuit was filed by America's Frontline Doctors, an organization of anti-vaccine activists. The witness does not provide her analytical model and there are not 45,000 COVID vaccine death reports in the government vaccine safety system. She does not explain how or if she has adjusted for the multiple limitations on the accuracy and authenticity of VAERS data. And, she does not warn the court about the limitations the VAERS operators emphasize, which is that VAERS' mission is to collect a wide-open, likely repetitive, messy and incomplete list of anyone's anecdotal, amateur, professional and even malicious reports of post-vaccination problems. The VAERS site repeatedly notes the list cannot be used to determine causation of deaths or injuries. Even her starting-point number of 9,000 is only a tally of reports of people who got vaccinated against COVID and later died, regardless of what their health condition was or what they died of.
Lead Stories has detailed various baseless claims made based on unverified VAERS reports. You can see those debunks here.
Prominent on the VAERS webpage is this disclaimer, to which Lead Stories has added underline emphasis to save readers time:
VAERS accepts reports of adverse events and reactions that occur following vaccination ... While very important in monitoring vaccine safety, VAERS reports alone cannot be used to determine if a vaccine caused or contributed to an adverse event or illness. The reports may contain information that is incomplete, inaccurate, coincidental, or unverifiable. Most reports to VAERS are voluntary, which means they are subject to biases. This creates specific limitations on how the data can be used scientifically. Data from VAERS reports should always be interpreted with these limitations in mind ...

Key considerations and limitations of VAERS data:

Vaccine providers are encouraged to report any clinically significant health problem following vaccination to VAERS, whether or not they believe the vaccine was the cause.
Reports may include incomplete, inaccurate, coincidental and unverified information.
The number of reports alone cannot be interpreted or used to reach conclusions about the existence, severity, frequency, or rates of problems associated with vaccines.
...

VAERS data available to the public include only the initial report data to VAERS. Updated data which contains data from medical records and corrections reported during follow up are used by the government for analysis. However, for numerous reasons including data consistency, these amended data are not available to the public.