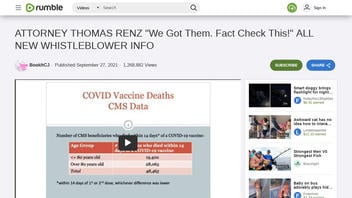 Did more than 48,000 people die within 14 days of receiving COVID-19 vaccines, according to data revealed in the "Medicare Tracking System"? No, that's not true: There is no evidence that there have been that many deaths caused by COVID vaccines in the U.S. and the vaccines are considered safe and effective. Plus, there is no "Medicare Tracking System," a spokesperson for the Centers for Medicare & Medicaid Services (CMS) confirmed to Lead Stories.
The claim was in in a video (archived here) posted to Rumble on September 27, 2021, titled "ATTORNEY THOMAS RENZ 'We Got Them. Fact Check This!' ALL NEW WHISTLEBLOWER INFO." The caption read in part:
Thanks to a Whistleblower that came forth to Attorney Thomas Renz, the public is now seeing, for the first time ever, hard data from the largest database available in the U.S. to study the COVID-19 impact including deaths & injuries; The CMS Medicare Tracking System.

During an extraordinary speech at Clay Clark's ReAwaken America Tour, Attorney Thomas Renz shocked the crowd of thousands in attendance and millions watching via livestream as he revealed:

That data from the Medicare Tracking System reveals that 19,400 people less than 80 years old have died within 14 days of receiving the COVID-19 Vaccine.

In addition, 28,065 people have died that are over the age of 80 within 14 days of receiving the Covid-19 vaccine.

The Total number of American Citizens that died within 14 days of receiving the COVID-19 vaccine is 48,465 according to hard data revealed in the Medicare Tracking System.
Although Renz makes several other COVID-related vaccine claims, this fact check will only address the claim he made regarding deaths.
Users on social media saw this title, description and thumbnail:
Attorney Thomas Renz Releases Stunning Data from Never Before Seen Vaccine Injury/Death Tracking System Thanks to a Whistleblower that came forth to Attorney Thomas Renz, the public is now seeing, for
According to the CMS Data website, the only CMS data tracked about COVID are COVID nursing home data, Medicare COVID cases and hospitalizations data, and data regarding Medicare-enrolled health facilities that were converted into hospitals during the COVID pandemic. A screenshot of the search results from the CMS Data website regarding "COVID-19" is below: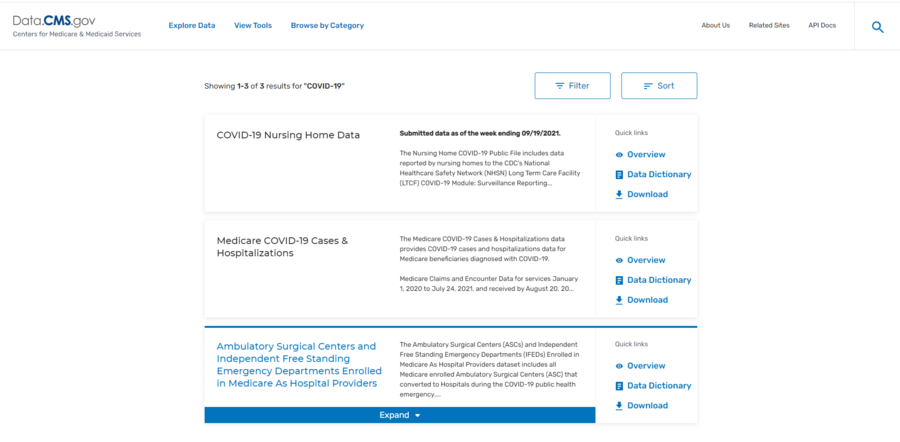 (Source: CMS Data screenshot taken on Wed Oct 6 19:39:29 2021 UTC)
In an email to Lead Stories on October 6, 2021, a CMS spokesperson said:
This is not an accurate claim. CMS does not have a 'Medicare Tracking System,' and the agency has not conducted an analysis to track beneficiary deaths in relationship to the timing of COVID-19 vaccination.
The spokesperson also clarified the organization's stance on COVID vaccination for older adults:
A new report from the U.S. Department of Health and Human Services (HHS) shows that COVID-19 vaccinations may have helped prevent hundreds of thousands of new COVID-19 infections and tens of thousands of deaths among seniors. The study, which was conducted by researchers with HHS's Office of the Assistant Secretary for Planning and Evaluation (ASPE), found that vaccinations were linked to a reduction of 265,000 COVID-19 infections, 107,000 hospitalizations, and 39,000 deaths among Medicare beneficiaries between January and May 2021. The report further underscores why it's critically important to get all eligible individuals living in the United States vaccinated against COVID-19. The study found that high vaccination rates for all adults were even more protective for Medicare beneficiaries than just a high elderly vaccination rate on its own. The COVID-19 vaccines protect communities by reducing infections, deaths, and hospitalizations.
It is possible that Renz's data claim was inspired by the many debunked claims stemming from the use of the Vaccine Adverse Event Reporting System (VAERS) during the COVID pandemic. VAERS is a database co-managed by the Centers for Disease Control and Prevention (CDC) and the Food and Drug Administration to track adverse events following vaccinations, including COVID vaccinations. The database is open, meaning that although health professionals and vaccine manufacturers are required to report certain events in the database, any member of the public can add to the database as well. As a result, VAERS data do not prove that any vaccine is the direct cause of an adverse event. As the "Guide to Interpreting VAERS Data" explains:
When evaluating data from VAERS, it is important to note that for any reported event, no cause-and-effect relationship has been established. Reports of all possible associations between vaccines and adverse events (possible side effects) are filed in VAERS. Therefore, VAERS collects data on any adverse event following vaccination, be it coincidental or truly caused by a vaccine. The report of an adverse event to VAERS is not documentation that a vaccine caused the event.
The CDC has stated that COVID-19 vaccines are safe and effective overall. On a resource page about adverse events after COVID-19 vaccination, the organization said:
Reports of death after COVID-19 vaccination are rare. More than 390 million doses of COVID-19 vaccines were administered in the United States from December 14, 2020, through September 27, 2021. During this time, VAERS received 8,164 reports of death (0.0021%) among people who received a COVID-19 vaccine. FDA requires healthcare providers to report any death after COVID-19 vaccination to VAERS, even if it's unclear whether the vaccine was the cause. Reports of adverse events to VAERS following vaccination, including deaths, do not necessarily mean that a vaccine caused a health problem. A review of available clinical information, including death certificates, autopsy, and medical records, has not established a causal link to COVID-19 vaccines. However, recent reports indicate a plausible causal relationship between the J&J/Janssen COVID-19 Vaccine and TTS, a rare and serious adverse event--blood clots with low platelets--which has caused deaths
Lead Stories reached out to VAERS and the CDC for more information about the 48,000 deaths claim and will update the story with any responses.
Lead Stories also debunked a previous claim from Renz and a supposed "whistleblower" about the number of COVID-19 vaccine deaths here.