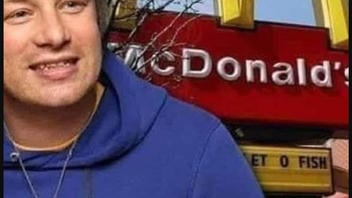 Did McDonald's lose a legal battle with chef Jamie Oliver? Was it proven that lean finely textured beef treated with ammonium hydroxide was highly toxic or not fit for human consumption? No, neither are true: Oliver did not win a legal battle with McDonald's. Oliver spotlighted the beef product in an April 12, 2011, episode of his show "Food Revolution" -- and McDonald's did drop the ingredient from their burgers that same year, but maintained that the decision was not brought about by "any particular event."
The USDA and FDA never declared the ammonium hydroxide gas process used to raise the alkalinity and control bacteria in lean finely textured beef to be "highly toxic." It is "generally recognized as safe," to be used under current good manufacturing processes.
In January 2012 McDonald's announced that they had stopped using the ingredient in their burgers in 2011, but posts on social media saying otherwise have continued to surface. One example of this is a Facebook post on December 17, 2021. The text of the post opens:
McDonald's loses the legal battle with chef Jamie Oliver, who proved that the food they sell is not fit to be ingested because it is highly toxic.
Chef Jamie Oliver has won a battle against the world's largest junk food chain. Oliver proving how burgers are made.
According to Oliver, the fat parts of meat are "washed" with ammoniac hydrogen and then used in the packaging of the meat "cake" to fill the burger. Before this process, according to the presenter, already this meat was not suitable for human consumption.
This is how the post appeared at the time of writing: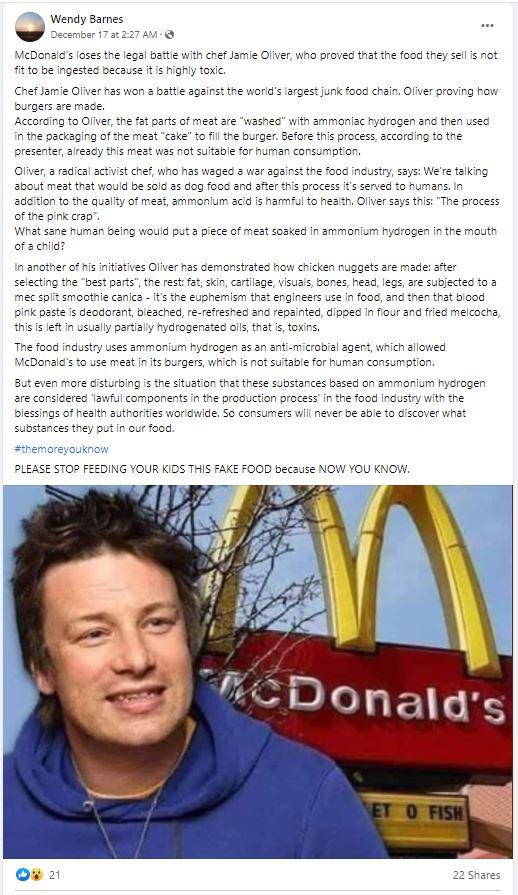 (Image source: Facebook screenshot taken on Tue Dec 21 17:39:15 2021 UTC)
McDonald's burger patties have not contained "lean finely textured beef" in the United States since 2011 (and the ingredient was never used by McDonald's in the United Kingdom or Ireland).
The episode of "Jamie Oliver's Food Revolution" that featured discussion of the use of an ammonium hydroxide-treated beef ingredient found in ground beef, school lunches and fast food aired on April 12, 2011. In-depth coverage of the issue had already appeared in a 2009 article in The New York Times. In March 2011 ABC News aired a series of reports that were later the subject of a defamation lawsuit by the manufacturer of the meat product.
The headline of a January 26, 2021, dailymail.com article may be the root of the false claims seen on viral social media posts. Without actually saying so, the headline could give the impression that, rather than a personal crusade on a television show, there had been a lawsuit between Oliver and McDonald's. The headline reads:
Victory for Jamie Oliver in the U.S. as McDonald's is forced to stop using 'pink slime' in its burger recipe
The wording makes it sound as if McDonald's was forced to stop using this ingredient by court order, but there is no public record to contradict McDonald's declaration that its decision was voluntary and was completed months before this change was announced publicly. Todd Bacon, McDonald's senior director of U.S. quality systems and supply chain, was quoted by the Daily Mail:
The decision to remove BPI [Beef Products Inc.] products from the McDonald's system was not related to any particular event but rather to support our effort to align our global beef raw material standards. McDonald's complies with all government requirements and food safety regulations.
A February 1, 2012, nbcnews.com article quoted and linked to a statement from the McDonald's website stating the product had been out of the supply chain since August 2011. That original McDonald's statement is no longer available. In this item, nbc.com also puts forth the idea - as Oliver did in his show - that ammonium hydroxide is a liquid that is poured over the meat. This is a mischaracterization; the ammonium hydroxide used in the process is gaseous, not a liquid. NBC wrote:
In a statement, McDonald's clarified that it stopped using 'select lean beef trimmings' -- its preferred term for scrap meat soaked in ammonium hydroxide and ground into a pink meatlike paste -- at the beginning of last year.
'This product has been out of our supply chain since August of last year,' it said.
Another McDonald's statement from February 2013, no longer visible on the McDonald's website, is archived here:
McDonald's does not use lean beef trimmings treated with ammonia, what some individuals call 'pink slime,' in our burgers, and hasn't since 2011. Any recent reports that we do are false.
Burgers are at the heart of the Golden Arches, and the fact is, McDonald's USA serves only 100% USDA-inspected beef- no preservatives, no fillers, no extenders- period.
Prior to 2011, to assist with supply, McDonald's USA, like many other food retailers, used this safe product but it is no longer part of our supply.
A scene from the April 12, 2011, episode of "Jamie Oliver's Food Revolution" is included in this January 30, 2012, CBS News report posted on YouTube. (Oliver's series is archived here, with the exception of the beef episode.) In the scene, Oliver shows a front-loading washing machine full of meat. He stands in front of a cabinet that contains cleaning products such as bleach and window cleaner. Wearing rubber gloves, he pours from a bottle marked with a skull and crossbones and the word "Ammonia" on the label into a large tub containing pieces of beef. He says, "We are going to wash these lean bits of beef in a water and ammonia solution."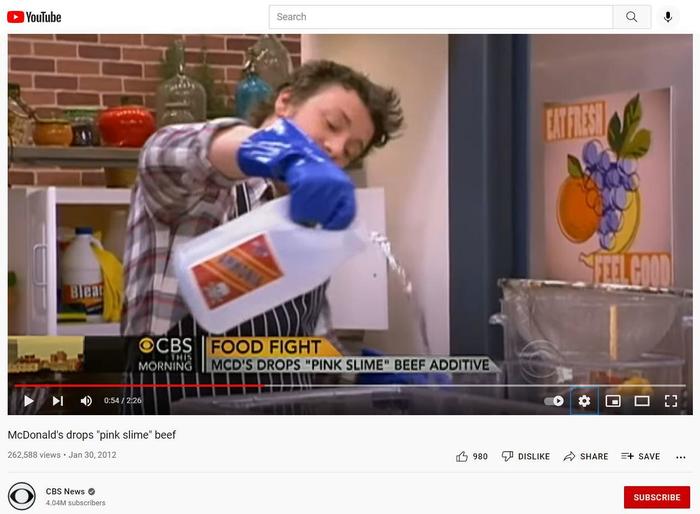 (Image source: YouTube screenshot taken on Wed Dec 22 16:15:14 2021 UTC)
Ammonium hydroxide is used in the production of many foods, not only beef, but cheeses, puddings, chocolate and as a leavening agent in breads. The FDA affirms it as GRAS (generally recognized as safe) in appropriate concentrations. An FAQ about lean finely textured beef published by the North American Meat Institute, a trade organization representing meat producers, explains how lean beef is gleaned from fatty trimmings and describes the ammonium hydroxide process:
A puff of ammonium hydroxide gas slightly raises the pH of a product and can destroy bacteria that could make someone ill if a raw product is not cooked thoroughly. The USDA, after consultation with FDA, has determined that this use of ammonium hydroxide is safe and it has been in use for this purpose since 2001.
Beef Products Inc., the major manufacturer of this lean finely textured beef, sued Disney-owned ABC Television and the reporter Jim Avila for defamation over his reporting on the controversy. The suit was settled for an undisclosed amount and the case was dismissed on June 28, 2017.