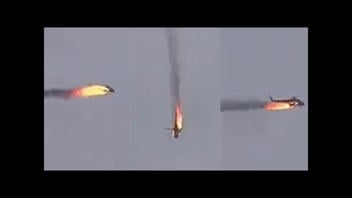 Is this the video of the helicopter crash that killed former Gen. Bipin Rawat of the Indian Armed Forces on December 8, 2021? No, that's not true: This footage documented a helicopter crash in Syria almost two years earlier, in February 2020.
The claim appeared in the title of a YouTube video (archived here) posted on December 8, 2021. The title of the video is "Army Helicopter Crash: Defence Chief Bipin Rawat Chopper Crash Video Caught on Camera|Indian Airforce." In the 1:19-long video, a flying helicopter can be seen catching on fire, breaking down and falling out of the sky.
Click below to watch the video on YouTube:
Lead Stories found the same video posted to The Telegraph's YouTube channel from February 11, 2020. The Telegraph is a British news publication. Its video is titled, "Syrian helicopter shot down by rebels in Idlib."
Part of the description below The Telegraph video reads: "Videos circulating on social media on Tuesday appeared to show a Syrian air force helicopter being downed by rebels in the area of Nayrab in eastern Idlib, using ground-to-air missiles thought to have been supplied by Turkey in recent days."
An Associated Press article corroborates the events in The Telegraph video. It reported on rebels shooting down a Syrian helicopter as it went down in a "fiery crash" on February 11, 2020.
Rawat died alongside 12 other people in the crash, which happened near Coonoor in Tamil Nadu state. There was one survivor being treated for his injuries at the time, according to CNN.
We have reached out to the Indian Army and the Indian Embassy in Washington, D.C., for a comment on this claim. We will update this story if we receive a comment from them.