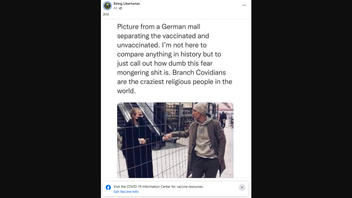 Does a Facebook post show a German shopping mall separating vaccinated shoppers from the unvaccinated ones, using a temporary barrier that looks like a fence? No, that's not true: The mall is not in Germany but Riga, the capital of Latvia. An uncropped version of the same picture was found on a Polish social networking site with signs written in Latvian in the background. The barrier doesn't separate shoppers, it separates shopping outlets according to epidemiologically safe and less-safe conditions in different parts of the mall.
The claim appeared in a Facebook post (archived here) on December 3, 2021. It opens:
Picture from a German mall separating the vaccinated and unvaccinated. I'm not here to compare anything in history but to just call out how dumb this fear mongering shit is. Branch Covidians are the craziest religious people in the world.
This is what the post looked like on Facebook on December 7, 2021:
(Source: Facebook screenshot taken on Tue Dec 7 15:10:22 2021 UTC)
The photo in the Facebook post by Being Libertarian is a cropped version of a picture found on the Polish social networking site wykop.pl on November 29, 2021. The caption, in Polish, says: "Love in times of plague." The cropping of the picture removes the signs in the background written in Latvian.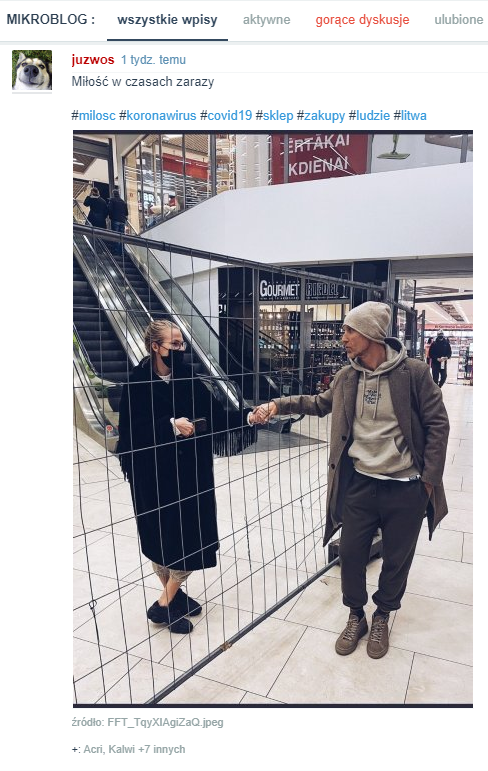 (Source: wykop.pl screenshot taken on Tue Dec 7 16:26:33 2021 UTC)
Using Google's reverse image search, the picture was also found in other social media posts.
In a December 8, 2021, email to Lead Stories, mall administration confirmed the picture was taken at the Alfa shopping center in Riga prior to November 15, 2021. Ligita Mieze said the mall was operating under safety measures established in Latvia:
The picture you refer to in your letter was taken at a time when an order issued by the Cabinet of Ministers intended to separate the flow of visitors to services provided in an epidemiologically unsafe environment or 'red mode' from services provided in an epidemiologically safe environment or 'green' mode.

Accordingly, outlets could operate in a 'red' or 'epidemiologically unsafe' mode and serve any customer, regardless of the existence of Covid-19 certificate, only if this flow of visitors to an epidemiologically unsafe environment was separated from the 'epidemiologically safe' or 'green' mode services provided.

Since 15 November 2021, according to national epidemiological safety measures, TC Alfa has been operating only in an epidemiologically safe environment or a 'green' mode, and access to the shopping center is subject to a certificate attesting vaccination against Covid-19 or allowed to visitors recovered form Covid-19.
Germany is also under similar COVID restrictions but never required that vaccinated and unvaccinated shoppers be kept separate. Both countries only allow COVID-certificate holders to enter nonessential retail facilities.