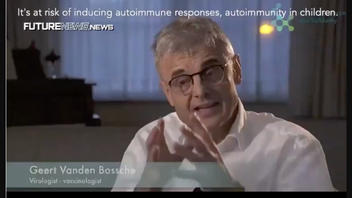 Are COVID-19 vaccines growing new variants inside the bodies of vaccinated people? No, that's not true: The virus that causes COVID constantly changes through a natural ongoing process of mutation, according to the Centers for Disease Control and Prevention. It has nothing to do with the vaccine. The CDC also says the COVID vaccine shots do not create or cause variants but instead can help prevent new variants from emerging.
The claim appeared in an article and video (archived here) published on the InfoWars website on January 20, 2022, under the title "COVID Vaccines Are Growing New Variants Inside Vaxxed Bodies, Claims Gates-Backed Doctor." It opened:
A former Bill Gates-backed virologist Dr. Geert Vanden Bossche claims that COVID mRNA injections are creating more variants, will not stop the virus and should never be given to children.
This is what the post from the InfoWars website looked like on January 24, 2022: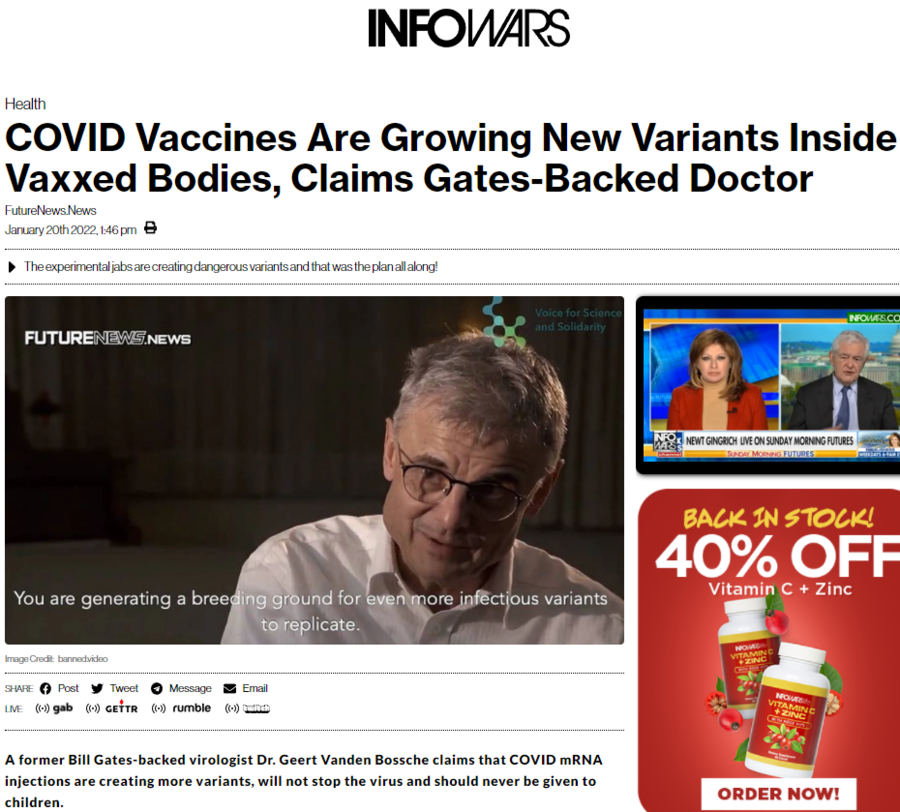 (Source: InfoWars screenshot taken on Mon Jan 24 16:48:49 2022 UTC)
The video with Vanden Bossche is included with the article on the InfoWars website. The original video is hosted on BANNED.VIDEO (archived here). Vanden Bossche holds a doctor of veterinary medicine degree, as well as a doctorate in virology, and worked for vaccine companies and the Bill & Melinda Gates Foundation, according to the Voice for Science and Solidarity website, which lists him as the only member of its science team. In an earlier fact check by Lead Stories, he described himself as "all but an antivaxxer." In this heavily edited video with ominous music playing underneath, Vanden Bossche says at the 0:13 mark that COVID vaccines are growing new variants inside the bodies of vaccinated people:
If you have a vaccine that cannot prevent the transmission, you cannot control this pandemic. The virus will escape. You cannot win this. It's impossible. So in other words, with this mass vaccination, you're doing exactly the opposite. You are generating a breeding ground for even more infectious variants to replicate.
The Myths and Facts about COVID-19 Vaccines page on the CDC says that's not how it works:
MYTH: COVID-19 vaccines cause variants.

FACT: COVID-19 vaccines do not create or cause variants of the virus that causes COVID-19. Instead, COVID-19 vaccines can help prevent new variants from emerging.

New variants of a virus happen because the virus that causes COVID-19 constantly changes through a natural ongoing process of mutation (change). As the virus spreads, it has more opportunities to change. High vaccination coverage in a population reduces the spread of the virus and helps prevent new variants from emerging.
The World Health Organization agrees with the CDC that vaccines don't help create new variants, they help stop them:
Stopping the spread at the source remains key. Current measures to reduce transmission - including frequent hand washing, wearing a mask, physical distancing, good ventilation and avoiding crowded places or closed settings - continue to work against new variants by reducing the amount of viral transmission and therefore also reducing opportunities for the virus to mutate.

Scaling up vaccine manufacturing and rolling out vaccines as quickly and widely as possible will also be critical ways of protecting people before they are exposed to the virus and the risk of new variants. Priority should be given to vaccinating high-risk groups everywhere to maximize global protection against new variants and minimize the risk of transmission. Moreover, ensuring equitable access to COVID-19 vaccines is more critical than ever to address the evolving pandemic. As more people get vaccinated, we expect virus circulation to decrease, which will then lead to fewer mutations.
At 42 seconds into the video, Vanden Bossche goes on to claim that vaccinating children opens them to risks that could include autoimmune diseases:
Scientifically, there is no rationale whatsoever to vaccinate children. This cannot be justified. There is no added value whatsoever for children. There is only major concerns and major risks. ... And my advice is very, very clear, under no single circumstance should you allow to get your child vaccinated.
Lead Stories has previously debunked articles and videos that suggested COVID vaccines are causing autoimmune disorders or disease (here and here). The CDC recommends everyone 5 years old and over get a COVID vaccine to help protect against COVID:
Why Children and Teens Should Get Vaccinated for COVID-19

There are approximately 28 million children between the ages of 5 and 11 years old in the United States, and there have been nearly 2 million cases of COVID-19 within this age group during the pandemic. COVID-19 can make children very sick and cause children to be hospitalized. In some situations, the complications from infection can lead to death.

Children are as likely to be infected with COVID-19 as adults and can

Get very sick from COVID-19
Have both short and long-term health complications from COVID-19
Spread COVID-19 to others, including at home and school.