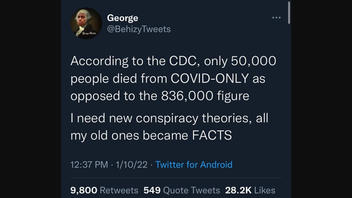 Have just 50,000 people in the United States died from "COVID-ONLY" during the pandemic? No, that's not true: The Centers for Disease Control and Prevention (CDC) counts COVID deaths as cases where COVID-19 was the immediate cause of death. As of the week ending January 15, 2022, that total was 848,403, according to the CDC's National Center for Health Statistics. The CDC says the 50,000 figure is likely a "misunderstanding" of the number of incomplete death certificates that list COVID as the only cause of death.
The claim appeared in a meme posted to Instagram by the_brass_patriot on January 11, 2022. It opens:
Confirming what the majority of us already knew. Hold Fauci accountable for the lies and lives ruined!
This is what the post looked like on Instagram on January 20, 2022: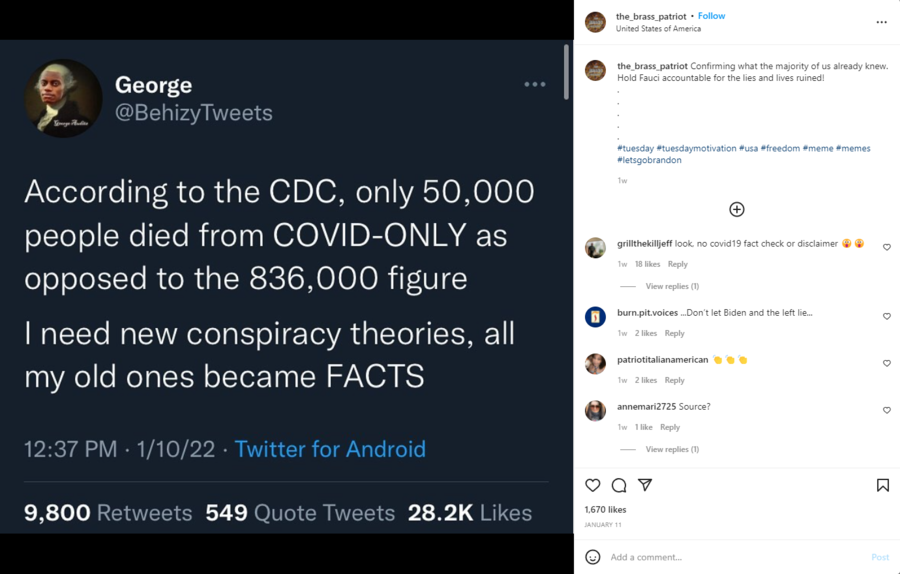 (Source: Instagram screenshot taken on Thu Jan 20 16:47:07 2022 UTC)
In a January 20, 2022, email to Lead Stories, Jeff Lancashire, a public affairs officer with the CDC's National Center for Health Statistics, said the 50,000 number is a misunderstanding of what is listed on the death certificates:
Through January 19, death certificates show 848,403 deaths in which COVID-19 was listed on death certificates as either the underlying cause of death (the main cause that drove the events leading to death) or a contributing cause ... In approximately 90% of those deaths COVID-19 was the underlying cause and the other approximately 10% it was a contributing cause. If COVID-19 did not contribute to the death, it is NOT supposed to be listed at all on the death certificate (Example: A person is in a serious car accident, gets admitted to the hospital and dies from the injuries but tests positive for COVID-19 upon admission and has no symptoms or mild symptoms).
According to Lancashire, the 50,000 COVID-only deaths have more to do with another issue -- the accuracy and completeness of death certificates. Typically, 5 to 6 percent of death certificates list COVID and nothing else:
For the first year of the pandemic, the percentage was 6%, which adds up to over 50,000 deaths, which is likely where this misunderstanding comes from. However, our position is that these 5% of death certificates are incomplete, because COVID-19 never acts alone when it causes death - it either causes severe complications like (most commonly) pneumonia or it exacerbates preexisting conditions such as diabetes, hypertension etc. The feeling is that most of the 5% of the death certs [certficates] that listed only COVID-19 did not include enough information on them, and that has historically been a common problem with all death certificates (not enough info written on them).
In the "Most Frequently Listed Comorbidities with COVID-19 Deaths" section of the CDC's COVID-19 Mortality Overview for the week ending January 15, 2022, these are the top conditions (it's possible to have more than one):
Influenza & Pneumonia -- 49.1%
Hypertension (high blood pressure) -- 18.5%
Diabetes -- 15.3%
Alzheimer disease and other Dementias -- 10.9%
Sepsis -- 9.8%
To be counted as a COVID death, a physician or a board-certified forensic pathologist must determine the immediate cause of death and whether the primary cause was COVID. An August 31, 2020, article by Lead Stories explained the difference between dying "from" COVID or "with" COVID:
"Comorbidity" is not the same as cause of death

'Comorbidity' data has been collected since early in the pandemic. It's a scientific term that means the simultaneous presence of two chronic diseases or conditions in a patient, not two or more causes of death. The medical professional who signs a death certificate determines the immediate cause of death, but often notes other conditions the patient had at the time of death. Those are comorbidities.

Board-certified forensic pathologists are trained to determine the immediate cause of death, but often note co-existing and contributing factors, says Dr. Patricia A. Aronica, Florida District 19 medical examiner.

So, when a person who dies in a car crash also has COVID-19, the death certificate correctly declares the crash injuries as the cause of death. Conversely, when a person dies of the lung and organ failure that are the body's response to COVID-19 infection, the death certificate correctly attributes the death to COVID-19, even if the person was previously living with diabetes, heart disease or other conditions. 'They would die with it, not because of it,' said Aronica of the comorbidities.

Comorbidities are common. As many as 82 million Americans with employer-based insurance have a pre-existing condition, ranging from life-threatening illnesses like cancer to chronic conditions like diabetes, asthma, or heart disease, according to analysis by the Department of Health and Human Services. Some 50 million to 129 million (19% to 50% of) non-elderly Americans have some type of pre-existing health condition.