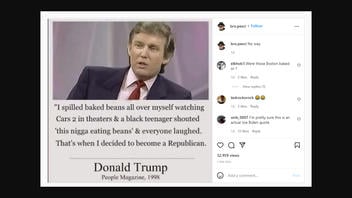 Did former President Donald Trump say in a People magazine interview that he spilled baked beans all over himself watching "Cars 2" in a theater, a Black teenager laughed at him and that is when he decided to become a Republican? No, that's not true: This is a made-up quote Trump didn't tell People magazine in 1998. This is similar to another fake quote about why he decided to become a Republican that was debunked by Lead Stories in 2019.
The recent claim appeared as an Instagram post on January 30, 2022. It opened:

'I spilled baked beans all over myself watching Cars 2 in theaters & a black teenager shouted 'this n***a eating beans' & everyone laughed. That's when I decided to become a Republican.' Donald Trump. People Magazine, 1998
Social media users saw this post on Instagram: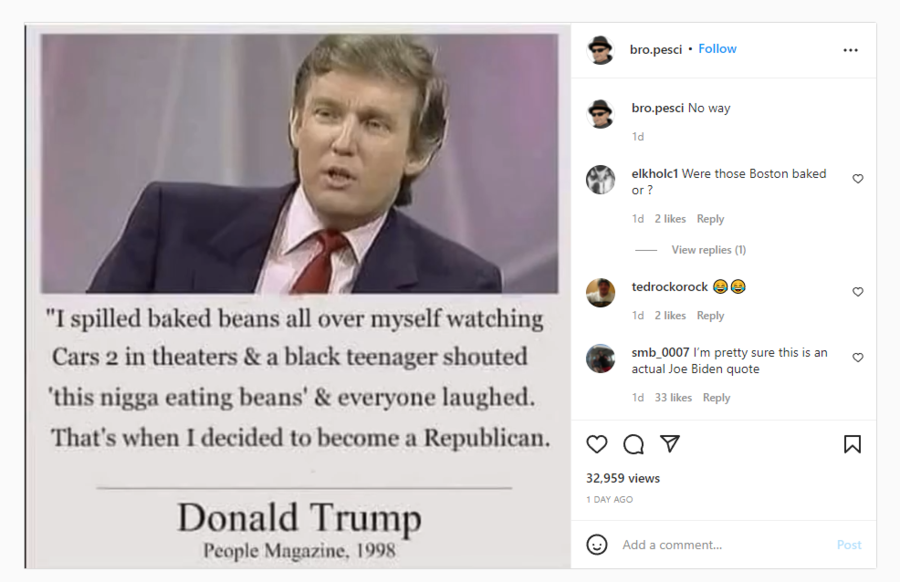 (Image source: Instagram screenshot taken on Mon Jan 31 08:52:43 2022 UTC)
The quote is below an old image of Trump that appears to be a screenshot of him taken from a video OWN network posted in June 2015 titled,
"Donald Trump Teases a President Bid During a 1988 Oprah Show":
According to IMDB.com, the movie "Cars 2" was released in 2011, not 1998 when the quotes were allegedly made by Trump.
In 2019 Lead Stories debunked a claim that Trump made a similar comment, also purportedly in 1998. That fake quote was:
If I were to run, I'd run as a Republican. They're the dumbest group of voters in the country. They believe anything on Fox News. I could lie and they'd still eat it up. I bet my numbers would be terrific.
Donald Trump
People magazine, 1998