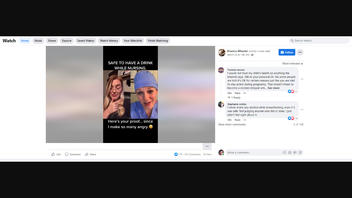 Is it "totally safe" to drink alcohol while breastfeeding? Expert opinion varies: While some cite health organizations' recommendations and research, others believe there is limited evidence to deem alcohol use safe or unsafe during breastfeeding. Lead Stories spoke with lactation experts who explained their stances on the issue.
The claim appeared in a Facebook post (archived here) on March 28, 2022. The post contained a video of someone reacting to a woman in medical scrubs who said in part:
So it's actually totally safe to drink alcohol while you're breastfeeding as long as you're sober enough to hold the baby and not hurt yourself or the baby or fall asleep.
This is what the post looked like on Facebook at the time of writing:

(Source: Facebook screenshot taken on Tue Apr 12 14:23:49 2022 UTC)
The woman in medical scrubs is not identified by name or profession in the video clip or in the post.
Several health organizations recommend limited drinking while breastfeeding. Guidance from the Centers for Disease Control and Prevention (CDC) states that although avoiding alcohol consumption while breastfeeding is "the safest option for breastfeeding mothers," breastfeeding individuals can drink in moderation without fear of health consequences for their baby. Moderate drinking is defined as one standard drink (defined here) per day, and the drink would be even safer if consumed at least two hours before breastfeeding. Because alcohol can be found in breast milk, the CDC cautions:
However, exposure to alcohol above moderate levels through breast milk could be damaging to an infant's development, growth, and sleep patterns. Alcohol consumption above moderate levels may also impair a mother's judgment and ability to safely care for her child.
But to clarify, the CDC says:
Drinking alcoholic beverages is not an indication to stop breastfeeding; however, consuming more than one drink per day is not recommended.
Lead Stories spoke with Cheryl Harrow, founder of the Center for Breastfeeding at Johns Hopkins Bayview Medical Center, over the phone on April 13, 2022. Harrow said that drinking alcohol is "not recommended during breastfeeding" and that if a mother feels any effects of the alcohol after drinking, that means the alcohol is present in her breast milk and body.
However, not all experts are convinced that drinking alcohol while breastfeeding is harmful if done responsibly. Lead Stories also spoke with Angela Love-Zaranka, program director for Lactation Education Resources, via a phone call on April 13, 2022. Love-Zaranka told us that she agrees with the claim, and believes that the guidelines by health organizations were made out of an abundance of caution and based on an assumed risk rather than a proven risk. She said there is not enough research regarding the relationship between breastfeeding and alcohol consumption to create definitive guidelines.
Still, like the CDC, other health organizations such as the American College of Obstetricians and Gynecologists and the American Academy of Family Physicians recommend that if a breastfeeding individual drinks, they should drink in moderation. An article published by Contemporary OB/GYN cites research that observed infants experiencing increased disruptive sleep after drinking breast milk that contained alcohol. However, the article also explained that the long-term effects on infants of alcohol exposure through breast milk "are not definitively understood."