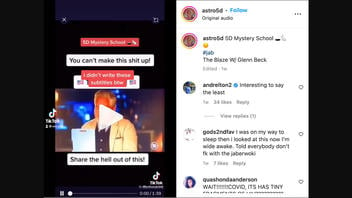 Does the U.S. government own or co-own Moderna's COVID-19 vaccine, giving it an "ulterior motive" for mandating the shots? No, that's not true: There is no evidence to support this claim. The National Institute of Allergy and Infectious Diseases (NIAID), which collaborated with Moderna on the shot, told Lead Stories in a September 28, 2022 email that it "neither owns nor co-owns the mRNA-1273 COVID-19 vaccine." In addition, the U.S. government has spent billions of dollars to purchase hundreds of millions of doses from vaccine manufacturers, including Moderna. However, the NIAID does have an outstanding intellectual property dispute with Moderna over the technologies behind the vaccine.
The claim appeared in a video on Instagram on September 17, 2022 under the title "😯 #jab The Blaze W/ Glenn Beck." It opened with text on screen saying:
You can't make this shit up!

🇺🇸 TURN IT UP!! 🇺🇸

Share the hell out of this!
This is what the video looked like on Instagram at the time of writing: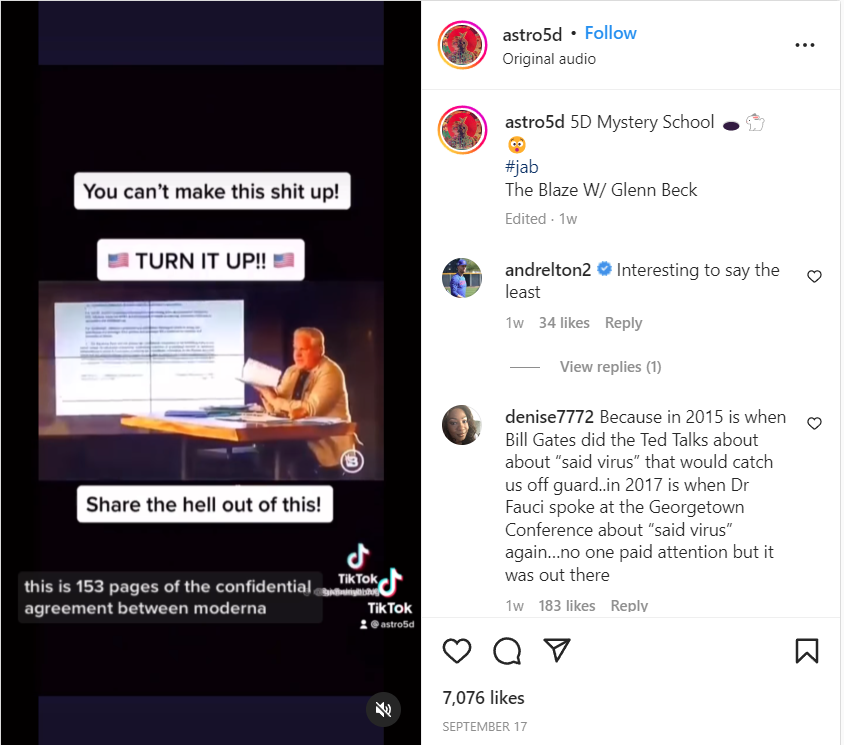 (Source: Instagram screenshot taken on Mon Sep 26 15:26:56 2022 UTC)
The accusations
This clip is from an episode of one of Beck's shows on Blaze TV that has been widely shared on social media. It begins with Beck holding up a file folder of papers for viewers to see:
This is 153 pages of the confidential agreement between Moderna and the U.S. government and it goes back to 2015.
Beck uses the document to accuse the U.S. government of "ulterior motives" in mandating COVID shots:
Did you know that the government co-owns the vaccine? ... The same government that is now mandating its use owns the vaccine.
The NIAID said in its email that's not the case. The National Institutes of Health (NIH), the parent agency of NIAID, and Moderna do have a relationship, but it's not one of co-ownership of the vaccine:
In 2020, NIH scientists collaborated with Moderna to design and test the COVID-19 vaccine that Moderna manufactures and sells as the product known as mRNA-1273. The collaboration evolved from a years-long one originally focused on the development and testing of mRNA vaccines to combat MERS, a coronavirus related to SARS and SARS-CoV-2, and Nipah virus.

The mRNA-1273 vaccine utilizes an approach developed by NIH scientists and academic collaborators for stabilizing the coronavirus' spike protein in a prefusion conformation. NIAID has adopted a non-exclusive licensing approach for this patented technology to allow multiple vaccine developers to utilize in their proprietary vaccine platforms.
Legal dispute
While NIH claims no ownership in the Moderna vaccine itself, it is involved in a legal dispute with the vaccine manufacturer over the intellectual property behind it, according to the NIAID email:
Moderna filed a patent application for the mRNA-1273 COVID-19 vaccine that failed to include several NIH scientists who co-invented the vaccine. Omitting NIH inventors from the principal patent application deprives NIH of a co-ownership interest in that application and the patent that will eventually issue from it. NIH and Moderna are working toward an agreement on joint inventorship. There are no enforceable ownership rights until a patent is issued by the U.S. Patent and Trademark Office.
Axios explained some of the nuances of the case in a June 25, 2020 article:
Why it matters: Because the federal government has an actual stake in this vaccine, it could try to make the vaccine a free or low-cost public good with wide distribution ...

The big picture: The NIH mostly funds outside research, but it also often invents basic scientific technologies that are later licensed out and incorporated into drugs that are sold at massive profits. The agency rarely claims ownership stakes or pursues patent rights, but that appears to be different with this coronavirus vaccine.

'We do have some particular stake in the intellectual property' behind Moderna's coronavirus vaccine, NIH Director Francis Collins said during an Economic Club interview in May.
Lead Stories reached out to Moderna multiple times for a response, but had not received one at the time of writing. When the pharmaceutical and biotechnology company replies, its comments will be added to this story.

Additional Lead Stories fact checks related to COVID-19 can be found here.