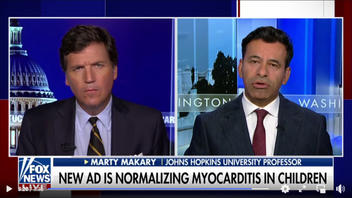 Did hospitals force the vaccination of millions of children for COVID-19 and are they now trying to normalize a rare side effect? No, that's not true: Hospitals do not have that kind of power and less than a handful of states have mandated COVID shots before kids can attend school. There's also no evidence to suggest that the health care facilities are trying to pass off myocarditis as a normal childhood condition.
In addition, is the risk of getting myocarditis from the COVID vaccine higher than the risk of getting it from COVID-19 itself? No, that also is not true. The heart condition is more common and typically more severe after contracting coronavirus than if a child gets it from the shot.
The claims appeared in a Facebook post and video published by the Fox News Channel show "Tucker Carlson Tonight" on September 23, 2022 under the title "Myocarditis from the Covid Vax." It opened:
After forcing millions of children to get the Covid vax and insisting it was 'safe and effective,' hospitals are now normalizing a side effect they once called rare: myocarditis.
This is what the post looked like on Facebook at the time of writing:

(Source: Facebook screenshot taken on Tue Sep 27 14:49:46 2022 UTC)
Fox News host Carlson portrays hospitals as the force behind millions of children across the United States receiving COVID shots under duress and then in the aftermath trying to normalize a very rare but still frightening side effect called myocarditis. It's an inflammation of the heart muscle. According to the Centers for Disease Control and Prevention (CDC), myocarditis and pericarditis, an inflammation of the sac around the heart, have "rarely been reported":
In April 2021, increased cases of myocarditis and pericarditis were reported in the United States after mRNA COVID-19 vaccination (Pfizer-BioNTech and Moderna). Data from multiple studies show a rare risk for myocarditis and/or pericarditis following receipt of mRNA COVID-19 vaccines. These rare cases of myocarditis or pericarditis have occurred most frequently in adolescent and young adult males, ages 16 years and older, within 7 days after receiving the second dose of an mRNA COVID-19 vaccine (Pfizer-BioNTech and Moderna). There has not been a similar reporting pattern observed after receipt of the Janssen COVID-19 Vaccine (Johnson & Johnson).
To make his point that myocarditis is more common because of the COVID vaccine, Carlson showed a New York-Presbyterian Hospital ad about the condition. It appears about 40 seconds into the video. In introducing it, he says, "Hospitals are perfectly aware of this [risk] and they're warning children about it":

Carlson's argument seems to be that the hospital wouldn't be running an ad if the condition weren't common enough to worry about.
The CDC continues to recommend COVID vaccination for everyone 6 months of age and older. The Advisory Committee on Immunization Practices and CDC have determined that the benefits (such as prevention of COVID cases and its severe outcomes) outweigh the risks of myocarditis and pericarditis.
That's a view held by Dr. Jason Cole, a cardiologist at Omaha Children's Hospital and Medical Center, who said this in a September 27, 2022 email to Lead Stories:
When looking at data from around the world in regard to vaccine safety in our pediatric population, there have been multiple large volume studies in the U.S., Denmark and Israel that have demonstrated very similar findings. Most importantly, the primary finding is that myocarditis or MIS-C occurs less frequently in pediatric patients that have received COVID-19 vaccinations and boosters. Secondly, the risk of myocarditis following COVID-19 vaccinations is significantly less than infection by the virus itself.
The bottom line, according to Cole, is that the outcomes are far worse for those children who get the disease than those who get the shots:
A small percentage of [pediatric] patients that contract COVID-19 will be diagnosed with myocarditis or MIS-C; however, when it does occur those patients often become very ill and require ICU level of care which can progress to needing mechanical ventilation support and, in some cases, heart bypass machine or ECMO to support the heart. Unfortunately, we have seen multiple cases of this at Children's since 2020, as have many centers across the world.
In the end, Cole says, medicine is always a balance of risk and benefit:
In pediatrics, the COVID-19 vaccinations have been proven to be safe in the overwhelming majority of patients and help prevent the most dangerous complications of the virus. While a very small percentage of patients have experienced myocarditis related to the vaccine itself, the severity, lasting effects on the heart and recurrence rates are less when compared to those that experience myocarditis from COVID-19 virus.
Additional Lead Stories fact checks related to COVID-19 vaccines can be found here.