STORY UPDATED: check for updates below.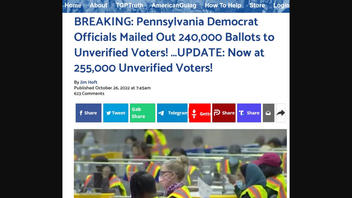 Did Democratic election officials in Pennsylvania mail out 255,000 ballots to unverified voters? No, that's not true: As required by state law, county election offices mailed applications for mail-in or absentee ballots to any registered voter who requested an application. An application for a mail-in or absentee ballot is not the same as an actual ballot. In an email to Lead Stories, the Pennsylvania Department of State, which "promotes the integrity of the election process," called the allegation "misinformation."
The claim about ballots for unverified voters appeared in an article (archived here) published by The Gateway Pundit on October 26, 2022, and entitled "BREAKING: Pennsylvania Democrat Officials Mailed Out 240,000 Ballots to Unverified Voters! ...UPDATE: Now at 255,000 Unverified Voters!" The article opened:
Pennsylvania Democrat officials sent out 240,000 255,000 ballots to people they could not verify either by their Social Security or Driver's License numbers.

The ballots should NEVER have been sent out to these voters.
This is what the article looked like on The Gateway Pundit website at the time of this fact check's writing: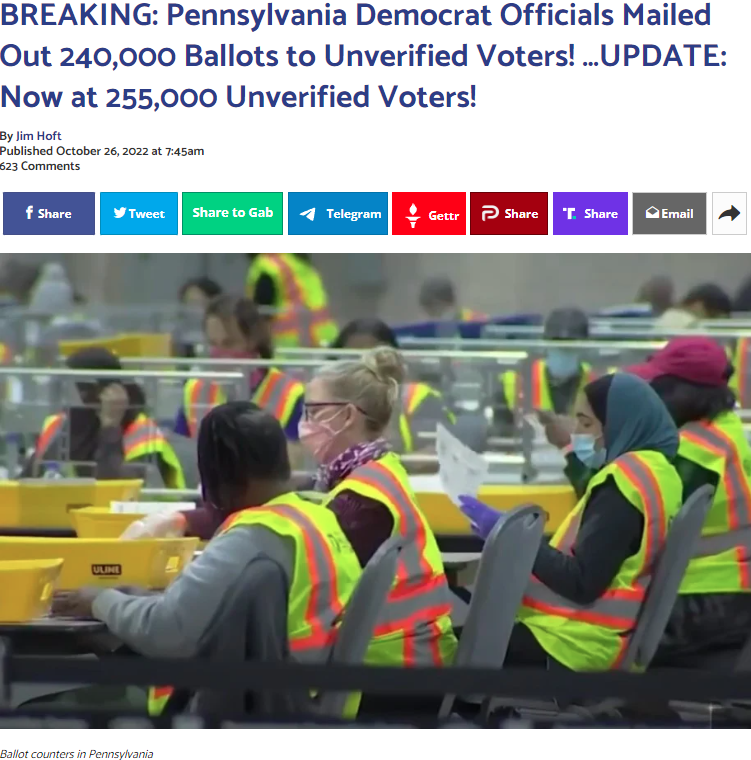 (Source: Gateway Pundit screenshot taken on Fri Oct 28 15:42:16 2022 UTC)
These accusations follow an October 25, 2022, letter from 15 Republican state lawmakers to Acting Secretary of the Commonwealth Leigh Chapman, a Democrat, to express their concern about information that county election officials had dispatched hundreds of thousands of ballots to unverified voters. The state representatives wrote, in part:
According to the DoS [Department of State -- ed] data, as of October 21, 2022, a staggering 240,000 ballots are 'NOT VERIFIED'. That is on an enormous number of ballots which, according to the law, must be set aside and not counted for the 2022 Generol Election unless the voter produces ID.
Chapman responded to the state representatives in an October 28, 2022, letter that was also made available to members of the media:
The Department shares your concern that only qualified voters vote in the upcoming election. As you should be aware, the processes used to ensure that this is the case are carefully prescribed by both federal and state law. Your claims reflect a misunderstanding of the laws guiding processes surrounding voter registration and absentee/mail-in ballot applications. Further, your claim that counties have mailed "over 240,000 unverified ballots" is incorrect and reflects a misunderstanding of the law and data.
Ballot applications, not ballots
In an email to Lead Stories earlier the same day, the Pennsylvania Department of State (DoS) had already said the claim by lawmakers was inaccurate. (The DoS Office of Communications and Press, not Lead Stories, bolded words for emphasis.)
There are not 240,000+ 'unverified ballots,' as certain lawmakers are claiming. That is misinformation. Any mail-in or absentee ballot from a voter whose identification cannot be verified by the sixth day after the election is not counted.

It's important to note that this discussion about 'verification' relates to ballot applications; we are not talking about ballots. This misinformation incorrectly conflates an application for a mail ballot and an approved mail ballot.
Statewide, voters' identification for about 7,600 ballot applications has not yet been verified, the Department of State told Lead Stories.
Safeguards
The DoS office says a system is in place to assure that ballots by unverified voters are not cast:
[C]ounty election offices are required to provide a mail-in or absentee ballot to any registered voter who requests one regardless of whether they provide proper ID at the time they request their ballot. It's important to know that the vast majority of voters do provide proper ID at that time. In the event a voter's ID cannot be verified during the application process, voter[s] have the ability to submit proper ID for their ballot until the sixth day after the election.
Unverified ballots that come into elections officials are marked NV for not verified and are set aside. If the person's identification can't be verified within the allotted time period, the ballot won't be counted.
In the closing paragraph of her correspondence to state representatives, Chapman said she trusts her letter resolves their concerns:
The Department's Guidance is correct and already does direct the counties not to count ballots where a voter's proof of identification is not validated. ... As you recognize, the election is only a few days away. The Department and the counties are working tirelessly to ensure that all Pennsylvanians who are qualified under the law to vote have their vote counted. We should all share that goal. Making claims that misconstrue facts and reflect an ignorance of the law are not conducive to achieving it.
Additional Lead Stories fact checks related to election ballots can be found here.
2022-10-28T22:48:33Z

2022-10-28T22:48:33Z

Adds excerpts from a letter by Acting Secretary of the Commonwealth Leigh Chapman to Pennsylvania state representatives.