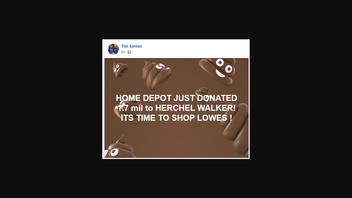 Did Home Depot donate $1.7 million in October 2022 to former NFL player and 2022 Senate candidate Herschel Walker? No, that's not true: Bernard "Bernie" Marcus, a co-founder of Home Depot who retired from the company in 2002, made two donations totaling $1.75 million to a political action committee that supports Walker in his race for the U.S. Senate seat from Georgia. He also made two donations and received two refunds to Walker's campaign committee that left him with a net contribution amount of $6,800. The Home Depot company did not make a $1.7 million donation to Walker, a company spokesperson told Lead Stories.
The claim appeared in a Facebook post on October 7, 2022, that opened:
HOME DEPOT JUST DONATED 1.7 mil to HERCHEL WALKER! ITS TIME TO SHOP LOWES !
This is what the post looked like on Facebook at the time of writing: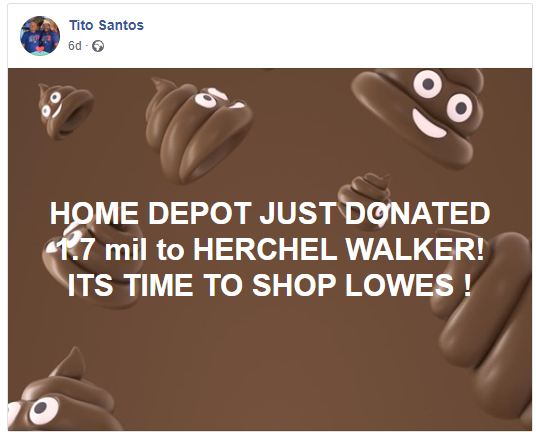 (Source: Facebook screenshot taken on Thu Oct 13 17:36:58 2022 UTC)
"The Home Depot PAC hasn't donated to Walker's or [incumbent Sen. Raphael] Warnock's campaigns. Our co-founder Bernie Marcus left Home Depot more than 20 years ago, and his views do not represent the company," a Home Depot spokesperson told Lead Stories via email on October 13, 2022.
The Federal Election Commission (FEC) forbids corporations from making political contributions, though they are allowed to form a political action committee, or PAC.
According to the FEC website, the Home Depot PAC did not make any contributions to the Walker campaign nor to 34N22, Inc., a PAC supporting Walker, "Our associate-funded PAC supports candidates and organizations on both sides of the aisle who champion pro-business, pro-retail positions that create jobs and economic growth," the Home Depot spokesperson said.
Marcus made a $1 million donation to 34N22 on March 21, 2022, and a $750,000 donation on November 8, 2021, according to the Federal Election Commission website.

This screenshot shows the donation made on March 21, 2022:
(Source: FEC website screenshot taken on Thu Oct 13 17:54:12 2022 UTC)
This screenshot shows the donation made on November 8, 2021:

(Source: FEC website screenshot taken on Thu Oct 13 17:58:22 2022 UTC)
Marcus also made two contributions to Walker's campaign committee Team Hershel, Inc. and received two refunds, according to the FEC website. He donated $11,600 and $2,900 and received a refund for $2,900 and $4,800 on April 5, 2022, as this screenshot shows:
(Source: FEC website screenshot taken on Thu Oct 13 19:16:12 2022 UTC)