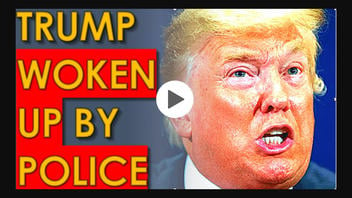 Was former President Donald Trump awakened out of bed by investigators seeking to search his Mar-a-Lago residence, as the headline of a video claims? No, that's not true: The video itself never mentions the search of the Florida property -- it's about the U.S. Capitol insurrection -- and its headline is a ploy to entice clicks.
The claim appeared in a YouTube video from July 26, 2022 under the title "Trump WOKEN UP from his BED by POLICE." It opened:
Breaking news, guys, massive. Donald Trump is now being officially under investigation by the Department of Justice for his crimes connected to January 6. This is the moment we've been waiting for. We've assumed it's been coming because of some of the announcements over previous days, some of the people being hauled into grand juries, including massive names connected to Trump and Pence and others ... Clearly it was moving beyond the thugs at the bottom and towards the kingpin, but now we have some confirmation.
Here's how it looked on the day of writing: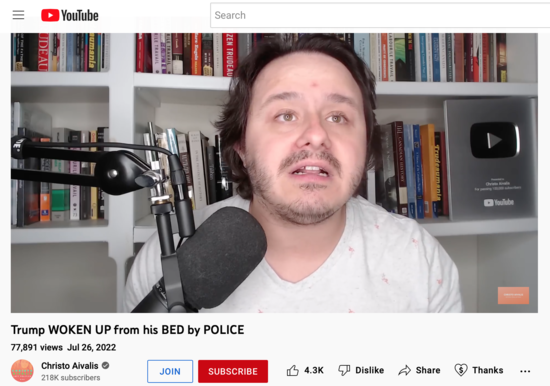 (Source: YouTube screenshot taken on Thurs Oct 13 at 11:12:01 UTC)
The video is a classic bait and switch in two ways. First, its headline is not accurate about the video's content, and, second, it does not accurately describe the events that occurred during the FBI's August 8, 2022 search of Mar-a-Lago.
At no time in the nearly six-minute video does the narrator, Christo Aivalis, mention the FBI's search of Trump's home in Florida. Instead, he speaks about alleged developments in a Justice Department investigation of the January 6, 2021 insurrection at the U.S. Capitol. He then shows a clip from a July 26, 2022 interview of Rep. Adam Schiff by MSNBC's Chris Hayes on the topic.
Trump's own lawyers have said he was not in Florida, but in New York City when the warrant was served for the search of Mar-a-Lago, and that he wanted a closed-circuit security video of the search.
The video's narrator, Aivalis, has an active YouTube channel that regularly posts false claims with sensational headlines to drive interest and clicks. The clickbait tactic is commonly used to increase the volume of traffic to posts on social media channels, which can enhance the air of credibility and draw advertisers.
Aivalis has also used clickbait on both of his Facebook pages: The Christo Aivalis Official Report, where he posts regularly, and The Christo Aivalis Show, which has not been updated since May 17, 2021.
Lead Stories has fact-checked other posts by Aivalis and found them to be false. Those stories can be seen here and here.