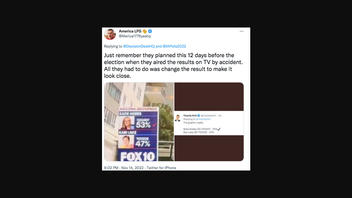 Was a Phoenix affiliate of Fox News part of an attempt to defraud voters by calling the Arizona governor's race 12 days before Election Day? No, that's not true: While the affiliate, Fox 10 Phoenix, did accidentally air a graphic in late October that showed Democratic candidate Katie Hobbs defeating Republican candidate Kari Lake by six points, the station acknowledged in a statement that broadcasting the graphic, part of a test, had been a mistake. The station itself did not call the gubernatorial race for either candidate on the day of the vote.

The claim appeared in a tweet (archived here) on November 14, 2022. It read:
Just remember they planned this 12 days before the election when they aired the results on TV by accident. All they had to do was change the result to make it look close.

This is what the tweet looked like at the time of writing: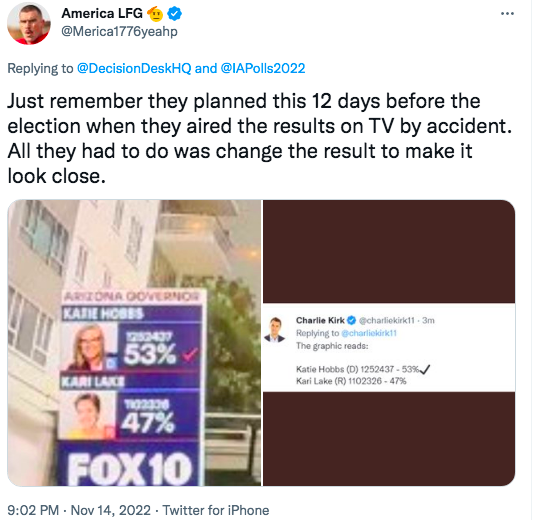 (Source: Twitter screenshot taken on Wed Nov 15 17:20:56 2022 UTC)

Fox 10 Phoenix, the station responsible for the error, tweeted an explanation (archived here) on October 27, 2022, after the mishap occurred:

At 5:50p during the Fox 10 newscast today a small graphic appeared on the lower left side of the screen showing test results for the upcoming election.

These were generated by the Associated Press which distributes results to clients.

This graphic was never meant to go on air -- the numbers were only part of a test. The station has taken steps to make sure this cannot happen again.
In the test graphic, Hobbs won by six points over Lake.
In a November 14, 2022, email to Lead Stories about the Fox 10 Phoenix incident, Associated Press (AP) spokesperson Lauren Easton repeated a statement she had given to other news organizations:
Before any election, AP provides clearly labeled test data to customers as part of routine testing. The data is randomly generated by a computer and is not based on any predictive analysis or polling. Random numbers are provided to allow customers to test their systems in preparation for Election Day.
On November 14, 2022, with 43,000 votes remaining to be counted, AP called the race for Hobbs. In a story the following day, the wire agency explained that, despite Lake's "increasingly larger margins in vote updates from Maricopa County," which accounts for most of the state's registered voters, the updates were insufficient "to overtake Hobbs ..."
With 99 percent of the vote counted, Lake lost the race by less than one percentage point: 49.7 percent to Hobbs' 50.3 percent, according to AP -- not six percentage points, as the test graphic shows.
Additional Lead Stories fact checks related to the 2022 midterms can be found here.