Did Iran sentence 15,000 protesters to death as of November 16, 2022? No, that's not true: While those participating in the uprising face serious risks to their well-being and in some cases their lives, the figure of 15,000 refers to the total number of detainees, which cannot be independently verified. As of this writing, one case of the death penalty sentence linked to the protests was confirmed.
The claim appeared in an Instagram post on November 14, 2022, with the following text:
Iran

Sentences 15,000 protesters

to death - as a 'hard lesson'

for all rebels
Here is what the post looked like at the time of writing: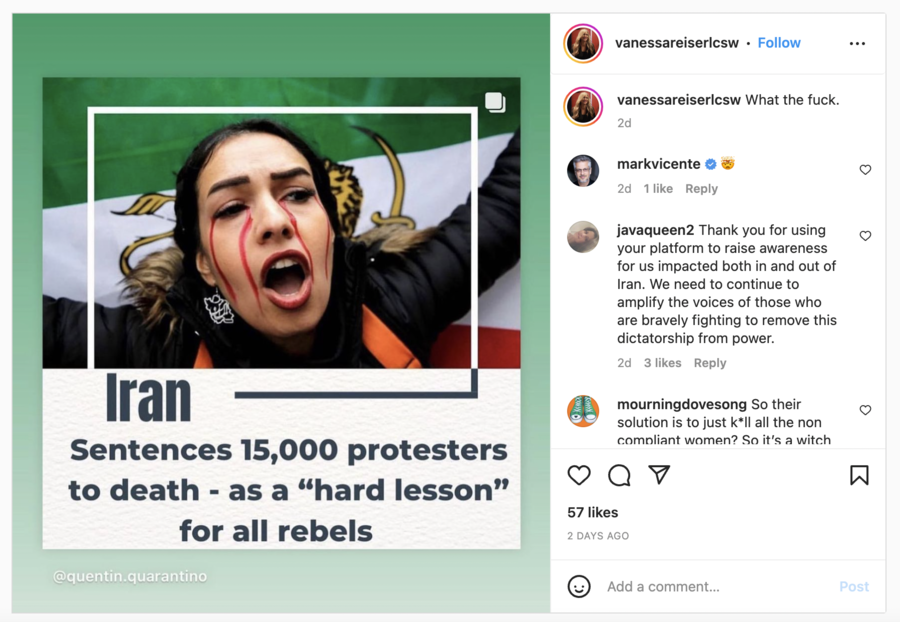 (Source: Instagram screenshot taken on Nov 16 15:23:41 2022 UTC)
The post cited no source for its number, and the claim does not accurately reflect the number of known death sentences. As of this writing, one death sentence was confirmed, according to news organizations including The Washington Post, which cited Mizan, the news site of Iran's judiciary.
In light of continuing mass protests following the death in September 2022 of Mahsi Amani shortly after her arrest over not covering all her hair with a hijab, the Iranian parliament sent a letter to the Iranian judiciary demanding severe punishment for rioters and suggesting that they should be treated as "terrorists," according to the Iranian English-language state-owned network Press TV on November 6, 2022. Lawmakers said it should become a lesson.
On November 13, 2022, Iran issued the first death sentence connected to the anti-government rallies. As the Twitter account of the news website of the country's judiciary specified, that person was charged with setting a building on fire and committing a crime against national security. Around the same time, five other protesters were sentenced to prison for up to 10 years. Lead Stories has confirmed this is what the communique said, using the rough translation tools of Google Translate. Below is the judiciary's post, in Farsi: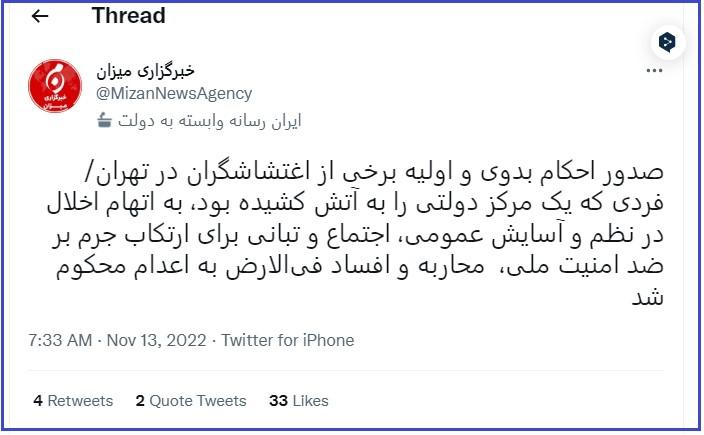 (Source: Twitter.com screenshot taken on Wed Nov 16 21:45:13 2022 UTC)
The tweet said, as translated by Farsi-speaking staff at Lead Stories:
The issue or preliminary sentences regarding some of the rioters in Tehran/ a person who set a government center to fire, with the charges of disturbing public order and security, assembly and collusion to commit crimes against national security, war and corruption on the land, has been sentenced to death.
The number of those to be executed, 15,000 people, comes from a shareable Google doc attributed to HRANA (Human Rights Activists in Iran) cited by The Washington Post. The paper described the source as an "activist news agency Hrana," founded in 2006. As of this writing, the number was 15,915. However, that does not show the number of death sentences -- that is an estimate of the total number of detainees nationwide that The Washington Post reported.

(Source: Google Docs screenshot taken on Wed Nov 16 16:21:13 2022 UTC)
Urging Iran to stop charging people with crimes punishable with the death penalty "for participation, or alleged participation, in peaceful demonstrations," United Nations experts, in a U.N. press release on November 11, 2022, pointed out that there may be more than one person who falls in this category:
Eight people were charged on 29 October by the Islamic Revolution Court, in Tehran province, with crimes carrying the death penalty, namely 'waging war against God' or 'moharebeh' and 'corruption on earth'. Two days later, the Tehran prosecutor announced that some 1,000 indictments had been issued in connection with recent 'riots' in Tehran province alone and that trials were scheduled in the Islamic Revolutionary Court for cases against a number of individuals. Public trials would take place 'in the coming days', the prosecutor said.
According to Amnesty International, Iran executed at least 246 people in 2020 and at least 314 in 2021.