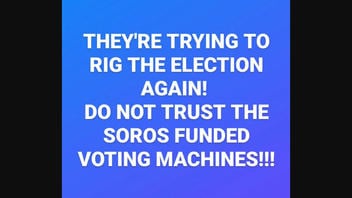 Did billionaire philanthropist George Soros fund the purchase of voting machines in order to rig the 2022 midterm elections? No, that's not true: Elections are funded by taxpayer dollars and Soros has no connections to voting machine or voting software companies.
The claim appeared in a November 6, 2022, Instagram post that uses a long string of hashtags for a title: "#hillaryclinton #alexjones #trump2024 #trump #donaldtrump #aoc #tedcruz #georgefloyd #rondesantis #joebiden #kamalaharris #kylerittenhouse #obama #maga #takeamericaback #drfauci #saveamerica #memes #whoopigoldberg #donaldtrumpjr #politicalmemes #magacountry #nra #theview #hunterbiden #elonmusk #pronouns #georgesoros #betoorourke #benshapiro"

It opens:
THEY'RE TRYING TO RIG THE ELECTION AGAIN!

DO NOT TRUST THE SOROS FUNDED VOTING MACHINES!!!

Here's how the post looked on the day of this fact check's writing: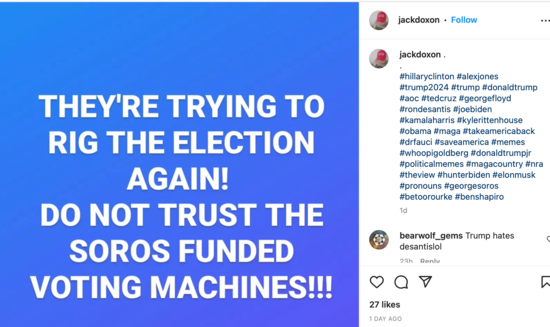 (Source: Instagram screenshot taken on Mon, Nov 7 08:01:17 2022 UTC)
Claims that Soros owns or has ties to voting-machine manufacturers have circulated on conservative blogs and social media (here and here) for nearly a decade, and have been shown to be false, according to statements from his foundation and from voting machine companies.
Soros is a self-made billionaire hedge fund manager who started the Open Society Foundations in the 1980s to support organizations around the globe that work to advance democracy, protect free speech and address social justice issues. A Democrat, Soros also has a track record of giving millions to support Democratic candidates, state parties and political action committees, Federal Election Commission records show.
As early as 2016, conservative politicians and bloggers have tried to foment mistrust among voters by claiming that Soros had ties to the voting machine company Dominion and the voting software firm Smartmatic.
Such claims prompted election officials in Jefferson County, New York, to post a lengthy Facebook post denying any connection between the philanthropist and the companies.
Software company Smartmatic also sought to clarify the issue on its website in 2016, posting, "George Soros does not have and has never had any ownership stake in Smartmatic." The company noted that its chairman, Lord Mark Malloch-Brown, also sits on the Open Society Foundations board.
In an email to Lead Stories on November 7, 2022, Smartmatic's head of communications, Samira Saba, restated the lack of a Soros connection, pointing to an earlier fact check of the claim.
"George Soros has no ownership interest in Smartmatic, nor is he an investor," wrote Saba. "He's not on the Board or otherwise employed by Smartmatic. He never has been. That's been proven time and again." (Words in bold appear as written by Samira Saba -- ed.)
Voting machine manufacturer Dominion also told Lead Stories that the company has no ties to Soros.
"I'll also note that this claim has already been debunked, (examples here, here and here)," wrote
Dominion spokeswoman Stephanie Walstrom on November 7, 2022.
The Open Society Foundations did not immediately respond to an email from Lead Stories. However, in response to similar claims raised in 2020, the organization posted on its Facebook page that "Neither we nor our founder George Soros has anything to do with voting machines and how they function."
Under Article I, Section 4, Clause I of the U.S. Constitution, states are in charge of elections. And while no two states handle elections in the same way, in most instances county or municipal officials administer the elections and shoulder the bulk of those costs, although some legislatures do include funding in their budgets, according to the National Conference of State Legislatures.
The federal government, however, has provided some funding over time, noted Pam Smith, president and CEO of Verified Voting, a nonprofit that works on election security issues, in an email to Lead Stories on November 7, 2022.
In 2002, for example, Congress enacted Help America Vote Act, an election reform bill -- a response to the "hanging chad" controversy during the 2002 presidential election. The measure included up to $3 billion for states to meet new standards and upgrade voter registration databases and buy new voting equipment.
As noted in Verified Voting's March 2021 report "The Price of Voting," Smith said, subsequent infusions of federal dollars were made in March 2018 through the Consolidated Appropriations Act, which set aside $380 million available to states for improving the security of their election systems. The Consolidated Appropriations Act of 2020 authorized an additional $425 million so that states could improve the administration of elections for federal offices, including for the purchase of updated voting machines, she said.
Smith also said Verified Voting has seen no evidence that Soros has any connections to voting machine or voting software companies.

Additional Lead Stories fact checks related to voting machines can be found here.