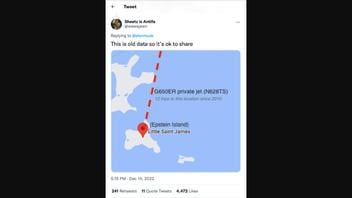 Does an image of a flight log shared on social media show that a private jet owned by Elon Musk traveled to Little St. James Island -- also known as "Epstein Island" -- a dozen times since 2010? No, that's not true: The map has been acknowledged as a fake by its maker, and no plane can fly to the late pedophile financier's private island in the U.S. Virgin Islands because it doesn't have an airstrip.
The claim appeared in a December 14, 2022, Twitter post under the title "This is old data from Elon's jet so it's ok to share."
Here's how it appeared on the day of writing: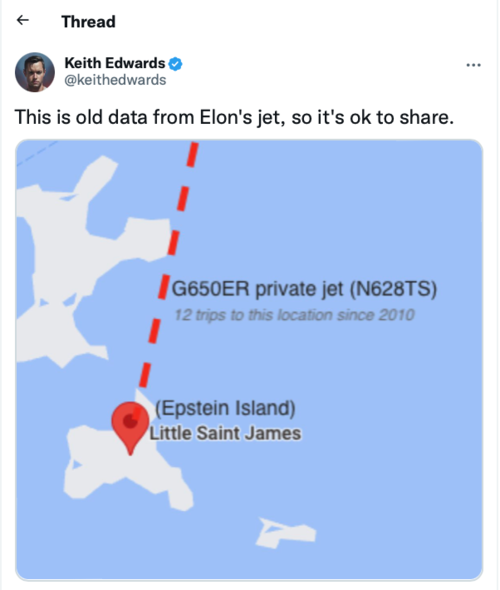 (Source: Twitter screenshot taken Sat Dec 18 at 22:28:10 2022 UTC)
The post's image purports to shows the image of Little St. James Island, once owned by the late, convicted sex offender Jeffrey Epstein, with a red dotted line representing a flight path to a pin mark. It also includes serial and tail numbers for the plane.
The post is a retweet of false flight path claims made twice on December 14, 2022, (here and here) by another Twitter user, who admitted it's a fake in a post on December 15, 2022.
Here's how the post appeared on the day of writing: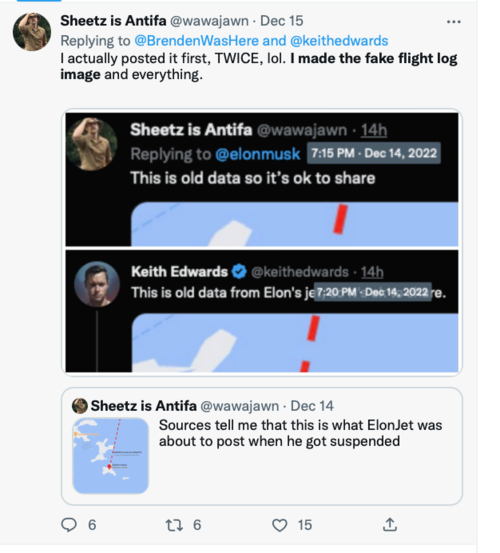 (Source: Twitter screenshot taken Sun Dec 18 at 17:31:58 2022 UTC)
Musk, owner of both Twitter and Tesla, responded to the post, as he has to others, by warning that sharing flight information about his private jet violates Twitter's doxxing rules and threatens his safety. Some accounts tracking Musk have been suspended, even though the Federal Aviation Administration told Lead Stories in a December 19, 2022, email that flights can legally be tracked under U.S. law.
"A flight can be tracked in ways such as a Freedom of Information Act request, Flightradar24.com, FlightAware.com, www.LiveATC.com, ADSB Exchange, or a frequently departed airport," an FAA spokesperson said. "There are programs that can help maintain privacy of flight tracking information such as the Limiting Aircraft Data Displayed (LADD) and The Privacy ICAO Address (PIA) programs."
A Lead Stories review of FAA registration records showed that the serial and tail numbers seen in the post do match those associated with a private jet owned by Falcon Landing, LLC, a company owned by Musk.
Here's what plane registration data looked like on the day of writing:

(Source: Screenshot of FAA registration data taken Mon Dec 19 at 22:06:17 2022 UTC)
Separate from the post's image of a fake map, a Lead Stories review of multiple Little St. James Island maps (here, here and here) found that neither Musk's plane nor any other fixed-wing aircraft can travel directly to the island, which has no airstrip.
According to a real estate listing for the 71.6-acre island, visitors can access the property by flying into "Saint Thomas Cyril E. King Private Airport just minutes from USVI capital Charlotte Amalie before heading to your private helicopter or to the coast for a short scenic ride to Little Saint James." An image of the island from the listing notes the island's helipad, but no airport.
Here's how it appeared on the day of writing:
(Source: Screenshot of bepspokerealestate.com taken Sun Dec 18 at 17:40:08 2022 UTC)
Little St. James and its sister property, Great St. James Island, were listed for sale in March 2022 by Epstein's estate. Epstein died by suicide in a New York jail in 2019 while awaiting trial on sex trafficking charges. He had pleaded not guilty to the charges. Prosecutors alleged Epstein, who was a registered sex offender, had been at the center of the alleged trafficking activities.
Lead Stories has fact checked other false claims about Musk, which can be found here.