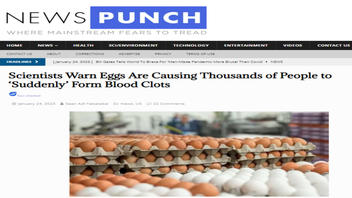 Did scientists warn that eggs are causing thousands of people to "suddenly" form blood clots? No, that's not true: The 2017 study by Cleveland Clinic researchers that is supposed to support this assertion makes no such connection. The medical center said, "The online article [making this claim] does not accurately represent the findings of our 2017 research."
The claim appeared in an article (archived here) by NewsPunch on January 24, 2023, titled "Scientists Warn Eggs Are Causing Thousands of People to 'Suddenly' Form Blood Clots." The article opens:
Scientists are now warning the public that consuming eggs could cause blood clots, strokes and heart attacks.
This is what the post looked like on the NewsPunch website at the time of writing:
(Source: NewsPunch screenshot taken on Wed Jan 25 18:41:01 2023 UTC)
The NewsPunch article cites a story in the online version of the Daily Express, a newspaper in the United Kingdom, that ultimately refers to the study by Cleveland Clinic researchers published in the journal Circulation on April 25, 2017, titled "Gut Microbe-Generated Trimethylamine N-Oxide From Dietary Choline Is Prothrombotic in Subjects." In a January 25, 2023, email to Lead Stories, the medical center provided a response to the claim. It said:
The Circulation study referenced showed that taking supplemental choline in a capsule, a fairly common supplement, raised TMAO [trimethylamine N-oxide] levels. This fostered increased platelet responsiveness, a risk factor for thrombotic events such as heart attack and stroke. The research did not show a direct link between egg consumption and 'suddenly forming blood clots.'
Choline is found in a variety of foods including eggs and meat. The body can't make enough of it, so people must get it in the food they eat or by taking a choline supplement. In an April 2017 article by Reuters Health, the study's lead author, Dr. Stanley L. Hazen, said, "unless prescribed by your doctor, avoid supplements with choline."
The hospital's response goes on to say:
Additionally, a subsequent study involving the same Cleveland Clinic researchers found that egg consumption failed to show TMAO elevation or enhanced platelet response in healthy volunteers.
The second study, published in September 2021, is called "Dietary Choline Supplements, but Not Eggs, Raise Fasting TMAO Levels in Participants with Normal Renal Function: A Randomized Clinical Trial."
About NewsPunch
NewsPunch has published numerous fake news articles in the past. Their Facebook page "The People's Voice" even lost its verification checkmark, according to a 2018 report from Media Matters For America.
The NewsPunch site's terms of use (archived here) also make it clear that the organization does not stand behind the accuracy of its reporting:
NEWSPUNCH, LLC AND/OR ITS SUPPLIERS MAKE NO REPRESENTATIONS ABOUT THE SUITABILITY, RELIABILITY, AVAILABILITY, TIMELINESS, AND ACCURACY OF THE INFORMATION, SOFTWARE, PRODUCTS, SERVICES AND RELATED GRAPHICS CONTAINED ON THE SITE FOR ANY PURPOSE.
Lead Stories' other debunks of claims made by NewsPunch can be found here.