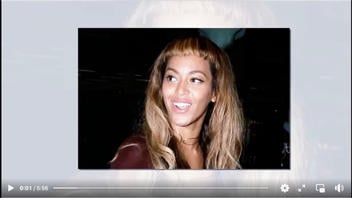 Was American singer-songwriter Beyoncé hospitalized in critical condition after her January 21, 2023, performance in Dubai? No, that's not true: There is no evidence she was admitted to a hospital after her Dubai concert. Although the title of a video on Facebook made that claim, the video itself does not substantiate it. The Facebook page belongs to a gaming video creator, according to its About section.
The claim appeared on Facebook (archived here) on January 24, 2023, with the caption "Sad News, Beyonce Hospitalized Is In Critical Condition After Private Dubai Show." The video accompanying the post opened with:
Hello, everyone, and welcome back to my channel. Beyoncé Knowles is reportedly recovering from a surgery prior to her much-talked-about performance in Dubai.
This is what the post looked like on Facebook at the time of this fact check's publication: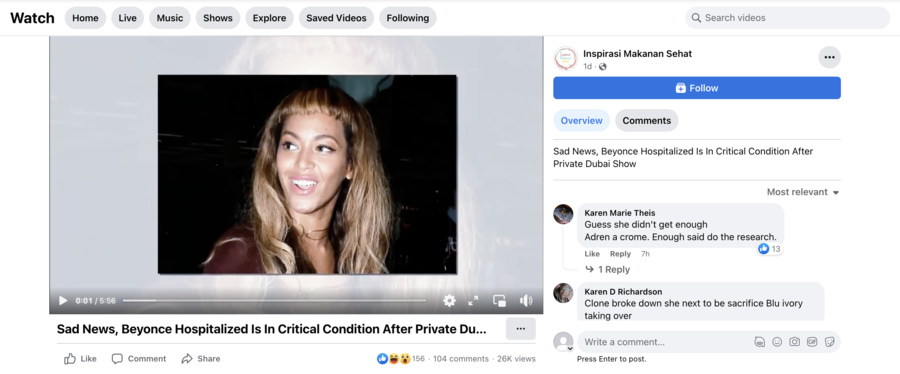 (Source: Facebook screenshot taken on Thu Jan 26 15:44:59 2023 UTC)
The Facebook video offers no support for the claim that Beyoncé is in critical condition or has been admitted to the hospital. The narration, in fact, refers to a report that she underwent foot surgery before her private Dubai performance, but the singing star has not confirmed that ocurred.

Lead Stories has contacted Beyoncé's publicist and will update this fact check if a response is received.

The video's narration is a reading of an article from AceShowbiz.com, a celebrity gossip site, about Beyoncé's show. The article refers to the singer's reported foot surgery, but does not state she was hospitalized after the Dubai performance.

Google News displays no results for the keywords "Beyoncé critical condition hospitalized Dubai."
The Facebook page that posted the video labels itself a "Gaming video creator" in its About section. The page manager location is recorded as being in Indonesia.
Lead Stories has debunked similar Facebook videos. The videos may have an eye-catching title or caption, but their content does not relate to the title or caption's claims. Examples of this form of clickbait can be found here, here, and here.
Additional Lead Stories fact checks about Beyoncé can be found here, here and here.