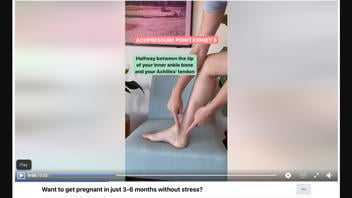 Are self-massages creating "acupressure" a scientifically proven cure for the inability to conceive a child that helps women "get a fertile cycle in just 3 months"? No, that's not true. Not a single authoritative source refers to it as an evidence-based treatment expediting the beginning of pregnancy. In an email to Lead Storeis, the chief of clinical practice at the American College of Obstetricians and Gynecologists called the claim medical misinformation.
The claim appeared on Facebook on December 19, 2022. The caption introducing the video said:
How women can get a fertile cycle in just 3 months!

By massaging certain pressure points, the brain is signaled to send energy and nutrients to a specific area to the ovaries and uterus.
This is what the post looked like on Facebook at the time of writing: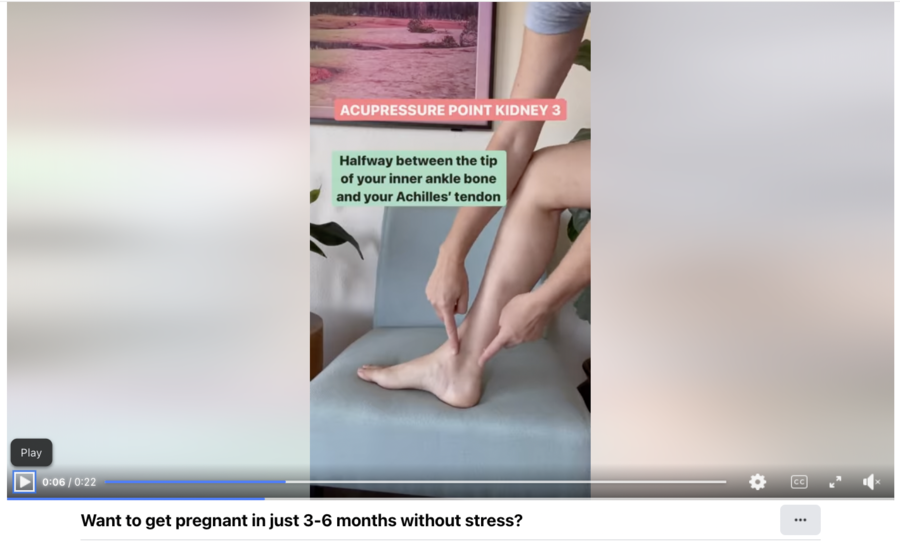 (Source: Facebook screenshot taken on Tue Jan 3 19:46:55 2023 UTC)
According to Dr. Christopher Zahn, the chief of clinical practice and health equity and quality at the American College of Obstetricians and Gynecologists (ACOG), who responded on January 3, 2023, to an inquiry from Lead Stories, the claim is unfounded:
This claim is false and is not grounded in science. The spread of medical misinformation, myths, and fallacies is harmful for patients. People seeking information about their health online should refer only to reliable sources. Just because information is online or on social media doesn't mean that it is true, or based on any reliable medical evidence. It is a sad reality that some people intentionally disseminate false information or simply decide to share unproven medical allegations without confirming the truth.
The Centers for Disease Control and Prevention (CDC) define infertility as the inability to conceive a child after at least six months of unprotected sex. As the national public health agency specifies on its website, the underlying causes include different conditions affecting the functions of ovaries, fallopian tubes and uterus. Thus, doctors would run a number of tests to establish what affects a particular patient to determine whether infertility is treatable and how to reverse it.
The CDC website does not list massages or self-massages as means to expedite conception. Instead it says:
Infertility can be treated with medicine, surgery, intrauterine insemination, or assisted reproductive technology.
The Facebook video in question shows a woman massaging her ankle. That is known not as acupuncture (which requires needles and has been proven ineffective as a treatment for infertility) but as reflexology, "a practice in which different amounts of pressure are applied to specific points on the feet or hands," as defined by the National Center for Complementary and Integrative Health. However, the government agency's website warns that the underlying idea of reflexology is not backed up by science either:
These points are believed to match up with certain other parts of the body. Reflexology is claimed to cause relaxation and healing in those parts of the body, but this has not been proven.
There is some indication that massages may help reduce anxiety and stress. Other studies also suggest that massages might be beneficial for alleviating menstrual pain (dysmenorrhea), but the most recent ACOG guide on integrative approaches to reproductive health does not extend it further.