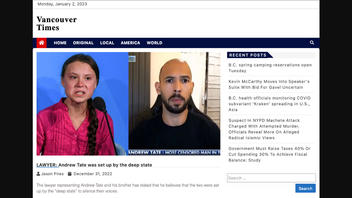 Did a "deep state" conspiracy lead to Romania's arrest of former kickboxing champion and online celebrity Andrew Tate on December 29, 2022? No, that's not true: Romanian authorities have told Lead Stories that Tate was arrested following an investigation that began in April 2022. No credible evidence exists to support the claim of a "deep state" conspiracy, which was published by a website known for its satirical take on the news.
The claim appeared in a December 31, 2022, article by the outlet Vancouver Times (archived here) under the title "LAWYER: Andrew Tate was set up by the deep state." It opened:
The lawyer representing Andrew Tate and his brother has stated that he believes that the two were set up by the 'deep state' to silence their voices.
Here's how the Vancouver Times article appeared on the day of the writing of this fact check: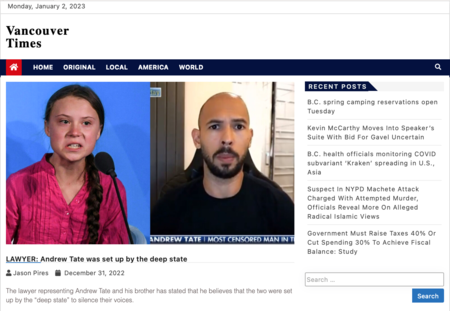 (Source: Vancouver Times screenshot taken Mon Jan 2 at 21:58:54 2022 UTC)
The story also claims that Tate's unnamed attorney has "mountains of evidence" that the Romanian government took "orders" from philanthropist George Soros, founder of the Open Society Foundations, and that Tate had worked to help people find financial freedom by breaking the "Matrix. The story lacks any documentation, quotes or named sources that might substantiate its claims.
Vancouver Times is a self-described purveyor of satirical news that says it has no association with "the mainstream media (CBC, CTV, etc.) in any way ..."
In the Details/About Us section of its website, it writes that:
Vancouver Times is the most trusted source for satire on the West Coast. We write satirical stories about issues that affect conservatives.
Andrew Tate's Romanian lawyer, Eugen Vidineac, has not commented on the Vancouver Times claim. In a January 3, 2022, response to an interview request sent by Lead Stories through LinkedIn messaging, Vidineac confirmed that he represents Tate and his brother, Tristan, who was also arrested. Vidineac said he would seek permission from his clients to respond to the interview request. Lead Stories will update this story if information from Vidineac becomes available.
Andrew Tate, an American-British citizen who rose to fame in professional kick boxing and is now a commentator and internet celebrity, was arrested on December 29, 2022, along with his brother and two other men on suspicion of human trafficking, organized crime and rape, according to a press statement from the Romanian police.
In a phone interview with Lead Stories staffer Ioana Burtea on December 30, 2022, for a separate fact check about Tate's arrest, Ramona Bolla, a spokeswoman for Romania's Directorate for Investigation Organized Crime and Terrorism (DIICOT), said the two Tates were questioned about holding two women hostages in their Ilfov County residence.
The case has been under investigation since April 2022, according to a press release posted on DIICOT's website.

Additional Lead Stories fact checks of claims related to Andrew Tate can be found here.