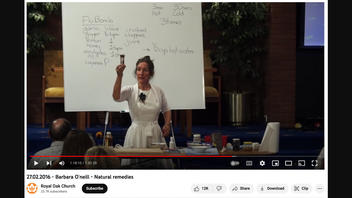 Does cayenne pepper heal stomach ulcers, and is it safe to consume in excess? No, that's not true: An emergency medicine toxicologist at the National Capital Poison Center told Lead Stories that cayenne pepper can cause many life-threatening health complications when consumed in excess. A clinical dietician also told Lead Stories that cayenne pepper irritates stomach ulcers, causing more pain.
The claim appeared in an April 2, 2016, YouTube video titled "27.02.2016 - Barbara O'neill - Natural remedies" on the Royal Oak Church channel. At 1:18:06 in the video, O'Neill makes the claim that cayenne pepper can be used as a medicinal component and to treat stomach ulcers:
Now we're going to have a look at cayenne pepper.
This is my traveling pack.
I take cayenne pepper everywhere with me.
Cayenne pepper is a remarkable herb.
Cayenne pepper is not chili.
Chili comes from the chili family and cayenne pepper comes from the capsaicin family.
Chili is an irritant to the lining of the gastrointestinal tract.
Black pepper is an irritant to the lining of the gastrointestinal tract, but cayenne pepper will heal a stomach ulcer ...
This is what the post looked like at the time of writing: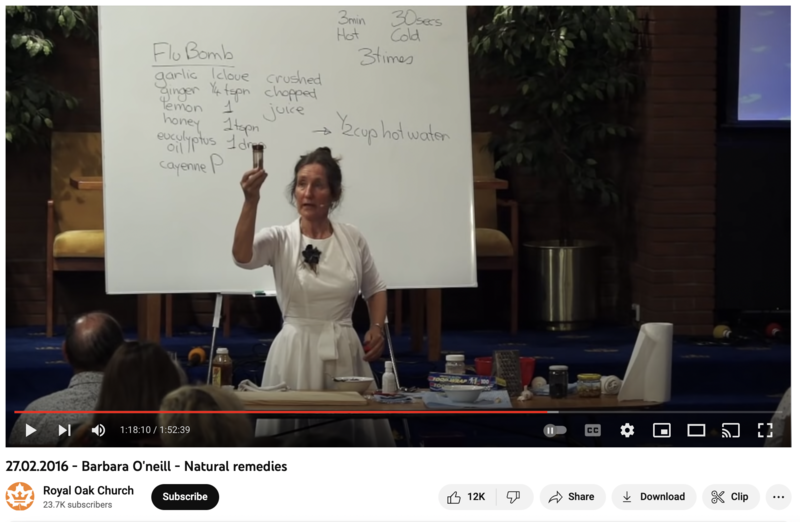 (Source: Screenshot of youtube.com taken on Wed Feb 15 16:30:33 2023 UTC)
While the original video was published on YouTube several years ago, a recording of this video resurfaced in this February 3, 2023, TikTok post.
The woman speaking in the video is Barbara O'Neil, who, according to this September 24, 2019, public statement issued by the Health Care Complaints Commission of New South Wales, Australia, is an "unregistered practitioner" who "makes dubious and dangerous health claims regarding infant nutrition, causes and treatment of cancer, antibiotics and vaccinations that are not evidence based or supported by mainstream medicine."
The Icahn School of Medicine at Mount Sinai website describes cayenne as an herb that has been used in food and medicine for at least 9,000 years. It advises people with ulcers to talk to their doctors before consuming cayenne due to the active ingredient capsaicin, which can cause stomach pain. "DO NOT use capsaicin on open wounds or broken skin," the website warns.
A National Pesticide Information Center fact sheet on capsaicin says "eating too much capsaicin can lead to irritation of the mouth, stomach, and intestines."
In response to an inquiry from Lead Stories about the claim, Dr. Kelly Johnson-Arbor, a board-certified physician in emergency medicine and toxicology at the National Capital Poison Center, explained in an email on February 14, 2023, that when consumed in excess, capsaicin is a gastrointestinal irritant that can cause life-threatening internal injuries:
Capsaicin is the ingredient in cayenne peppers and other hot peppers, that contributes to the 'heat' of the pepper. Capsaicin is also used in pepper spray and bear spray products, and it can definitely cause gastrointestinal irritation when consumed. Capsaicin does constrict blood vessels; in contrast to what is reported in the video post you sent, capsaicin-induced blood vessel constriction can cause unwanted and life-threatening complications including heart attacks, even in young and otherwise healthy individuals (see attached article for a case report of this). Capsaicin (and cayenne peppers) can cause gastrointestinal damage when high doses are consumed. In one study, gastrointestinal bleeding and swelling occurred in individuals who underwent direct application of capsaicin to the gastrointestinal system.
Dana Hunnes, a senior clinical dietitian at the Ronald Reagan UCLA Medical Center in Los Angeles and an adjunct assistant professor in the department of community health sciences at UCLA's Fielding School of Public Health, similarly told Lead Stories in a February 14, 2023, email that the video's claim is false:
I would not recommend eating cayenne pepper if you have a stomach ulcer as it potentially could be very painful and irritating to the lining of the stomach, which is already harmed and in pain from the ulcer. I would not recommend it.
The Mayo Clinic website does not list cayenne pepper as a treatment for ulcers.
Lead Stories reached out to the American Gastroenterological Association and will update this fact check if a response is received.
Other Lead Stories fact checks about purported cayenne pepper cures can be found here.