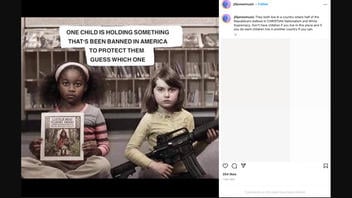 Is "Little Red Riding Hood" banned in America? No, that's not true: And neither are assault weapons. Only nine of the 50 states have banned assault weapons. Two school districts did ban a specific version of the book in 1990 because the protagonist was shown carrying a wine bottle, but one of them is claiming in 2023 to have never banned the book in the first place. The American Library Association does not list "Little Red Riding Hood" as one of their frequently challenged books.
The claim appeared on Instagram on February 14, 2023, with the caption "They both live in a country where half of the Republicans believe in CHRISTIAN Nationalism and White Supremacy. Don't have children if you live in this place and if you do have children live in another country if you can." The text -- over a picture of two little girls, one holding a "Little Red Riding Hood" book and the other holding what appeared to be an assault rifle -- read:
ONE CHILD IS HOLDING SOMETHING THAT'S BEEN BANNED IN AMERICA TO PROTECT THEM GUESS WHICH ONE
This is what the Instagram post looked like at the time of writing: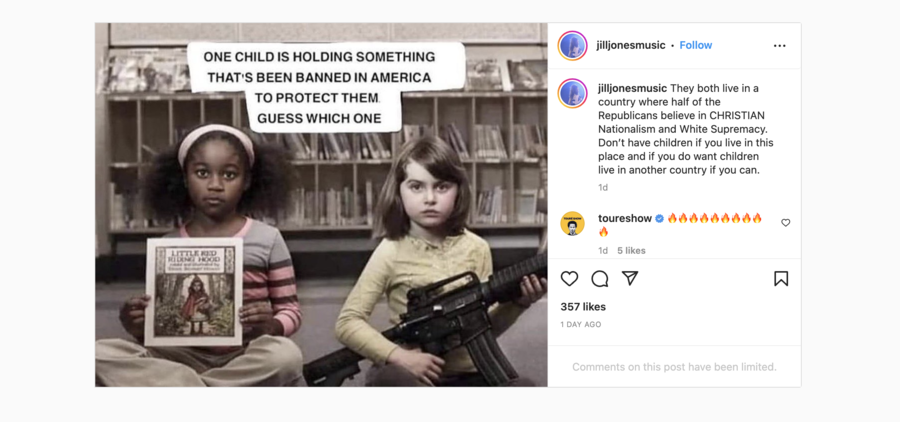 (Source: Instagram screenshot taken on Wed Feb 15 15:37:18 2023 UTC)
While the claim does not explicitly say that "Little Red Riding Hood" is banned in America, it's heavily implied from the on-screen text above the two children that the book is "banned in America" while the weapon is not.
The American Library Association (ALA) receives reports on attempts to ban books from communities around the United States. The ALA compiles them and puts them in a "Frequently Challenged" list. Here is the ALA's list of frequently challenged children's books. "Little Red Riding Hood" is not on the list.
Lead Stories has contacted the American Library Association and will update this fact check with a relevant response from them.
Two districts in California did ban a specific version of the book in May 1990, according to The Seattle Times, the Los Angeles Times and an op-ed by The New York Times. Culver City Unified School District and Empire Union School District banned the book because of a bottle of wine that was purportedly depicted in Little Red Riding Hood's basket. Lead Stories could not find another place where the story had been banned. It's important to note that just because these two school districts banned the book, that does not constitute a nationwide ban.
In a February 15, 2023, phone call with Culver City Unified School District, Laura Denney, an admistrative assistant, told us that after speaking with the assistant superintendent, Angela Baxter, the district "[does] not have a list of banned books" and "'Little Red Riding Hood' was not banned."

Lead Stories also contacted Empire Union School District and officials there did not respond to our multiple inquiries. We will update this fact check if a relevant response is received.
According to this ABC News article, the image in the Instagram post was released as an ad by Moms Demand Action, a coalition against gun violence formed after the 2012 Sandy Hook shooting.
As of this writing, Giffords Law Center, another anti-gun organization, lists nine states that "generally ban the sale, manufacture, and transfer of assault weapons." Three additional states have placed safety regulations on assault weapons, though these are not an outright ban and "fall far short of the general ban." The list of these states can be found here.