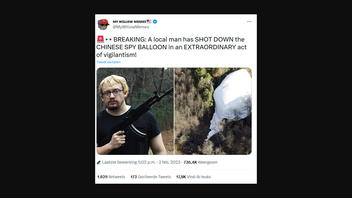 Did a "local man" singlehandedly shoot down "in an EXTRAORDINARY act of vigilantism" the "Chinese spy balloon" recently flying over the continental United States? No, that's not true: The meme that makes this vigilante claim shows a comedian, Sam Hyde, who is routinely cast as the perpetrator in headline-grabbing news events in what one website has called an "extremely tired" trend. The U.S. Department of Defense announced on February 4, 2023, that a U.S. fighter plane downed the Chinese spy balloon.
The claim appeared in a post on Instagram on February 3, 2023. The caption opened:
Hero
In the screenshot of a tweet, above an image of a man with a gun and what appeared to be a deflated white hot air balloon, the text read:
🚨👀 BREAKING: A local man has SHOT DOWN the CHINESE SPY BALLOON in an EXTRAORDINARY act of vigilantism!
This is what the article looked like at the time of writing: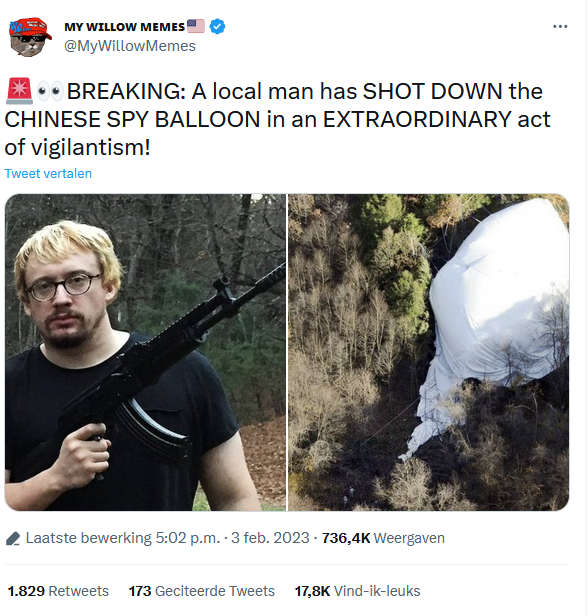 (Source: Instagram screenshot taken on Mon Feb 6 19:26:22 2023 UTC)
The man seen on the left side of the post's image is Sam Hyde, an Internet comedian whose likeness has been used since 2015 in memes that blame him for various horrific or fantastic events. Lead Stories previously has debunked claims that falsely blamed Hyde for various terrorist incidents as part of this same "joke" trend.

The source of the meme trend is unknown, but often attributed to trolls from the imageboard 4chan.

In the case of the Chinese spy balloon claim, a TinEye reverse image search traced the photo of a deflated hot-air balloon on the right of the screenshot to a November 1, 2015, Seattle Post-Intelligencer photo story. The story covered an "unmanned Army surveillance blimp" that had come to ground near Muncy, Pennsylvania, on October 28, 2015, after breaking loose from the Aberdeen Proving Ground in Maryland.
A February 4, 2023, U.S. Department of Defense press release about the downing of the Chinese spy balloon stated that a U.S. F-22 Raptor fighter plane "safely shot down a Chinese high-altitude surveillance balloon" off the coast of South Carolina with an AIM-9X Sidewinder missile.