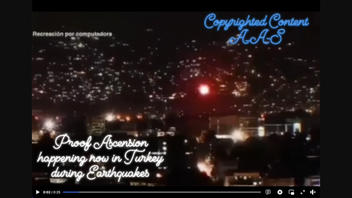 Does a viral video show "proof" of "ascension" in Turkey during the deadly earthquake on February 6, 2023? No, that's not true: The clip itself bears a label that indicates it has been digitally altered.
The claim appeared in a video on Facebook on February 5, 2023. The caption said:
ASCENSION HAPPENING RIGHT NOW IN TURKEY 🇹🇷 AFTER THOUSANDS DEAD !!!
Citizens recorded on 📷 the Ascension HAPPENING during the M9.0 EARTHQUAKE!!!
The epicenter was located 26 km northwest of Gaziantep.
It was felt in Romania, Palestine, Israel, Bulgaria Greece, Syria, Georgia, Iraq among others!!! 5th of February-2023
This is what the post looked like on Facebook at the time of the writing of this fact check:

(Source: Facebook screenshot taken on Tue Feb 7 17:12:10 2023 UTC)
The low-quality, soundless, 25-second video showed a moving object similar to a red glowing ball. Text in the video's bottom left-hand corner described the clip as "proof" of the purported "ascension," a term interpreted differently by various religious faiths, but that generally refers to an ascent into a spiritual paradise.
However, a tag in the upper left-hand corner said in Spanish that the clip was a "computer recreation," which implies it was a computer-generated model, not documentary footage capturing events as they happen: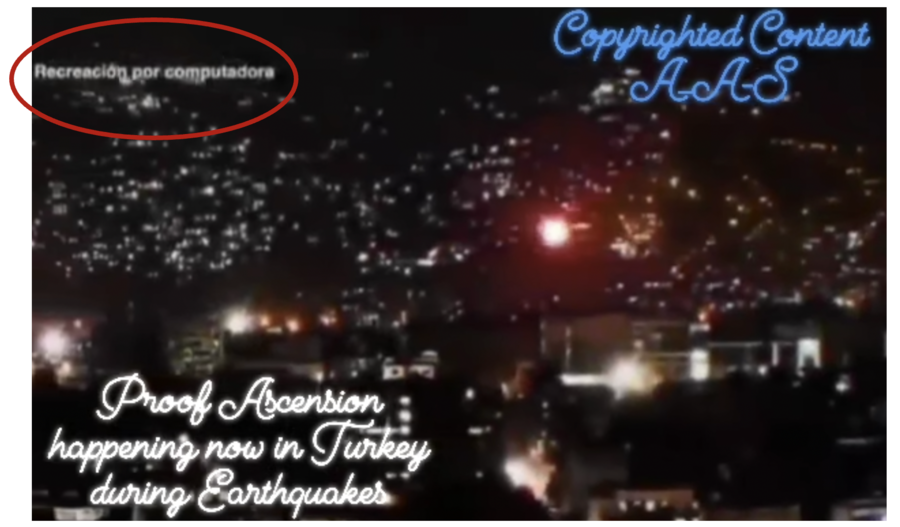 (Source: Facebook screenshot taken on Tue Feb 7 17:19:12 2023 UTC)
A glowing ball is a common visual effect that can be added relatively easily to a previously recorded video during the postproduction stage with video editing software.
A 7.8-magnitude earthquake and aftershocks hit southern Turkey and northwestern parts of Syria on February 6, 2023. As of this writing, more than 7,200 people were estimated to have died.

Additional Lead Stories fact checks of claims related to the February 6, 2023, earthquake in Turkey and Syria can be found here.