STORY UPDATED: check for updates below.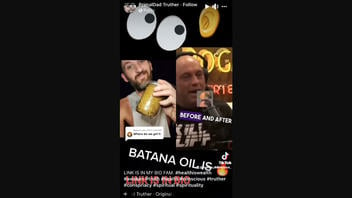 Does "DoctorTruth batana oil" reverse hair loss and potentially stimulate hair growth? No, that's not true: A board-certified dermatologist said he does not recommend it, and the Food and Drug Administration (FDA) told Lead Stories batana oil is not an approved product to treat hair loss or hair growth. Also, this post depicts a "deepfake" video that was created for entertainment purposes.
The claim appeared in a Facebook Reel on February 1, 2023. The in-video text is "How Joe Rogan Reversed His Balding." The caption read:
LINK IS IN MY BIO FAM. #healthiswealth
#awaken #truth #health #conscious #truther #conspriacy #spiritual #spirituality
The audio on the post says:
There's this guy, I think his name is Doctor Truth, and he sells this oil, it's grown only in Honduras and I think it's called batana oil.
This is what the post looked like on Facebook at the time of writing: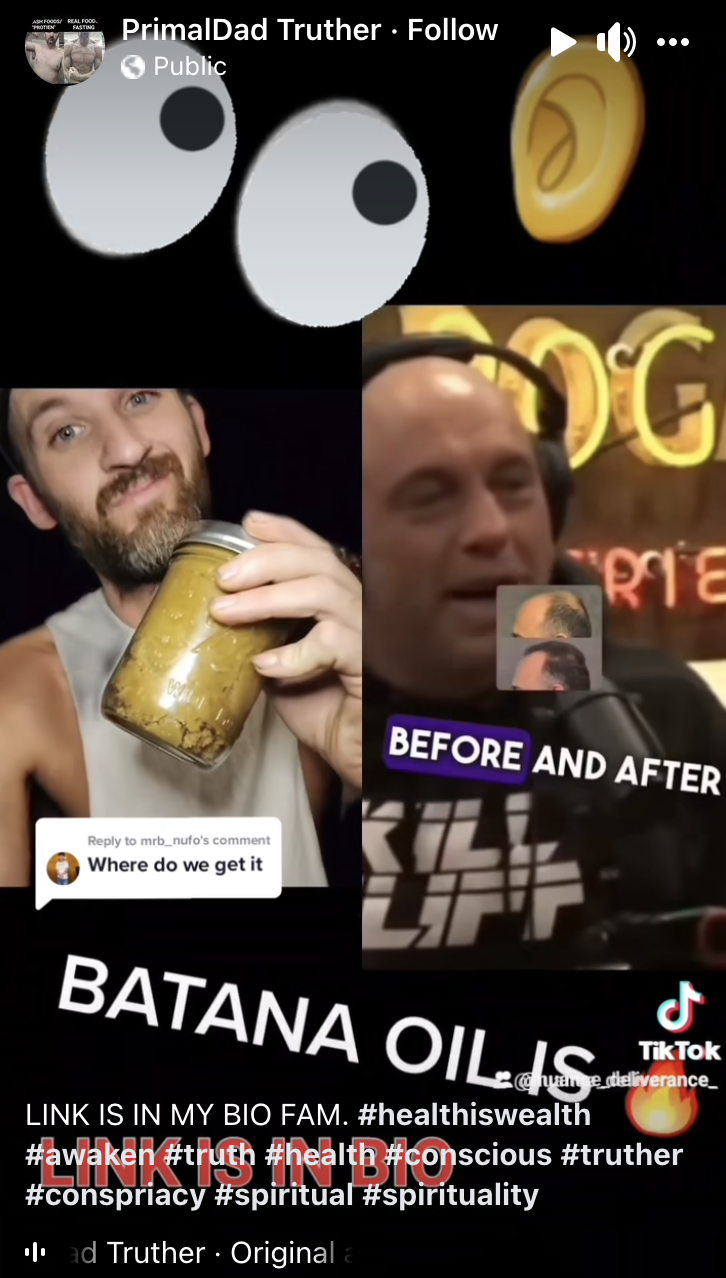 (Source: Facebook screenshot taken on Fri Feb 3 18:22:22 2023 UTC)
Lead Stories reached out to experts. In a February 3, 2023, email, Dr. Gregory Papadeas, a board-certified dermatologist who is also an active member of the American Academy of Dermatology, told Lead Stories there is no scientific evidence to support this claim:
There are many products in the community that claim to stimulate hair growth. Batana oil is one of them. There is no science based evidence to show that this is true. If someone would like to experiment with this product, I would suggest trying it for a minimum of 6 months. If no increase of hair growth by that time, it unlikely would help. Also, be aware of the side effect of an 'irritant dermatitis.' Redness, itching, etc.

I do not recommend its use to stimulate hair growth.
The "doctortruthofficial" Instagram account bio says the information on its TikTok account is content that is "Not Medical Advice OR [from] medical providers." Its website says its goal is "to provide herbal medicines and continue the Dr. Sebi legacy."
"Dr. Sebi," whose real name was Alfredo Bowman, was an immigrant from Honduras who died in 2016. He was not a medical doctor and he was known for promoting questionable herb-based products.
A Mayo Clinic web page on hair loss also did not list any oils as effective medical treatments for hair loss and instead listed prescription medication, hair transplant surgery and laser therapy.
An FDA spokesperson in a February 6, 2023, email confirmed batana oil has not been reviewed by the FDA:
Batana Oil is not an active ingredient in any FDA approved or otherwise legally marketed drug product for hair loss or hair growth.
The origin and authenticity of one part of the video is in doubt.
The man on the right-hand side in the reposted video is Joe Rogan, an entertainment podcaster. Lead Stories could not locate a video in which Rogan stated on his podcast that batana oil reversed his baldness.
This post instead displays what looks like a deepfake video of Rogan: It appears that an edited voiceover has been added to it since the audio of whoever is speaking is slightly off-sync with Rogan's lip movements. Deepfake technology uses machine learning and artificial intelligence to manipulate videos into content of events that look real but never happened.
The deepfake video, only displaying Rogan, originated from a December 26, 2022, TikTok post, archived here, uploaded by social media user "doctorfalse."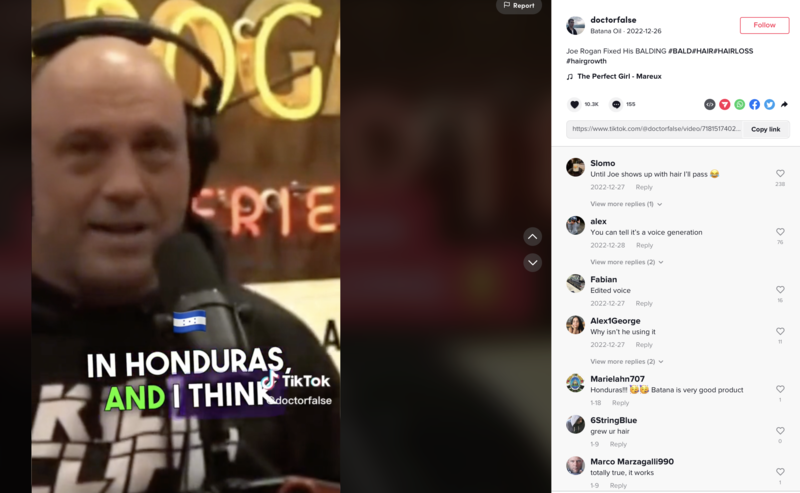 (Source: TikTok screenshot taken on Tue Feb 7 18:38:22 2023 UTC)
The "doctorfalse" TikTok account, archived here, displays numerous deepfake videos that also attributed the same claim of "batana oil reversing hair loss" to other celebrities like Elon Musk (archived here) and Dr. Phil (Phillip Calvin McGraw) (archived here).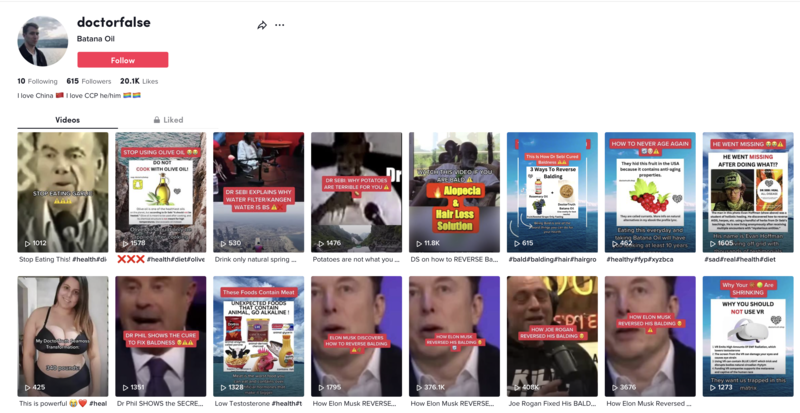 (Source: TikTok screenshot taken on Tue Feb 7 18:38:22 2023 UTC)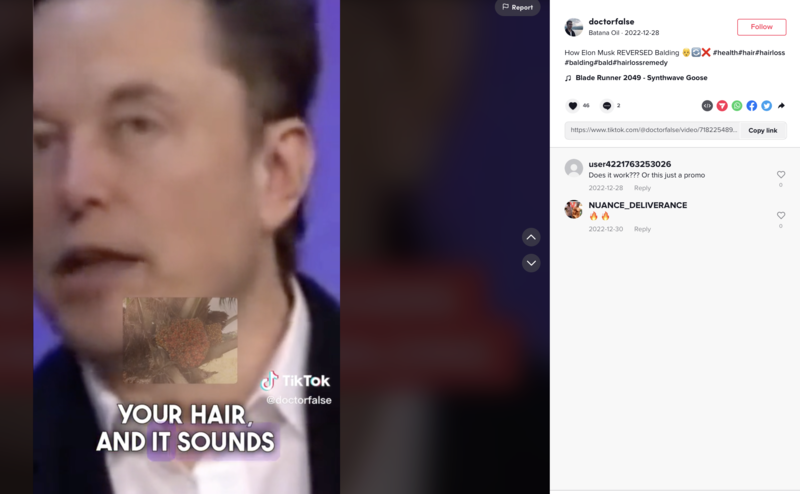 (Source: TikTok screenshot taken on Tue Feb 7 18:38:22 2023 UTC)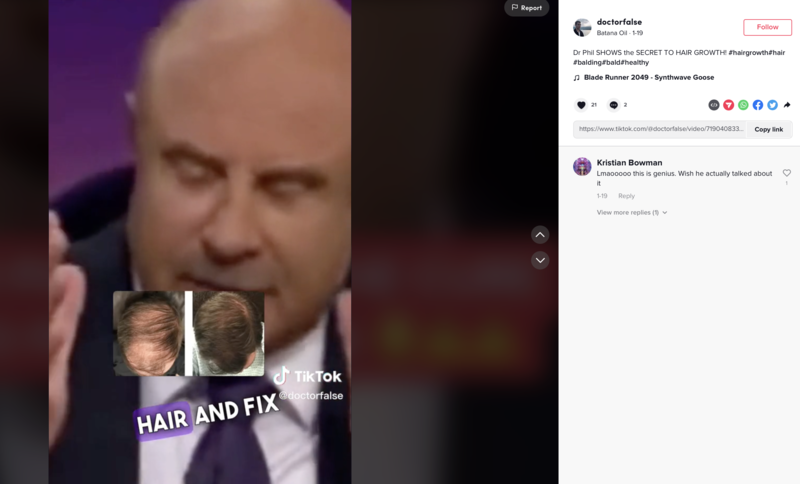 (Source: TikTok screenshot taken on Tue Feb 7 18:38:22 2023 UTC)
The man seen on the left-hand side of the Facebook Reel video is account owner "PrimalDad Truther," a self-described digital creator.
In the caption of this Facebook post, he wrote that the link to purchase the batana oil product is in his "bio."
No link was found. His Facebook account's profile transparency page said only that it had been created on January 27, 2023.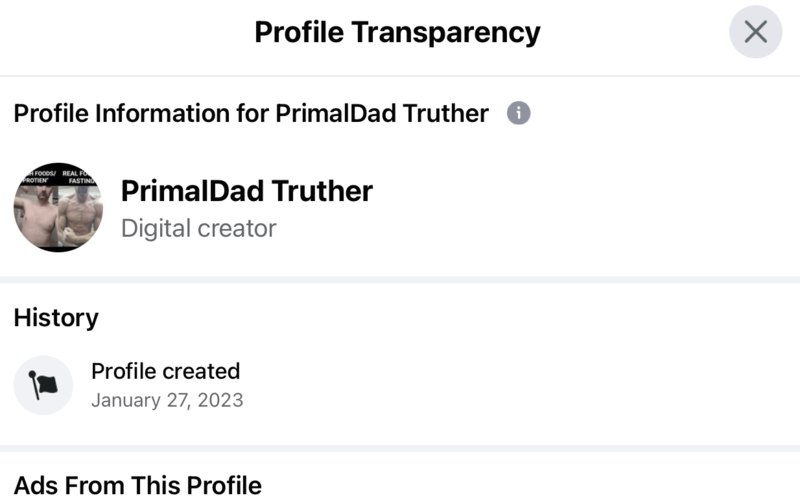 (Source: Facebook screenshot taken on Fri Feb 3 18:26:22 2023 UTC)
The duet post by "PrimalDad Truther" was originally published on TikTok on January 5, 2023. He then reposted his own TikTok post on Facebook on February 1, 2023.
On February 1, 2023, "PrimalDad Truther" had replied to a comment underneath his dueted TikTok post:
It's a joke but it's a good product. Try not to get caught too up 😏
According to an August 23, 2022, POPSUGAR article titled, "Beauty Rituales: How a Trip to Honduras Inspired Alida Boer's Beauty Brand Nolé," batana oil is described as:
' ... an oil from the American palm tree fruit extracted by the Tawira (Indigenous) people in a really remote region called Moskitia.'
More Lead Stories fact checks of claims about Joe Rogan and "Dr. Sebi" can be found here and here.
2023-02-08T22:04:21Z

2023-02-08T22:04:21Z

Adds information about Joe Rogan video most likely being a deepfake.