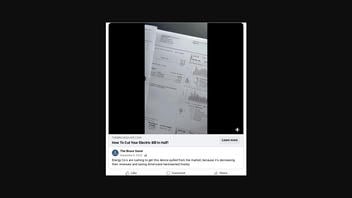 Does a device called "Pro Power Save" help consumers cut their electric bills in half? No, that's not true: such devices have not been proven to work as advertised.
The claim appeared in a post published on Facebook on December 9, 2022. The post included a video, which had a title and a caption that read:
How To Cut Your Electric Bill In Half!
Energy Co.'s are rushing to get this device pulled from the market, because it's decreasing their revenues and saving Americans hard-earned money.
This is what the post looked like on Facebook at the time of writing: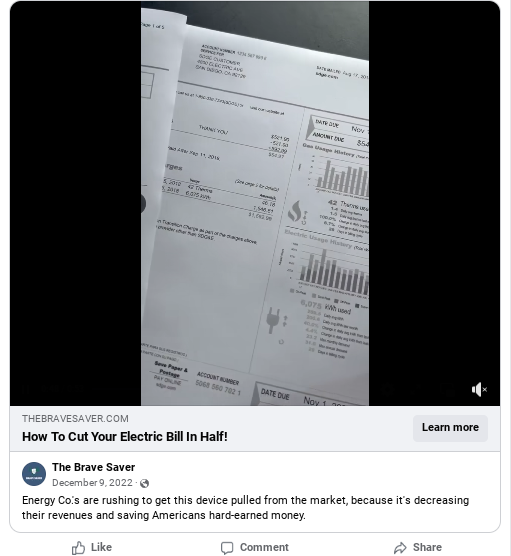 (Source: Facebook screenshot taken on Mon Feb 6 16:46:42 2023 UTC)
The post linked to an advertorial (advertisements designed and written to look like news articles) titled "Electric Companies Will Hate You For Doing This, But They Can't Stop You" and published on October 5, 2022. A disclaimer at the bottom of the advertorial noted, "The story depicted here is for demonstration purposes only and everyone's results may vary."
Screenshots of the advertorial and the disclaimer for the advertorial are included below: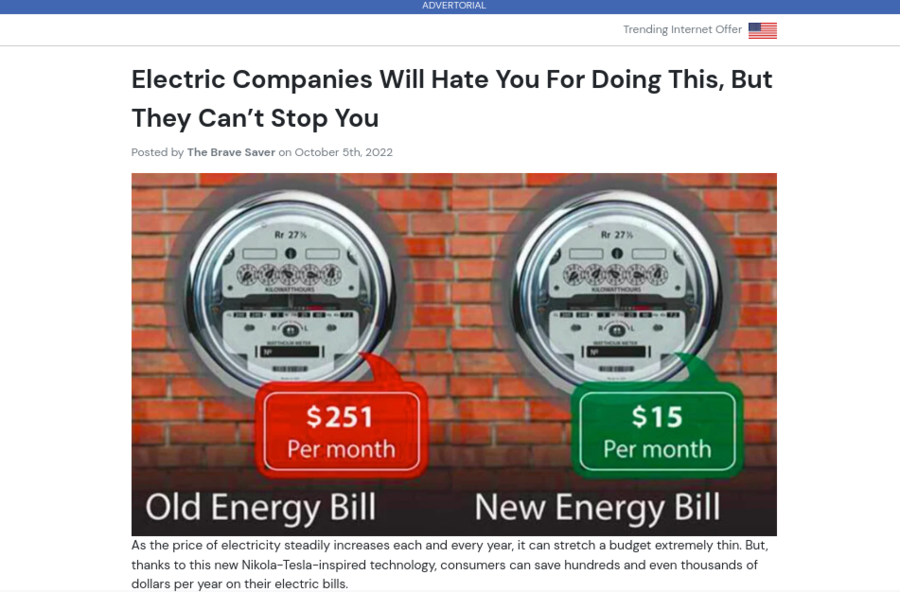 (Source: The Brave Saver screenshot taken on Mon Feb 6 17:00:53 2023 UTC)

(Source: The Brave Saver screenshot taken on Mon Feb 6 16:59:10 2023 UTC)
There is no credible independent evidence in the advertorial that the "Pro Power Save" can actually help consumers save money on their electricity bills. Several videos from electronics-focused YouTube channels like bigclivedotcom (here, here and here) and ElectroBoom have shown that many such plug-in power-saving devices do not work. That's because such plug-in devices usually consist of capacitors and an LED power indicator, which do not lower electricity bills.
In an email sent on February 9, 2023, Rob Roedel, a spokesperson for the Electric Cooperatives of Arkansas, sent Lead Stories a report that the organization conducted in 2020 of a similar power-saving plug-in device called the "Spixe Buster". The report concluded only that "the device may offer low level visability [sic] as a night light when plugged into a duplex outlet in a dimly lit space".
Lead Stories also reached out to the Institute of Electrical and Electronics Engineers, the Edison Electric Institute and the Department of Energy's Office of Energy Saver for comment on the claim. We will update this story with any relevant responses.
Other fact-checking organizations such as Climate Feedback and Snopes have debunked claims related to similar so-called power-saving devices.