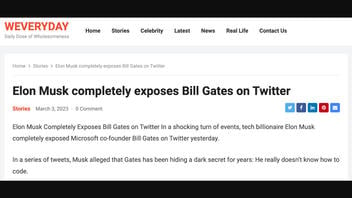 Did tech entrepreneur Elon Musk "expose" the professional incompetency of Microsoft co-founder Bill Gates in a series of tweets on March 2, 2023? No, that's not true: An archived version of Musk's Twitter account does not contain any entries about this.
The story appeared in an article (archived here) published on Weveryday.com on March 3, 2023. It opened:
Elon Musk Completely Exposes Bill Gates on Twitter In a shocking turn of events, tech billionaire Elon Musk completely exposed Microsoft co-founder Bill Gates on Twitter yesterday.
The article continued:
In a series of tweets, Musk alleged that Gates has been hiding a dark secret for years: He really doesn't know how to code.
This is what it looked like at the time of the writing of this fact check: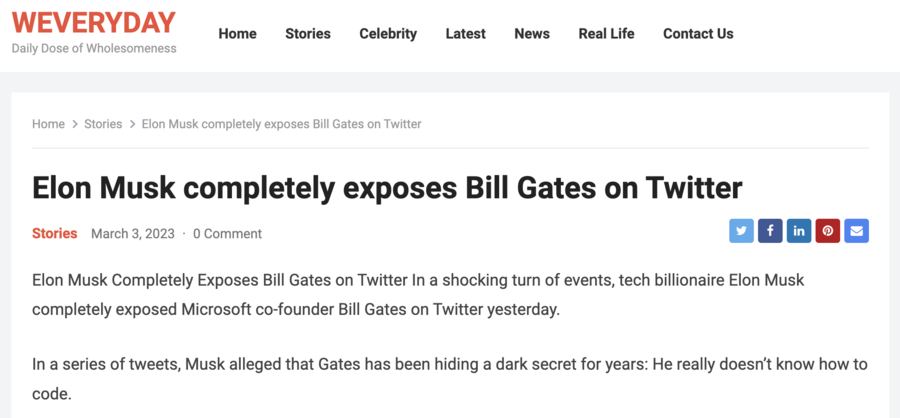 (Source: Weveryday screenshot taken on Fri Mar 10 14:46:19 2023 UTC)
The article was published anonymously. The identity of the website's editorial team is also unclear. Weveryday.com does not have the typical About section and doesn't provide any information about the project elsewhere on its site.

The same article was published on another anonymous website, Elonmuskpower.com.

However, there are no mentions of such a thread on Twitter.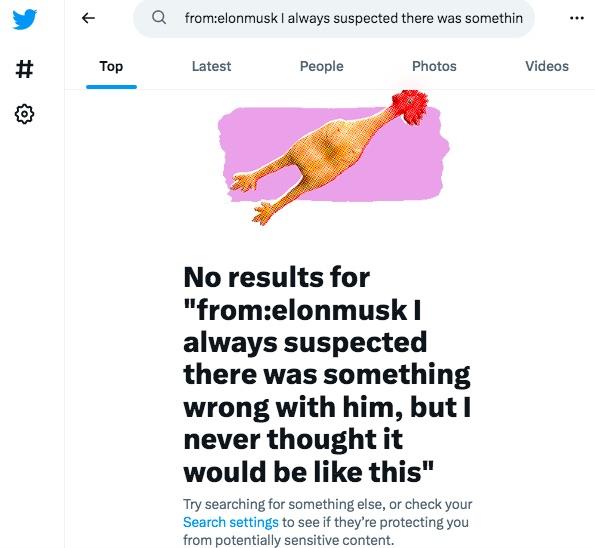 (Source: Twitter screenshot taken on Fri Mar 10 17:47:00 2023 UTC)


On March 2, 2023, Musk wrote about advertising on the microblogging service and retweeted NASA and SpaceX accounts.
An archived version of his account doesn't indicate that anything was deleted.
Other Lead Stories fact checks about Elon Musk can be found
here
.