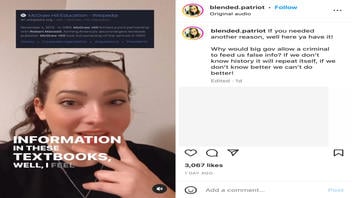 Did British publisher Robert Maxwell, who owned Macmillan/McGraw-Hill School Publishing Co. in a joint venture from 1989 until his death in 1991, put false information in American textbooks? No, that's not true: McGraw Hill told Lead Stories that Maxwell exerted no editorial control over the learning materials produced by the company.
The claim appeared in a post and video on Instagram on March 20, 2023. The 25-second clip opens with these words: "WANNA HEAR ANOTHER REASON WHY WE DON'T TRUST HISTORY AND SCIENCE?" The description for the social media post reads:
If you needed another reason, well here ya have it!

Why would big gov allow a criminal to feed us false info? If we don't know history it will repeat itself, if we don't know better we can't do better!
This is what the post looked like on Instagram at the time of writing: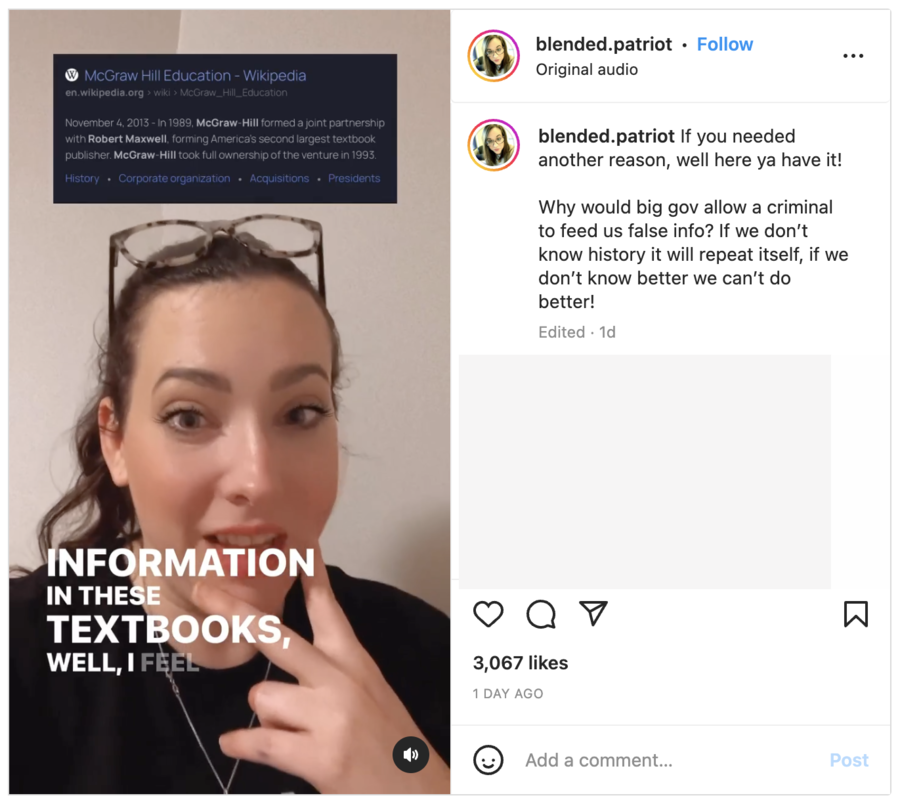 (Source: Instagram screenshot taken on Wed Mar 22 17:36:29 2023 UTC)
The clip quickly lays out a string of unproven claims. This is what the narrator of the video says as the following text appears onscreen:
WANNA HEAR ANOTHER REASON WHY WE DON'T TRUST HISTORY AND SCIENCE? WELL, THE GENTLEMAN LISTED HERE [points to an inset Wikipedia page about McGraw Hill Education and Maxwell] IS GISLANE'S FATHER. YES, THE EPSTEIN GAL. HER FATHER OWNED THE PUBLISHING COMPANY THAT PUBLISHED THE UNITED STATES TEXTBOOKS. HE WAS ALSO A JEWISH SPY AND SPYING AGAINST THE UNITED STATES. IF YOU REALLY TRULY BELIEVE THAT HE DIDN'T PUT FALSE INFORMATION IN THESE TEXTBOOKS, WELL, I FEEL SORRY FOR YOU.
The post provides no evidence to support its claims about Robert Maxwell.
McGraw Hill
In a March 22, 2023, email to Lead Stories, Tyler Reed, McGraw Hill's senior director of communications, provided the company's response:
Mr. Maxwell was the primary shareholder of Macmillan Publishing when its school publishing business entered into a joint venture with McGraw Hill in 1989. He died in 1991 and McGraw Hill became sole owner of the joint venture in 1993.

No textbooks published during that window of time 30 years ago would be in print any longer. Mr. Maxwell was not part of the editorial team tasked with creating learning materials.
Other claims
The social media post also recirculates rumors that Maxwell was a "Jewish spy" and was spying on the United States. There is little evidence to support such claims. An August 22, 2019, article in The Guardian reported:
Throughout his life, he was a good friend to Israel, investing heavily in publishing, pharmaceutical and computer firms in the country. He met accusations he was an Israeli spy with furious denials and legal threats. Such speculation was fanned again after his death, when he was accorded almost a state funeral in Israel, attended by the prime minister, Yitzhak Shamir, and the president, Chaim Herzog, and buried in Jerusalem on the Mount of Olives. Conspiracy theorists have claimed that Mossad killed him because Israel refused him a loan and he threatened to retaliate.
Ghislaine Maxwell, misspelled as "Gislane" in the post, is Robert Maxwell's daughter. She was found guilty of child sex trafficking and other charges and sentenced to 20 years in prison in 2021 in connection with financier and convicted sex offender Jeffrey Epstein. He died in jail while awaiting trial on his own sex trafficking charges.

There are additional Lead Stories fact checks on the Maxwells and Epstein here.