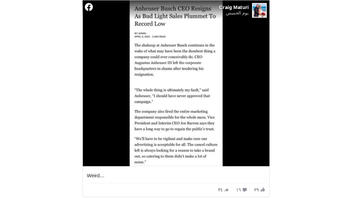 Did the CEO of the brewing company Anheuser-Busch resign following "record low" sales of Bud Light, one of the company's brands? No, that's not true: Not only is the claim based on inaccurate information about the company's CEO and leadership but there is no evidence that Bud Light sales have hit a "record low."
The claim appeared in a post published on April 6, 2023. The post included a screenshot of an article titled "Anheuser Busch CEO Resigns As Bud Light Sales Plummet To Record Low." An article with an identical title and opening paragraphs can be found on the website of The Dunning-Kruger Times here (archived here), part of a network of satirical websites. The screenshot read:
The shakeup at Anheuser Busch continues in the wake of what may have been the dumbest thing a company could ever conceivably do. CEO Augustus Anheuser III left the corporate headquarters in shame after tendering his resignation.
This is what the post looked like on Facebook at the time of writing: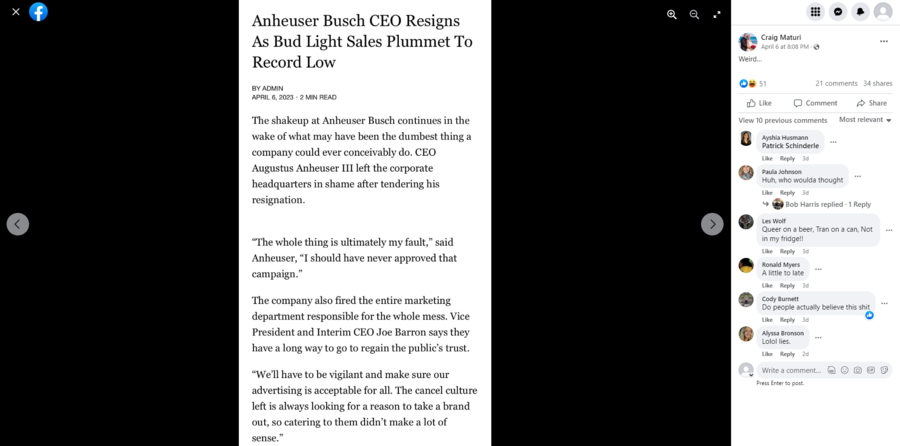 (Source: Facebook screenshot taken on Mon Apr 10 14:08:56 2023 UTC)
In an email sent to Lead Stories on April 10, 2023, an Anheuser-Busch spokesperson told us that there is no truth to the claim.
Anheuser-Busch was the subject of controversy after a Bud Light marketing effort involving Dylan Mulvaney, a social media influencer and transgender woman, in April 2023. Mulvaney promoted Bud Light's "Easy Carry Contest" on her Instagram page and received backlash from some customers of the brand. However, Lead Stories did not find evidence of Bud Light sales hitting a "record low" as a result of Mulvaney's post.
Clues that the claim is false can be found in the names used in the screenshot used in the Facebook post. At the time of writing, Brendan Whitworth is the U.S. CEO of Anheuser-Busch. There have been no official announcements from the company stating that Whitworth has resigned. Augustus Anheuser Busch III, great-grandson of Adolphus Busch, the founder of Anheuser-Busch, served as CEO of the company until 2002. Additionally, the screenshot names "Joe Barron" as the "Vice President and Interim CEO" of Anheuser-Busch. However, no such person is listed on the company's leadership page. "Joe Barron" is a common name used in articles published by the satirical website network America's Last Line of Defense: The Dunning-Kruger Times, where the identical article was posted, is a part of the America's Last Line of Defense network. The byline of the article is for Flagg Eagleton, another name used commonly by the network as an author of the satirical articles.
Lead Stories has debunked other claims involving "Joe Barron", which can be found here and stories involving "Flagg Eagleton", which can be found here.