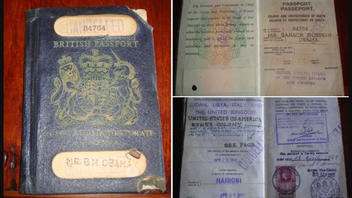 Do photos of British Passport #84764 issued in Nairobi, Kenya, on April 29, 1959 to Mr. Barack Hussein Obama prove that President Barack Obama was born in Kenya and "was thus a FAKE and ILLEGITIMATE President"? No, that's not true: A father and son both had the same name, Barack Hussein Obama. These photos posted by Malik Obama, the older half-brother of the former U.S. president, show their father's passport. It was issued in 1959, more than two years before Barack Hussein Obama II was born on August 4, 1961, in Honolulu, Hawaii.
The color photos of pages of the passport (here and here) were posted on Twitter by Malik Obama on April 11 and 12, 2023. On April 12, 2023, Internet-based talk show host Stew Peters posted the three photos (archived here). Peters did not "quote tweet" Malik Obama's tweet, but credited him in the caption. It reads:
Malik Obama is dropping docs proving Barack Obama was born in Nairobi, Kenya and was thus a FAKE and ILLEGITIMATE President.
This is what the post looked like on Twitter at the time of writing: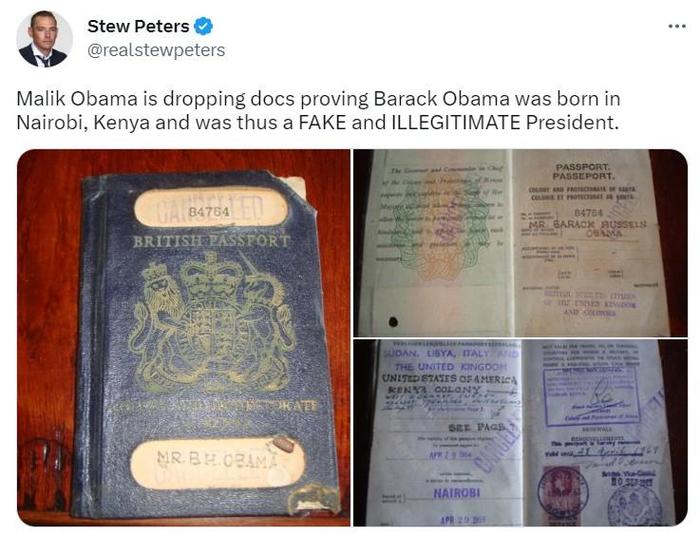 (Source: Twitter screenshot taken on Thu Apr 13 15:21:17 2023 UTC)
The caption of the April 11, 2023, tweet by Malik Obama that was posted with these same three photos read:
I tried to get fake ass to put this in his library but he wouldn't
In an April 12, 2023, quote tweet, one person questioned, "Didn't Passports have photographs in 1959?" Malik Obama replied to this with a fourth color photo of page two and three of the passport, which shows the photo of the bearer. The lower right corner of the bearer's photo has been embossed with a seal (illegible) and each page had been rubber stamped, "CANCELLED" with purple ink.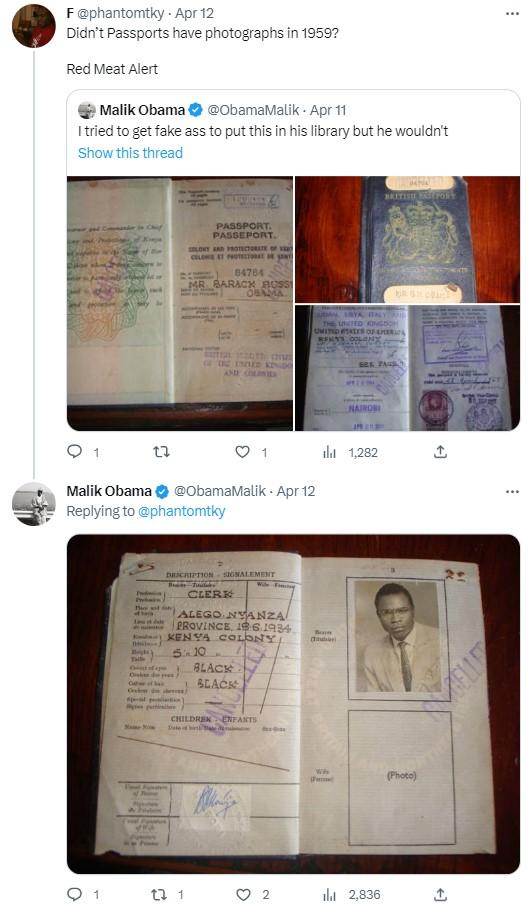 Page 2 of the passport description is filled in with hand-printed block lettering indicating the place and date of birth as, "Alego, Nyanza Province 18.6.1934." Various sources list the birth year of Barack Obama Sr. as 1934 or 1936. This question has persisted for years. The Barack H. Obama Foundation says he was born in 1936 as does the 1995 book "Dreams from My Father" by Barack Obama. In the book "Barack Obama: The Story" by David Maraniss, the birth date cited is June 18, 1934.
The August 1961 Hawaiian birth certificate of Barack Hussein Obama II lists his father's age as 25, which would indicate 1936 was the year of his father's birth, or conversely, if born in 1934, that he was actually 27 years old when his son was born in 1961.
The validity of the pictured British Passport #84764, issued to Barack Hussein Obama on April 29, 1959, in what was then known as the Colony and Protectorate of Kenya, has not been brought into question in birther conspiracies. Contrary to what Peters claims, pictures of the father's passport issued years before his namesake's birth do not prove that Barack Hussein Obama II was born in Kenya.
Lead Stories reached out to Malik Obama through Twitter on April 13, 2023, for clarification that the images he was presenting depict his father's passport. We will update this article as appropriate. An April 13, 2023, fact check from AP News does report that Malik Obama confirmed in an email that the photos show his father's old passport.