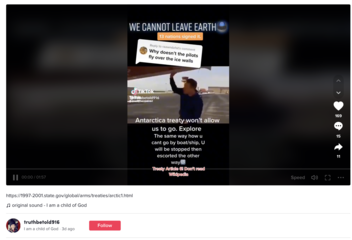 Does this video show the military enforcement of a no-fly zone over Antarctica? No, that's not true: This video shows a demonstration of the U.S. military intervening when a plane violates presidential airspace. Filmed by the "Today" show in 2017, it shows the United States -- not Antarctica. While there are practical caveats to consider when flying to Antarctica's frigid environment, the Antarctic Treaty does not say it's a no-fly zone.
The claim about enforcing a no-fly zone over Antarctica appeared in a post on TikTok on April 10, 2023. The text over the video reads in part:
Antarctica treaty won't allow us to go. Explore
The same way how u cant go by boat/ship, U
will be stopped then
escorted the other way

Treaty Article 6! Don't read Wikipedia
Here is what the video looked like at the time of writing: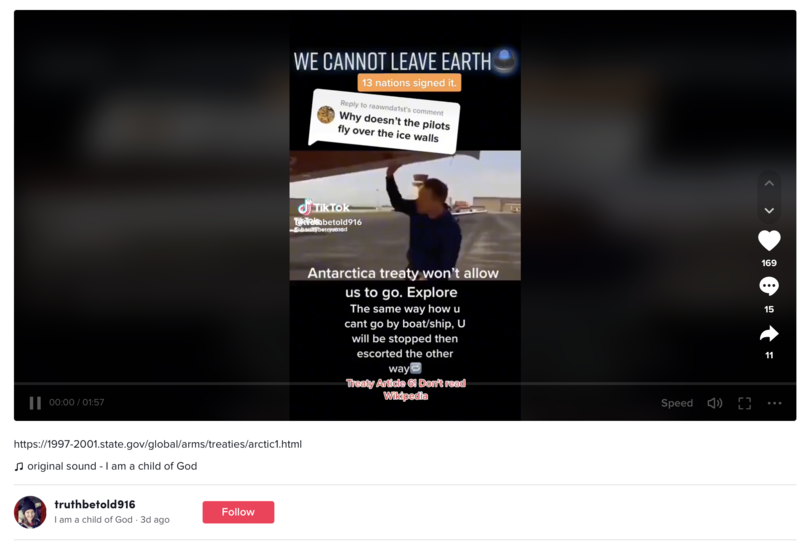 (Source: TikTok screenshot taken on Thur Apr 13 17:04:53 2023 UTC)
The post claims that this video clip demonstrates that the U.S. military will shoot down any aircraft that tries to fly over Antarctica, ultimately enforcing a no-fly zone. The caption includes a link to a description of the Antarctic Treaty in the U.S. Department of State online archive.
Nothing in the treaty prevents people from flying to or over Antarctica. It's an agreement that various countries will not engage in military conflict there and will only use Antarctica's territories for scientific research. The State Department document says:
It specifically prohibits 'any measures of a military nature, such as the establishment of military bases and fortifications, the carrying out of military maneuvers, as well as the testing of any type of weapons.' Military personnel or equipment, however, may be used for scientific research or for any other peaceful purpose.
Lead Stories previously summarized the articles of the treaty in a 2022 fact check that debunked the claim that Russia was "the first country to break the Antarctic treaty."
The video in the post was taken from an old "Today" show segment filmed over the U.S. -- not Antarctica. As seen in this July 10, 2017, YouTube video from the verified channel "TODAY," the exact clip displays a demonstration of a military effort that takes place when an unidentifiable aircraft violates the U.S. president's airspace.
There otherwise does not appear to be any "no-fly zone" over Antarctica. The U.S. Antarctic Program's (USAP) Weather Observations and Ice Assessment section of its Continental Field Manual warns of the dangers associated with flying in arctic weather and snowstorms. For example, underneath the McMurdo Area Weather portion of the manual on page 65, it reads:
Storms arrive quickly and are sometimes fierce enough to halt all outside activity. Storms can also be very localized. Weather at McMurdo Station can produce near-zero visibility with blowing snow (halting flight operations), while the McMurdo Dry Valleys, which are 50 miles away from McMurdo, might be calm and sunny. Approaching storms are usually preceded by high, thin bands of cirrus clouds (mare's tails), followed by thicker layers of cirrus, which may cause a halo-like effect around the sun. The clouds grow progressively thicker and lower over the next six to 12 hours until the arrival of low cumulus clouds and the main front. Blizzards can happen any time of year and may last from several hours to several days.

... Travel is difficult and dangerous during storms and should be avoided. Blowing snow can hide crevasses or sea-ice cracks. Even moderate winds can produce a layer of dense, blowing snow that may be as thin as a few feet or as thick as 1,000 feet. Whiteouts are equally dangerous phenomena. In a whiteout, thick, low clouds reduce surface definition, and the horizon is obscured. It's difficult or impossible to know if one is on a flat or sloping surface. It is also difficult to judge distances or the size of objects.
A September 21, 2022, Air & Space Quarterly article about drones similarly stated that Antarctica has the most extreme environment in the world for air travel:
Even today, Antarctica remains a dangerous place for humans to fly, due to the extreme climate, magnetic fields that interfere with instruments, and the absence of infrastructure to assist with navigation and landing. Crashes have claimed hundreds of lives over the decades, most recently in 2019, when a Chilean air force C-130 crashed in Drake Passage with the loss of 38 passengers and crew.
Lead Stories reached out to the Naval Warfare Information Center and the International Association of Antarctica Tour Operations for statements regarding this claim. Updates to this fact check will be provided if they respond.
Other Lead Stories fact checks of claims related to Antarctica can be found here.