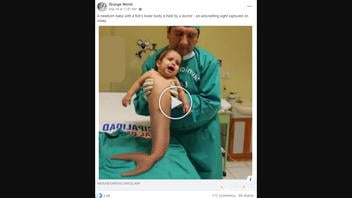 Is an image showing a baby whose lower body resembles that of a fish legitimate? No, that's not true: The original image actually shows a baby girl born with a rare condition that fused her legs together. However, her legs did not look like a fish or mermaid tail as the fraudulent image presents.
The claim appeared in a post (archived here) on Facebook on May 16, 2023. The post included a thumbnail image of a baby with what seemed to be a fishtail instead of legs being held by a doctor. The caption of the post read:
A newborn baby with a fish's lower body is held by a doctor - an astonishing sight captured on video.
This is what the post looked like on Facebook at the time of writing: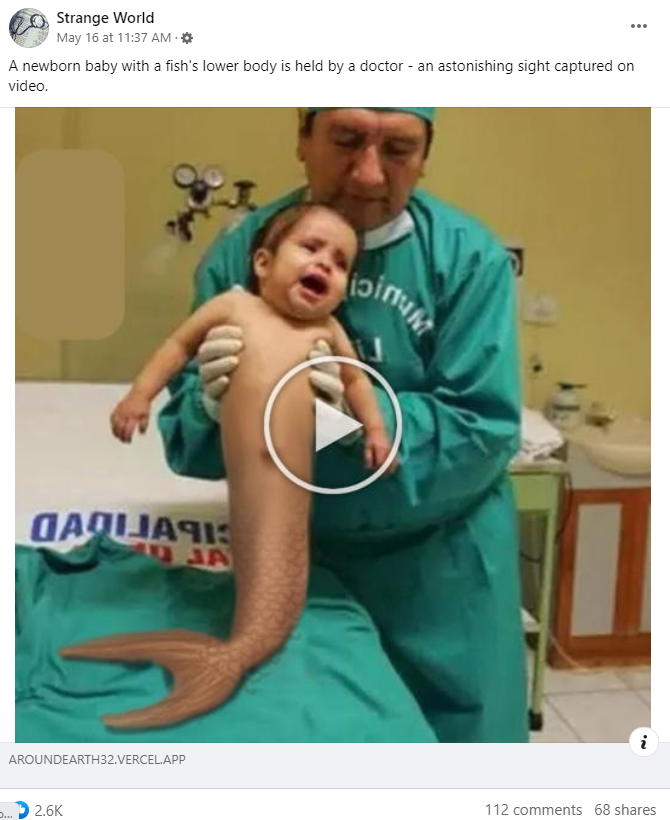 (Source: Facebook screenshot taken on Thu May 18 16:00:39 2023 UTC)
The original, authentic image is of Milagros Cerron, a Peruvian girl who, at the time she was pictured, was 13 months old, not a newborn. Cerron was born with sirenomelia, also known as "mermaid syndrome." The extremely rare condition results in the fusion of the lower limbs at birth. Very few babies born with the condition survive for long, if at all.
At the time the original image was captured in 2005, the child's doctor, Luis Rubio, was preparing her for a round of surgery to help separate her legs. A screenshot of the original image from 2005, which is attributed to Reuters, is included below: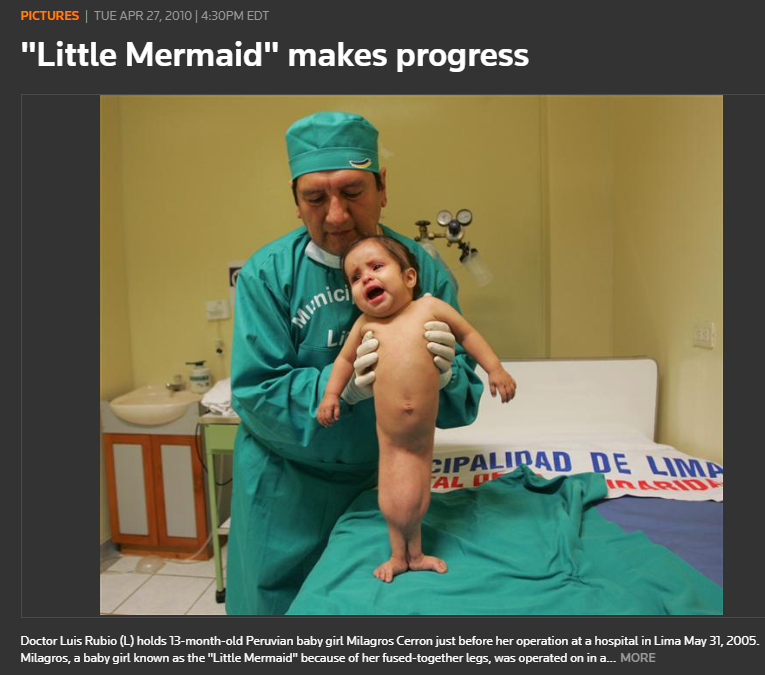 (Source: Reuters screenshot taken on Thu May 18 16:34:54 2023 UTC)
The altered image of Cerron is flipped horizontally and includes a rendition of what looks to be a fishtail. Such human-and-fish depictions are rooted in the art that corresponds with mermaid mythology from various cultures. The altered image has a link to an article and a video that supposedly examines the claim more in-depth. While the article does discuss sirenomelia, the video does not show any "captured" footage that supports the claim made in the Facebook post.
According to Fox News, Cerron died at age 15 in 2019 after failing to receive a kidney transplant. Sirenomelia often severely affects significant organs in the body, including the kidneys.