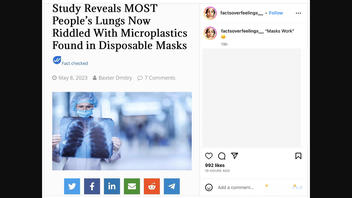 Does a study reveal that disposable face masks are the cause of the high levels of microplastics found in human lungs? No, that's not true: Contrary to a headline about the study, the study never mentions disposable masks as a cause of the microplastics detected in human lung samples.
The claim appeared in a post (archived here) on Instagram on May 15, 2023. It read:
Study Reveals MOST People's Lungs Now Riddled With Microplastics Found in Disposable Masks
This is what the post looked on Instagram at the time of writing:
(Source: YouTube screenshot taken on Wed May 17 14:12:33 2023 UTC)
The post is a screenshot of an article published on The People's Voice website. The actual study referenced in the headline was published in the United Kingdom in July 2022 in the journal Science of The Total Environment and titled, "Detection of microplastics in human lung tissue using μFTIR spectroscopy."
Disposable face masks, the use of which was encouraged during the COVID-19 pandemic, were not cited anywhere in the study.
The study noted that microplastics (MP) are "present in all environmental compartments; from marine and freshwater bodies ... to soil ... food, drinking water ... and air ... Consequently, there is an increasing concern regarding the hazards associated with MP ingestion, dermal contact, and inhalation."
Lead Stories has previously debunked claims that a study proved wearing masks cause stillbirths, testicular dysfunction and cognitive decline, that a "gold standard" scientific trial proved N95 and surgical masks are ineffective in preventing COVID transmission and that a study did find bacteria and fungi on face masks -- but they're not "petri dishes for dangerous pathogens to fester."
Other Lead Stories articles on claims regarding coronavirus can be found here and on claims regarding COVID-19, here.