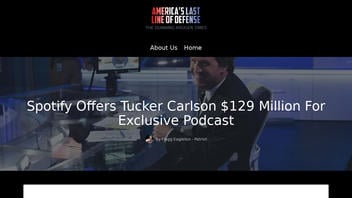 Did the chief executive officer (CEO) of Spotify offer Tucker Carlson $129 million to host a podcast? No, that's not true: This story originated from a website that clearly labels itself fiction/satire aimed at trolling conservatives. No corporate statement or credible independent reporting supports the claim.
The claim appeared in an article published by the Patriot Party Press on April 28, 2023, titled "Spotify Offers Tucker Carlson $129 Million For Exclusive Podcast" (archived here) which opened: "Preliminary reports out of Madison, Wisconsin -- the home of Spotify USA -- say that Tuck3er Carlson is about to get the biggest payout in history for a series of podcasts." It continued:
Spotify plans to offer the recently-released television phenomenon $129 million plus a refurbished studio anywhere he'd like one. 'We'll put a state-of-the-art booth in his house like we did for Joe Rogan,' said Spotify CEO Joe Barron,

'Tucker will be just as big. We're banking on it.'
Users on social media only saw this title, description and thumbnail:
It's the largest media deal of its kind in history, beating Joe Rogan's previous $100 million record.
(Source: Patriot Party Press screenshot taken on Fri Apr 28 14:07:26 2022 UTC)
The article was posted on the Dunning-Kruger Times website, which features a disclaimer on its "About Us" page stating, "Everything on this website is fiction." This website is part of the satirical network "America's Last Line of Defense," which is the work of Christopher Blair, a notorious liberal prankster who produces fake claims to troll conservatives.
Joe Barron is not the name of the CEO of Spotify, an online platform that intertwines computer technology and music streaming.
Spotify's corporate officers disclosure web page lists Daniel Ek, not Joe Barron, as founder, chief executive officer, and chairman of Spotify's board of directors.
A Google News search of the thousands of sites indexed by Google News, using the keywords "Tucker Carlson Offered $129 Million For Podcast" produced no credible independent reports supporting the claim. If Carlson had been offered a considerable amount of money for a platform appearance, it would have been deemed a significant news event with widespread coverage, which there has not been.
The Dunning-Kruger Times
The Dunning-Kruger Times is a satirical website with an about page (archived here) that has following disclaimer:
About Us

Dunning-Kruger-Times.com is a subsidiary of the "America's Last Line of Defense" network of parody, satire, and tomfoolery, or as Snopes called it before they lost their war on satire: Junk News

About Satire

Before you complain and decide satire is synonymous with "comedy":

sat·ire ˈsaˌtī(ə)r noun: The use of humor, irony, exaggeration, OR ridicule to expose and criticize people's stupidity or vices, particularly in the context of contemporary politics and other topical issues.

Everything on this website is fiction. It is not a lie and it is not fake news because it is not real. If you believe that it is real, you should have your head examined. Any similarities between this site's pure fantasy and actual people, places, and events are purely coincidental and all images should be considered altered and satirical. See above if you're still having an issue with that satire thing.
The website is named after the Dunning-Kruger effect, a term from the field of psychology that describes the phenomenon of being ignorant of one's own ignorance.
The site comes with a clear satire disclaimer at the bottom of each article:
sat·ire ~ˈsaˌtī(ə)r
noun
the use of humor, irony, exaggeration, OR ridicule to expose and criticize people's stupidity or vices, particularly in the context of contemporary politics and other topical issues.
If you disagree with the definition of satire or have decided it is synonymous with "comedy," you should really just move along.
Blair is the main writer of the site and is a self-professed liberal troll. He is a man from Maine who has made it his full time job to troll gullible conservatives and Trump supporters into liking and sharing his articles. He runs several other websites, including wearethellod.com, bustatroll.org or bebest.website. Sometimes he is also known under his nickname "Busta Troll."
A regular feature of Patriot Party Press articles is the use of the names "Sandy Batt" and "Joe Barron." While the names often show up in the satirical stories, their identities change each time. Sometimes, they're public officials. Other times, they're children. It all depends on the context.
Articles from Blair's sites frequently get copied by "real" fake news sites who often omit the satire disclaimer and any other hints the stories are fake. Blair has tried to get these sites shut down in the past but new ones keep cropping up.
Blair and his operation were profiled by the Washington Post on November 17, 2018, by Eli Saslow:
November 17 The only light in the house came from the glow of three computer monitors, and Christopher Blair, 46, sat down at a keyboard and started to type. His wife had left for work and his children were on their way to school, but waiting online was his other community, an unreality where nothing was exactly as it seemed.
If you are interested in learning more about Blair and the history of his sites, here is something to get you started:
STORY UPDATED: check for updates below. Yesterday Eli Saslow at the Washington Post wrote a fantastic article about Christopher Blair, a man from Maine who has been trolling conservatives and Trump supporters online for years and occasionally even made a living out of it.
If you see one of his stories on a site that does not contain a satire disclaimer, assume it is fake news. If you do see the satire disclaimer it is of course also fake news.