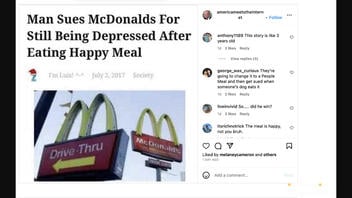 Did a man sue McDonald's "for still being depressed after eating a Happy Meal"? No, that's not true: This claim is from a website that has a disclaimer saying all of its content is "fiction ... and shouldn't be taken as real." Google News has no credible reports from reliable media outlets on this claim.
The claim appeared on Instagram (archived here) on June 20, 2023. The post is a screenshot of a supposed news article. The headline reads:
Man Sues McDonalds For Still Being Depressed After Eating Happy Meal
This is what the Instagram post looked like at the time of writing: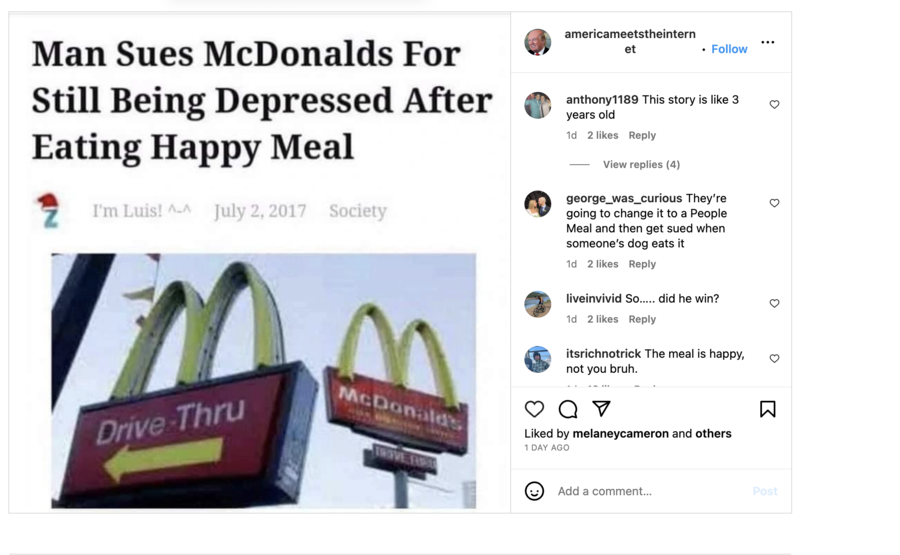 (Source: Instagram screenshot taken on Thu Jun 22 15:15:02 2023 UTC)
Neither the Instagram post nor the screenshot tells readers where this article is from. Lead Stories found that the article is from the website 8shit.net. An archived link of the website can be found here. According to the archived link, the article was published on September 29, 2018. It states that Ruben Caradehuevo ate a Happy Meal in a Washington, D.C., McDonald's thinking it would "be the perfect solution for my depression."
The website this story originated from specializes in "satire and news and humor," per their disclaimer. The disclaimer, at the bottom of the page and written in white, reads:
8Shit is a satire and news and humor website. All its content is fiction (except those posts under the 'serious' category) and shouldn't be taken as real. All references, names and marks or institutions in this website are used as contextual elements, like in any novel or science-fiction story.
Evidence of the disclaimer has been highlighted in pink by Lead Stories: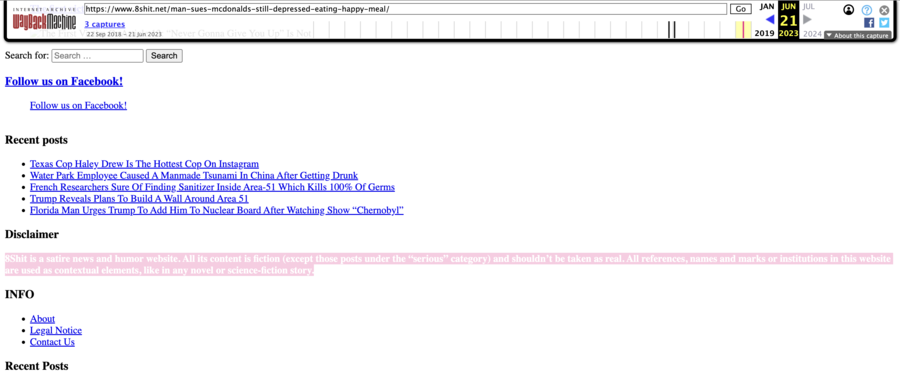 (Source: Wayback Machine screenshot taken on Thu Jun 22 15:38:59 2023 UTC)
This article was placed in the website's Society category, not Serious, as can be seen in the Instagram screenshot and in the archived link.
A search for the phrase "Man sues Mcdonald's for still being depressed after eating Happy Meal," using Google News' index of thousands of credible news sites, did not reveal any factual reports that this story is real.
Other Lead Stories fact checks on claims involving McDonald's are here.