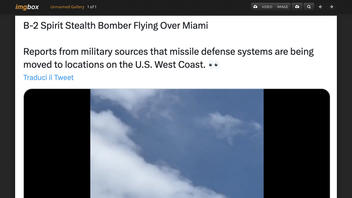 Does the video and caption in a social media post accurately portray a B-2 Spirit Stealth Bomber flying over Miami as part of the moving of "missile defense systems" to "locations on the U.S. west coast"? No, that's not true: The footage of the military aircraft flying over a Miami beach actually displays an air show tribute for a holiday event -- not an essential and strategic operation.
The claim appeared in a tweet posted on Twitter (archived here) on June 19, 2023, with the caption:
B-2 Spirit Stealth Bomber Flying Over Miami

Reports from military sources that missile defense systems are being moved to locations on the U.S. West Coast. 👀
This is what the post looked like on Twitter at the time of writing: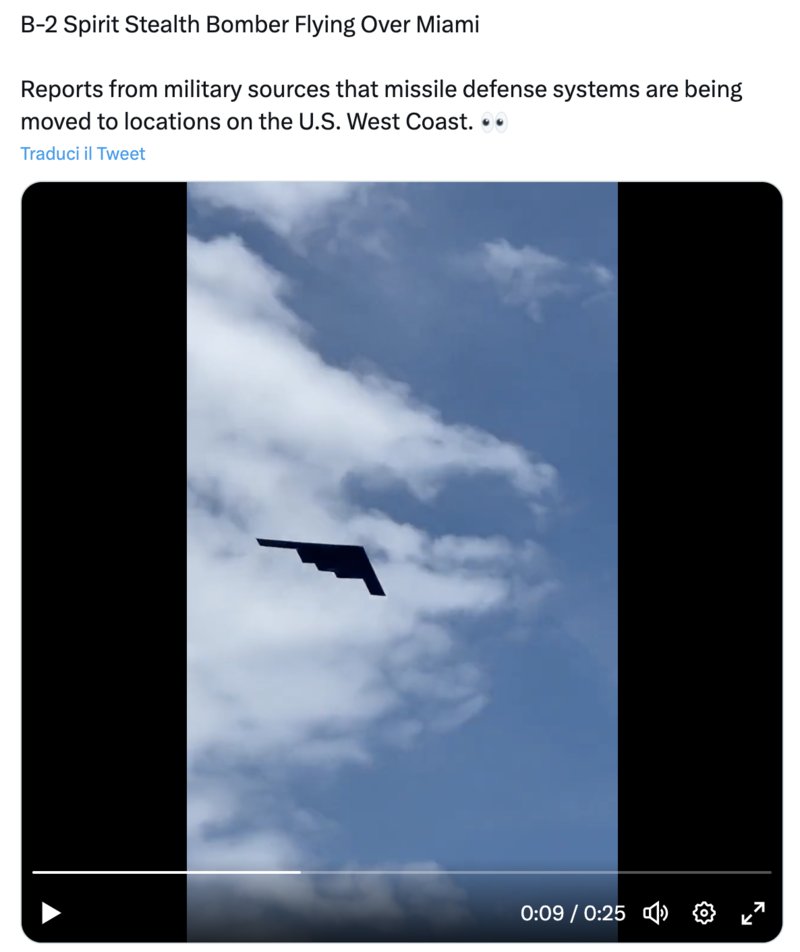 (Source: Twitter screenshot taken on Thur Jun 29 14:05:49 2023 UTC)
While the video seen in this post does display a B-2 Spirit Stealth Bomber aircraft, it is not being flown to a location on the "U.S. west coast" in an attempt to move "missile defense systems."
The footage originated from a video published on YouTube on May 27, 2023, and titled "B2 Spirit Bomber at Miami South Beach Airshow 2023 Memorial Days." An edited video of the B-2 is seen in this tweet posted on the Twitter account of the Hyundai Air & Sea Show on May 28, 2023. The caption in the tweet reads:
✈️The @usairforce B-2's graceful maneuvers and cutting-edge design left us in awe of its sheer power and precision. It was a truly unforgettable sight that reminded us of the extraordinary capabilities of our military aircraft.🤩🔥 #USArmySaluteFest #HyundaiAirandSeaShow
In a June 28, 2023, email, a spokesperson for the Hyundai Air & Sea Show confirmed for Lead Stories that the video in the post was taken at the 2023 Hyundai Air & Sea Show and provided this quote from Mickey Markoff, the executive producer of the National Salute to America's Heroes event that includes the show:
The purpose of the Hyundai Air and Sea Show is to bring back the true spirit of Memorial Day and pay tribute to those that have paid the ultimate sacrifice on behalf of our freedom. Consisting of the Hyundai Air and Sea Show, Music Explosion, and U.S Army Salute Fest, it showcases the men and women of our Military, available career opportunities, and our nation's state-of-the-art military technology on display and demonstrating their capabilities.

This year the Hyundai Air and Sea Show had all three of our Air Force bombers in attendance. The B2 flew by, making 3 passes on Saturday, May 27th. Both the B1 and B52 were in attendance on both Saturday and Sunday.
Lead Stories reached out to the U.S. Air Force for a statement concerning this claim and will update this fact check if a response is received.