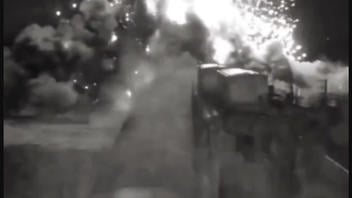 Does a black-and-white video show a nighttime explosion at the Nova Kakhovka Dam on the Dnipro River in Kherson Oblast, Ukraine, causing flooding downstream on June 6, 2023? No, that's not true:. This footage was widely circulated before the June 6 incident. It shows a blast damaging the bridge at the dam in November 2022, not the June 6, 2023, explosion that broke through Nova Kakhovka dam.
The dam was breached on June 6, 2023, resulting in flooding downstream. At the time of writing there were conflicting reports regarding who or what was responsible, with Russia and Ukraine each blaming the other, and some experts speculating that the dam failure may have been the result of neglect or high water. This question of why the dam failed is outside the scope of this fact check.
On June 6, 2023, @drigli_ posted a video on Twitter (archived here). The video was captioned:
The moment that the Nova Kakhovka dam was blown up

#StandWithUkraine #Ukraine #Kyiv #Crimea #Mariupol #Bakhmut #Donetsk #Melitopol #Berdyansk #Kharkiv #Kherson #Dnipro #Zaporizhzhia #Zelensky #Russia #Moscow #Putin #Kremlin #Wagner #Prigozhin #Belgorod
This is what the post looked like on Twitter at the time of writing: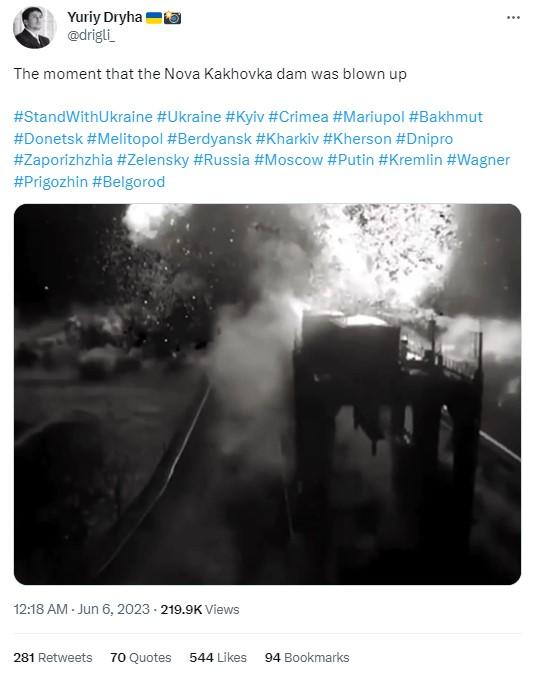 (Source: Twitter screenshot taken on Tue Jun 6 14:13:36 2023 UTC)
This video cannot possibly show an explosion damaging the dam on June 6, 2023, because this video was posted on Twitter on November 12, 2022 by Maria Avdeeva with this caption:
Russian media published footage of huge explosion on the bridge over Kakhovka hydro power plant. Previously, Russia constantly accused Ukraine of shelling the hydro dam, but in the end decided to show it is still capable of blowing up civilian infrastructure.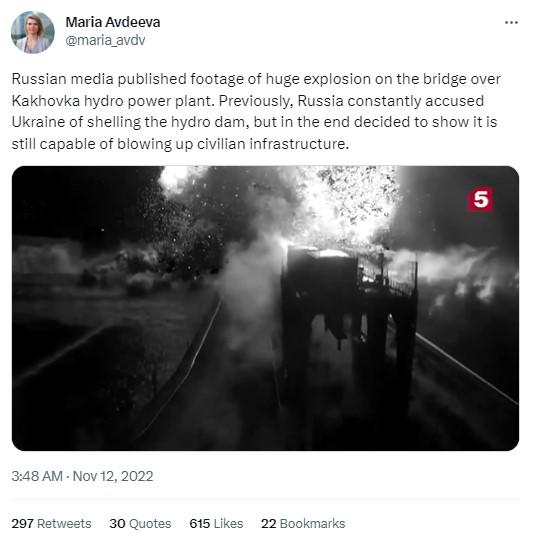 (Source: Twitter screenshot taken on Tue Jun 6 14:13:36 2023 UTC)
On November 12, 2022, @Geoconfirmed, a volunteer-based geolocation platform, published a thread on twitter that included geolocation information confirming that the above video shows the bridge over the Nova Kakhovka dam. On June 6, 2023, @Geoconfirmed published another thread that shows several scenes filmed by a drone of the breached dam with water flowing over what remains.