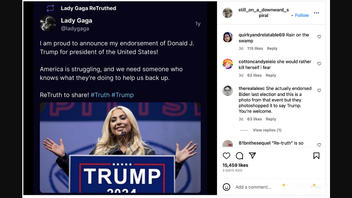 Does a photo circulating on social media show pop star Lady Gaga endorsing Donald Trump's 2024 presidential campaign on his social media application Truth Social? No, that's not true: The image has been digitally altered. The original photo does not come from a real post on Truth Social and was taken by a Getty Images photographer. The photo actually displays Gaga speaking at a rally for President Joe Biden during the 2020 presidential election campaign.
Gaga does not have a Truth Social account and, in recent years, she has criticized Trump openly.
The claim about Lady Gaga's Trump endorsement appeared in a post on Instagram on July 2, 2023. It contained a picture of a supposed Truth Social post that showed a smiling Gaga standing behind a lectern bearing the campaign logo "TRUMP 2024." Above the image of Gaga, the text in the faked post's caption reads:
I am proud to announce my endorsement of Donald J. Trump for president of the United States!

America is struggling, and we need someone who knows what they're doing to help us back up.

ReTruth to share! #Truth #Trump
This is what the post looked like on Instagram at the time of the writing of this fact check: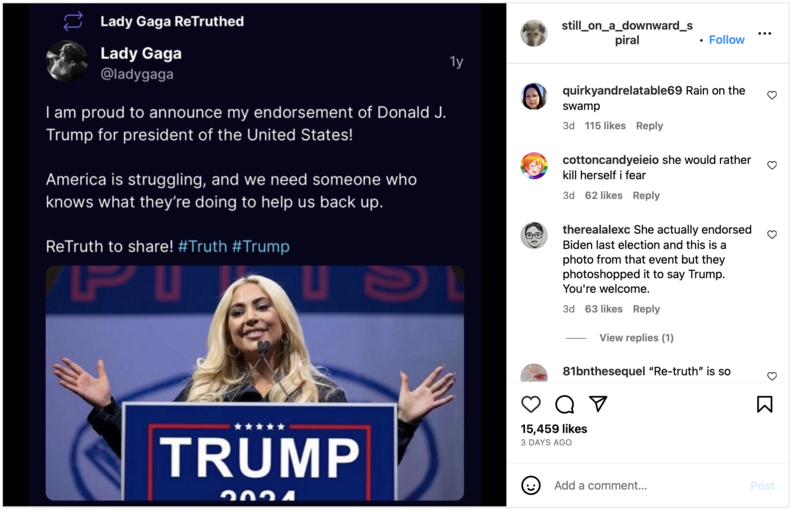 (Source: Instagram screenshot taken on Fri July 7 15:00:12 2023 UTC)
A Google search shows that there is no evidence that Lady Gaga has a Truth Social account. The handle @ladygaga displays a page on the platform that does not resemble anything seen in the image posted on Instagram. The page has no posts and only had 23 followers as of July 7, 2023.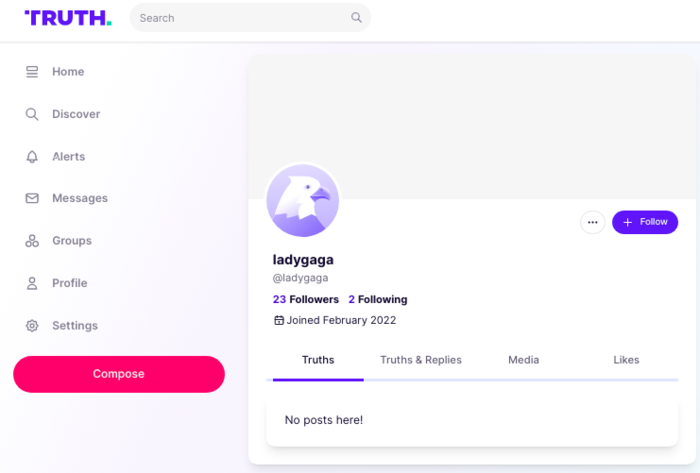 (Source: Truth Social screenshot taken on Fri July 7 23:31:00 2023 UTC)

A Yandex reverse-image search revealed that the photo of a smiling Gaga standing behind a lectern was published in various online news articles. The actual image, seen here, shows Gaga standing behind a lectern bearing a campaign placard that reads, "BATTLE for the SOUL of the NATION," with Joe Biden and running mate Kamala Harris' names -- not "TRUMP 2024."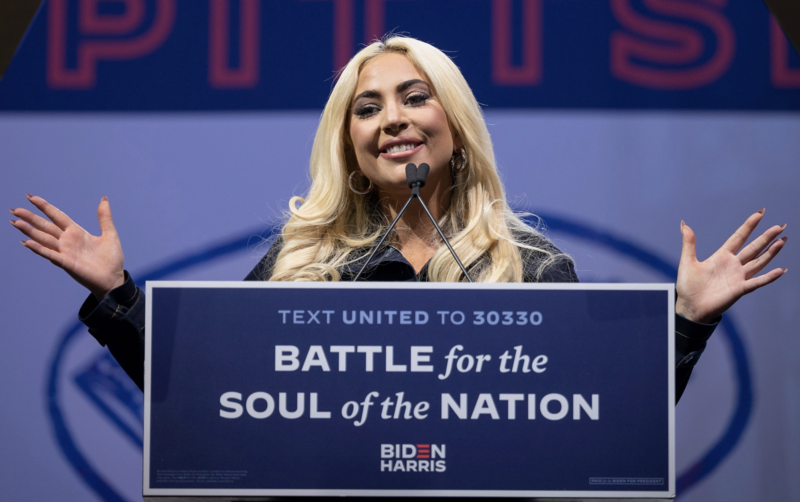 (Source: pbs.twimg.com via Yandex search engine Screenshot taken on Fri July 7 15:30:12 2023 UTC)
This image came from a page on the Getty Images website, which accredited it to Agence France-Presse (AFP) photographer Jim Watson. The description reads:
US-vote-BIDEN

US singer Lady Gaga speaks prior to Democratic Presidential candidate and former US Vice President Joe Biden speaking during a Drive-In Rally at Heinz Field in Pittsburgh, Pennsylvania, on November 2, 2020. - The US presidential campaign enters its final day Monday with a last-minute scramble for votes by Donald Trump and Joe Biden, drawing to a close an extraordinary race that has put a pandemic-stricken country on edge. (Photo by JIM WATSON / AFP) (Photo by JIM WATSON/AFP via Getty Images)
As seen in this November 2, 2020, tweet from the performer's verified Twitter account, Gaga has publicly criticized Trump's previous remarks. In the 2020 tweet, she tagged Trump while stating in the posted video that U.S. citizens should "vote against Donald Trump" for his rhetoric and lax views on sexual assault and access to women's bodies without their consent.
A January 7, 2021, Entertainment Tonight article reported that Gaga said, "I hope we focus to impeach Trump," after the riot at the U.S. Capitol on the preceding day against Biden's election. Later that same month, a January 20, 2021, YouTube video on the Today Show's official channel showed Gaga performing the national anthem at President Biden's inauguration.
President Biden later appointed Gaga as one of the celebrities on his Committee on the Arts and the Humanities.

There is no evidence that Gaga has yet made a public statement about whom she will support in the 2024 presidential election.
Lead Stories contacted representatives of Lady Gaga for a statement about the claim that she has endorsed Donald Trump's candidacy. We update this fact check as appropriate if a response is received.

Additional Lead Stories fact checks of claims targeting or mentioning Lady Gaga can be found here.