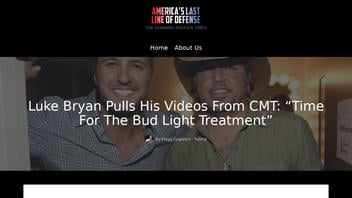 Did country music singer Luke Bryan pull his music videos from CMT and say it was "time for the Bud Light treatment"? No, that's not true: This claim originated from a self-described satirical website aimed at trolling conservatives. The website that posted the information, The Dunning-Kruger Times, has a disclaimer that describes itself as part of a network of "parody, satire, and tomfoolery." Christopher Blair, the originator of this website, has a history of trolling, using satirical news stories. As of this writing, Luke Bryan has not pulled his music videos from Country Music Television.
The claim appeared as an article published by the Dunning Kruger Times on July 20, 2023 titled "Luke Bryan Pulls His Videos From CMT: "Time For The Bud Light Treatment"" (archived here) which opened:
Luke Bryan has more than two dozen videos on Country Music Television (CMT) that earn the network tens of thousands of dollars per month. Or should we say 'had.'
Users on social media only saw this title, description and thumbnail:
Bryan stands with Jason Aldean, free speech, and America.
The article says:
Standing in solidarity with his good friend Jason Aldean, Bryan notified CMT that he was pulling their license to use his material effective immediately. 'Your network isn't fit for my music,' he reportedly told Executive Vice President Joe Barron, 'Until you reinstate Jason's video and issue him a formal apology, you get nothing from my label.'
A Google search for "joe barron executive vice president cmt" did not yield any results of a person with that name employed for the network."Joe Barron" is the name of a deceased friend of Blair. His name is frequently used in Blair's satirical stories as a homage.
The article mentioned solidarity with country-music star Jason Aldean. CMT pulled Aldean's music video "Try That In A Small Town" from its rotation after a public outcry over the video's lyrics and location. But, as of July 21, 2023, Bryan had not publicly announced that he has removed his videos from the country-music network to support Aldean. A Google search of the phrase "luke bryan pulls videos cmt" yielded no credible news reports of that happening.
"The Bud Light treatment" is a reference to the backlash the beer's manufacturer, Anheuser-Busch, suffered after conservatives protested against transgender influencer Dylan Mulvaney promoting the beverage and receiving a personalized Bud Light can. A massive boycott of Bud Light caused Anheuser-Busch's market value to plunge.

The Dunning-Kruger Times
The Dunning-Kruger Times, run by self-described liberal troll Christopher Blair, is a satirical website with an about page (archived here) that has following disclaimer:
About Us

Dunning-Kruger-Times.com is a subsidiary of the 'America's Last Line of Defense' network of parody, satire, and tomfoolery, or as Snopes called it before they lost their war on satire: Junk News

About Satire

Before you complain and decide satire is synonymous with 'comedy':

sat·ire ˈsaˌtī(ə)r noun: The use of humor, irony, exaggeration, OR ridicule to expose and criticize people's stupidity or vices, particularly in the context of contemporary politics and other topical issues.

Everything on this website is fiction. It is not a lie and it is not fake news because it is not real. If you believe that it is real, you should have your head examined. Any similarities between this site's pure fantasy and actual people, places, and events are purely coincidental and all images should be considered altered and satirical. See above if you're still having an issue with that satire thing.
The website is named after the Dunning-Kruger effect, a term from a psychology experiment that describes the phenomenon of being ignorant of one's own ignorance. (That experiment has been disputed.)
Blair's websites usually have multiple satire disclaimers and the stories very often contain obvious hints they are not real, like category names indicating they are fiction, links to "sources" that instead go to funny or offensive images or an "S for Satire" logo added to the images used as illustration. Another telltale sign is the name "Art Tubolls" (anagram for "Busta Troll") for characters in the stories. Aside from Barron, Blair also frequently pays homage to another friend who passed away by using the friend's name, "Sandy Batt," in stories.
Additional Lead Stories fact checks of claims from The Dunning-Kruger Times can be found here.