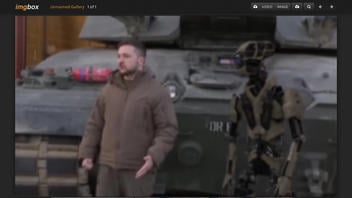 Did the United Kingdom send a "'Robot Royal Force' 🇬🇧 Type-C robot" to help Ukraine with the war in July 2023? No, that's not true: There was no information or credible report online to corroborate the claim that the United Kingdom sent or would send a "'Robot Royal Force' Type-C robot" to help Ukraine following Russia's military invasion.
Also, animation of the purported robot appears to have been added to an existing video of Ukrainian President Volodymyr Zelenskyy from about five months earlier: February 2023. At the time, he was visiting Ukrainian troops being trained in the United Kingdom.
The claim appeared in a video on TikTok (archived here) published by Animatronic3D on July 15, 2023, titled "BREAKING NEWS New 'Robot Royal Force' 🇬🇧 Type-C robot arrived to Ukraine 🇺🇦" The video's description said:
New "Royal Robot Force" RRF Type-C 🦾🦾🦾 #robot from #england 🇬🇧 finally arrived to #ukraine 🇺🇦 #foryou #fypシ #breakingnews #warzone #foryoupage #fyp
This is what the post looked like on TikTok at the time of writing: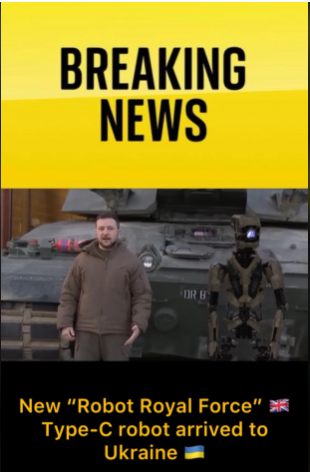 (Source: TikTok screenshot taken on Mon Jul 24 18:10:36 2023 UTC)
The profile for the Animatronic3D account that published the video says, "Showing the world how AI+ Robots will change our world." The account features multiple videos, many of which are supposed to show "leaked footage" of British robots in Ukraine.
Robot video
The video that purportedly shows the delivery of the UK robot in Ukraine begins with a scene of people exiting the back of a cargo helicopter, followed by Zelenskyy walking with a biped robot and then standing with it in front of a tank. The 19-second clip appears below:
Original video
The video on TikTok appears to have been cobbled together from a longer video posted to social media months earlier. The original video featured British Prime Minister Rishi Sunak, who met with Zelenskyy as Zelenskyy arrived in southern England to visit Ukrainian troops receiving military training at a camp in Dorset. The video is news footage from AFP News Agency and was posted to YouTube on February 8, 2023, a full five months before the TikTok version appeared online.
Side by side
For the sake of comparison, Lead Stories isolated two scenes from the videos to show where the animation was added. In each case, the robot was substituted for the British prime minister.
Scene 1

(Source: TikTok and YouTube screenshots taken on Mon Jul 24 2023 UTC)
Scene 2

(Source: TikTok and YouTube screenshots taken on Mon Jul 24 2023 UTC)
Lead Stories also conducted a Google News search for "Robot royal force and "Ukraine" and found no results matching the claims in the video. A general Google search using the same term produced several duplicates of the original story, as well as other content, but no legitimate independent reporting.
Other Lead Stories fact checks about the war in Ukraine can be found here.