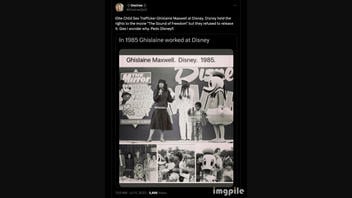 Do photographs of Ghislaine Maxwell with Donald Duck taken in 1985 confirm that the now-convicted sex offender -- associated with financier Jeffrey Epstein who died by suicide while awaiting trial on sex-trafficking charges -- worked for Disney? No, that's not true: The stock images only show an event where Maxwell appeared as representative of her father, owner at the time of the British newspaper the Mirror.
The claim appeared in a tweet (archived here) published on July 11, 2023. It said:
Elite Child Sex Trafficker Ghislaine Maxwell at Disney. Disney held the rights to the movie "The Sound of Freedom" but they refused to release it. Gee I wonder why. Pedo Disney!!
The tweet contained what appeared to be a screenshot of another tweet with black-and-white archival photos of Maxwell that continued:
In 1985 Ghislaine worked at Disney.
This is what the tweet looked like at the time of writing: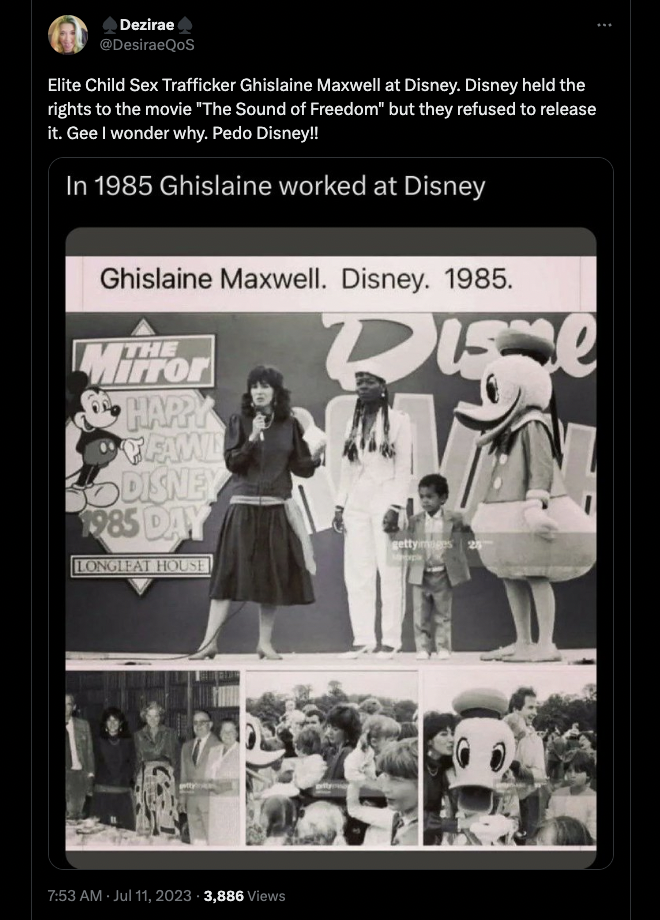 (Source: Twitter screenshot taken on Mon Jul 24 16:26:23 2023 UTC)
On June 28, 2022, Ghislaine Maxwell was sentenced to 20 years in prison for helping financier Jeffrey Epstein to sexually abuse minors. However, there is no indication she worked for Disney in any capacity in 1985.
A watermark seen in the screenshot of the tweet in question shows that the photos came from Getty Images. Such a gallery can be easily found on the stock photo website, but, contrary to the claim, the caption doesn't state that images show Maxwell working at Disney:
The Mirror organised a Disney day out for the kids at Lord and Lady Bath's Longleat House, in Wiltshire. A great fun day in which Ghislaine Maxwell presented a cheque for ú2000 for the save the children fund. 13th September 1985
The same images can be found on different online stock databases, paired with a similar description (for example, here.)
The photos were taken one year after Ghislaine's father, Robert Maxwell, had acquired the Mirror, a British newspaper he owned until his death in 1991.
An event taking place at the same location in England -- Lady Bath's Longleat House --- was advertised by the paper. The July 6, 1985, Mirror article said that it was organized by the newspaper "in association with Walt Disney Production" and was scheduled to take place on July 28, 1985:

(Source: Newspapers screenshot taken on Mon Jul 24 13:20:27 2023 UTC)
A Disney spokesperson previously told Reuters that Ghislaine Maxwell did not work for the entertainment company.
Lead Stories reached out to Disney, Disney archives and the Mirror for additional comments. When we get a response, this article will be updated as appropriate.
Other Lead Stories fact checks about Ghislaine Maxwell can be found here.