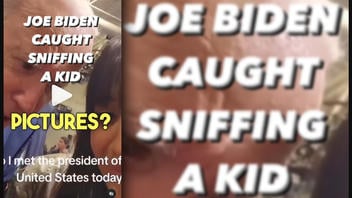 Was Joe Biden caught on camera loudly sniffing a baby when he was meeting families? No, that's not true: The original video shot during the President's visit to the Fort Liberty, N.C., Army base, was posted to TikTok by the mother of the baby. Her video did not feature any sniffing sounds. Someone uploaded a shortened and altered copy of the video with the sniffing sounds added.
The 41-second-long video was originally posted on TikTok on June 9, 2023, by the woman who is in the video. Her video was captioned:
interesting day #joebiden #president #fortliberty #metthepresident #army #fyp
An altered copy of that video which was only 12 seconds long was posted to Instagram on July 7, 2023. It was captioned with thirty hashtags and reads:
SHARE THIS AND FOLLOW ME:

@thechristubbs


.




.


#trump2024

#wakeupamerica

#redpillrevolution

#doyourownresearch

#americafirst

#fakenews

#republican

#1a

#trumptrain

#corruptgovernment

#donaldtrump

#conservative

#keepamericagreat

#makeamericagreatagain

#thegreatawakeninguncensored

#draintheswamp

#buildthewall

#freedomofspeech

#politics

#2a

#presidenttrump

#america

#wethepeoplearepissed

#dtjr2024

#wethepeople

#kag

#truthermovement

#gop

#conservativememes

#conspiracyrealist
This is how the Instagram post appeared at the time of writing: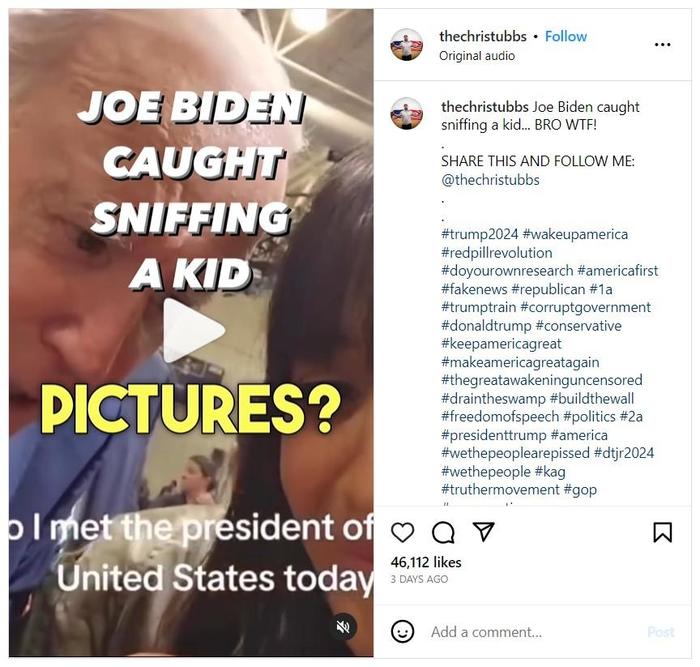 (Image source: Instagram screenshot taken on Tue Jul 11 14:47:02 2023 UTC)
The original video has text captioning which reads:
so I met the president of the United States today
Text captioning has been added on the altered video. It reads:

JOE BIDEN CAUGHT SNIFFING A KID
TAKE ALL THESE PICTURES?
YEAH.YOUR"E COOL.
LET ME WHISPER A SECRET.
*SNIFF SNIFF SNIFFFFF*
DON'T TELL MOMMY WHAT I TOLD YOU.
YOU GOT IT?
MM-HMM.
On June 9, 2023, a week after the Army's Fort Bragg was renamed Fort Liberty, President Biden visited the North Carolina military base to sign an executive order on "Advancing Economic Security for Military and Veteran Spouses, Military Caregivers, and Survivors."
After the executive order was signed, Biden took some time to meet families in attendance and pose for pictures with them. The baby in the original video seems to have been crying -- later in the video their cheeks can be seen wet with tears. As the video opens, Biden is expressing sympathy to the child for having to take all these pictures, he then whispers a secret to the baby which is inaudible and he tells the baby not to tell "mommy" what he told them. There is then some confusion because Biden stands still with the woman posing for a photo until the woman tells him that she is recording. The original video did not include any loud sniffing sounds.