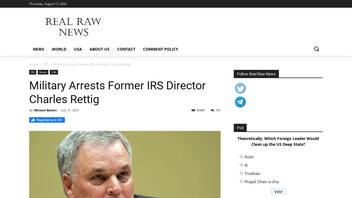 Did U.S. Marines arrest former IRS director Charles Rettig? No, that's not true: The U.S. military does not have the authority to arrest civilians because of the 1878 Posse Comitatus Act. Lead Stories could not find any legitimate news reports on such an arrest, and this claim comes from a satirical site that has a history of writing fictional stories about public figures, particularly politicians and political appointees.
The claim appeared in an article published by Real Raw News on July 31, 2023, titled, "Military Arrests Former IRS Director Charles Rettig" (archived here), which opened:
United States Marines on Friday arrested former IRS Director Charles Rettig on charges alleging that he took a 1% cut of every federal income tax payment for the 2021 fiscal year and sheltered the cash in anonymous offshore accounts, a JAG source told Real Raw News.
Users on social media only saw this title, description and thumbnail: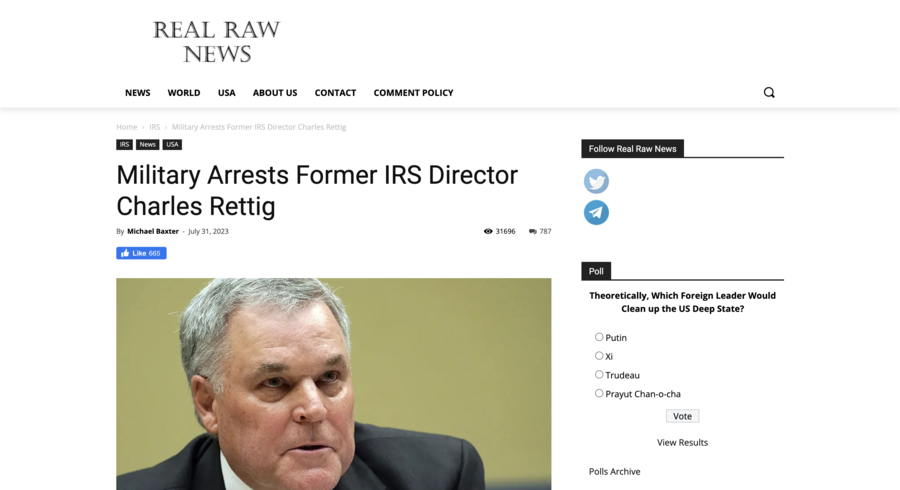 (Source: Real Raw News screenshot taken on Thu Aug 17 15:23:09 2023 UTC)
Rettig was active on his LinkedIn account after July 31, 2023, the day the Real Raw News article was published. And it was reported on August 10, 2023, that Rettig had joined the board of a data distribution platform.
A search of Google News, which indexes thousands of news websites, on August 17, 2023, turned up no legitimate news reports on Rettig being arrested.
Lead Stories reached out to the U.S. Marine Corps about this claim and will update this article if we receive a relevant response.
Rettig headed the U.S. Internal Revenue Service from 2018 to 2022, according to his the list of previous IRS commissioners on the agency's website.
Under the 1878 Posse Comitatus Act, the military does not have the authority to arrest civilians. This act can be voided under certain circumstances explicitly authorized by the U.S. Constitution or Act of Congress. Congress.gov does not show any legislation that will allow the military to arrest Rettig.
Real Raw News
Real Raw News is a website that consistently publishes made-up stories about U.S. politics. The well-written English and news-style layout of the website make it look like a legitimate news source, so it often fools people into believing the stories are real. Screenshots and copies of the stories regularly turn up on other websites or on social media where they are presented as real.
It bills itself as "humor, parody and satire" on the "about" page (archived here):
Disclaimer:

Information on this website is for informational and educational and entertainment purposes. This website contains humor, parody, and satire. We have included this disclaimer for our protection, on the advice on legal counsel.
NewsGuard, a tool that provides credibility ratings for websites, published a five-page PDF report (archived here) in 2021 describing realrawnews.com as, "An anonymously run website that has published baseless and debunked conspiracies about COVID-19 and U.S. politics." It cautioned that the website severely violates basic journalistic standards."
Lead Stories has debunked claims published by Real Raw News in the past, those are collected here.