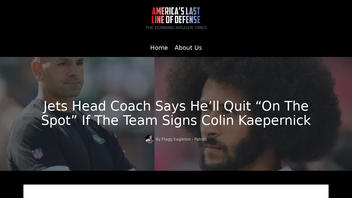 Did the head coach of the New York Jets say he'll quit "on the spot" if the team signs Colin Kaepernick? No, that's not true: Lead Stories could not find any news coverage where the coach was quoted saying this. The Dunning-Kruger Times, where the claim originated, is a satirical website that has a history of creating content surrounding public figures.
The claim appeared in an article published by The Dunning-Kruger Times on September 18, 2023, titled "Jets Head Coach Says He'll Quit 'On The Spot' If The Team Signs Colin Kaepernick" (archived here). It opened:
When Aaron Rodgers left the field on a cart, the Jets' front office knew they had an issue on their hands. While they have the obligatory backup in place, they're lacking the long-arm abilities of a certain style of quarterback.
Users on social media only saw this title, description and thumbnail:

(Source: The Dunning-Kruger Times screenshot taken on 15:55:49 2023 UTC)
According to the article, Jets' "head Coach Joe Barron" and several other Jets players purportedly expressed their dislike of the idea. The article does not say when, where or to whom this comment was made.
A Google News search of the phrase, "Jets Head Coach AND quit on the spot AND Colin Kaepernick" (archived here) did not yield any relevant results that would back up this claim. Neither did the search "Jets players AND dislike AND Colin Kaepernick" (archived here). The factual background to this claim is Kaepernick writing a letter to the Jets general manager asking if he could "lead the practice squad," The Athletic reported (archived here) on September 26, 2023.
Lead Stories contacted the Jets' communication staff and will update this article when a relevant response is received.
Robert Saleh (archived here) is the Jets' head coach, not Joe Barron. Joe Barron is a friend of Christopher Blair, the founder of The Dunning-Kruger Times. His name is often seen in Dunning-Kruger articles. The article cites "Tara Newhole" and "Jack Bowman" as journalists for the website. Lead Stories could not find evidence that these people existed (archived here and here).
The Dunning-Kruger Times
The Dunning-Kruger Times is a satirical website with an about page (archived here) that has following disclaimer:
About Us

Dunning-Kruger-Times.com is a subsidiary of the 'America's Last Line of Defense' network of parody, satire, and tomfoolery, or as Snopes called it before they lost their war on satire: Junk News

About Satire

Before you complain and decide satire is synonymous with 'comedy':

sat·ire ˈsaˌtī(ə)r noun: The use of humor, irony, exaggeration, OR ridicule to expose and criticize people's stupidity or vices, particularly in the context of contemporary politics and other topical issues.

Everything on this website is fiction. It is not a lie and it is not fake news because it is not real. If you believe that it is real, you should have your head examined. Any similarities between this site's pure fantasy and actual people, places, and events are purely coincidental and all images should be considered altered and satirical. See above if you're still having an issue with that satire thing.
The website is named after the Dunning-Kruger effect, a term from a psychology experiment that describes the phenomenon of being ignorant of one's own ignorance. (That experiment has been disputed by a math professor.)
It is run by self-described liberal troll Christopher Blair.
Other Lead Stories articles on Colin Kaepernick are here.