Does this video show that political commentator Tucker Carlson "broke in tears" talking about Antarctica? No, that's not true: This video does not show Carlson crying while talking about Antarctica. The Facebook video merely shows clips of Carlson speaking, but does not allow the original audio from these moments to be heard.
The claim appeared on Facebook on September 6, 2023. The caption read:
Tucker Carlson Broke In Tears Antartica Is Not What Were Being Told
This is what the post looked like on Facebook at the time of writing: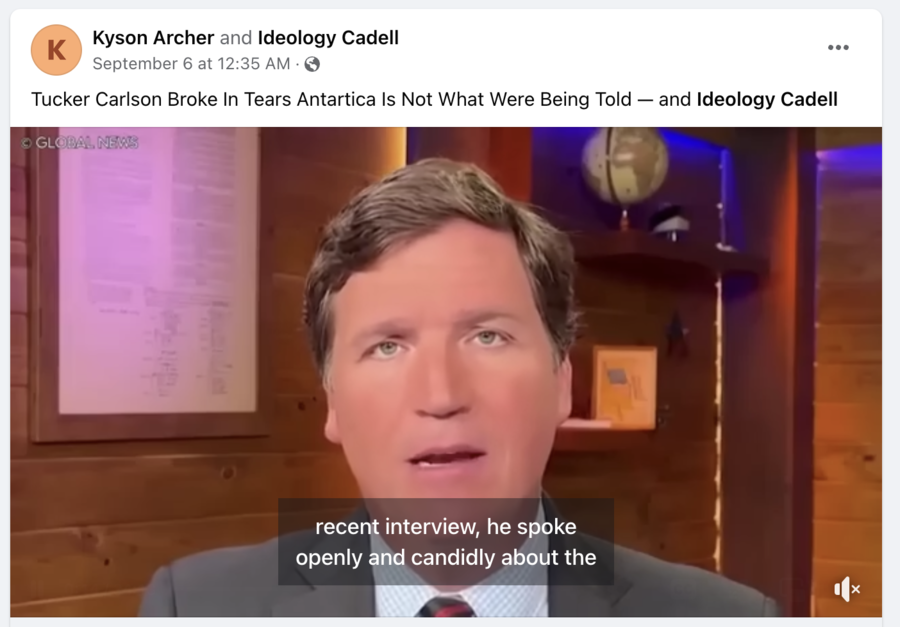 (Source: Facebook screenshot taken on Wed Sep 20 15:27:04 2023 UTC)
The Facebook post includes a 34-minute video on supposed secrets that the public isn't being told about Antarctica, or the South Pole. Carlson is briefly mentioned at the beginning of this video, but he is not seen crying nor does the narrator mention Carlson crying. According to the video, Carlson "revealed some insights" in a recent interview about the continent, but Lead Stories could not find evidence (archived here) of this interview.
The first time viewers see Carlson speaking in the Facebook video is at 0:13, but the original audio has been muted because the unidentified narrator is speaking over him. A reverse image search of this Carlson clip shows that this was most likely from his April 26, 2023, X, formerly Twitter, post (archived here). Carlson's tie, shirt and jacket are the same as in the Facebook video. Here (archived here) and here (archived here) are news articles from April 27, 2023, about the post Carlson published on April 26. In the articles, he is also wearing the same clothes. Carlson is not seen crying in the April 26, 2023, post and the articles mentioned here do not report on him crying.
Shortly after the first appearance in the video on Facebook, Carlson is seen again at 0:18, but this time behind a podium. It appears that he is giving a speech. With a reverse image search, Lead Stories found he was giving a speech at The Heritage Foundation, a conservative think tank. Here (archived here) is a video of Carlson's speech in full. He is seen with the same background, tie, shirt and jacket that can be seen in the Antarctica Facebook video. He is not crying in this clip either.
At 13:17 and 13:19 in the video on Facebook, Carlson is seen similarly to the first time, speaking to a camera with the original audio muted as the narrator speaks. The narrator claims that Carlson revealed that scientists discovered a "big, strange object" in space. Carlson is not crying in either of these moments in the Facebook video.
Most of the video on Facebook consists of clips taken from other videos. Footage of wildlife, rockets, the frozen tundra and purported UFOs go by very quickly as the narrator speaks about strange things found in space and Antarctica without any evidence.
The South Pole has been the target of many conspiracy theories. For example, Lead Stories has debunked the idea that there is a "dimensional gateway" over Antarctica here and found that images of spacecrafts and structures on Antarctica had been digitally altered here.
Other Lead Stories articles on claims involving Antarctica can be found here.